Yunmi's Asian flavors go with the flow on fountain-festooned square in Kaiserslautern
by
Chad Garland
Stars and Stripes
December 29, 2021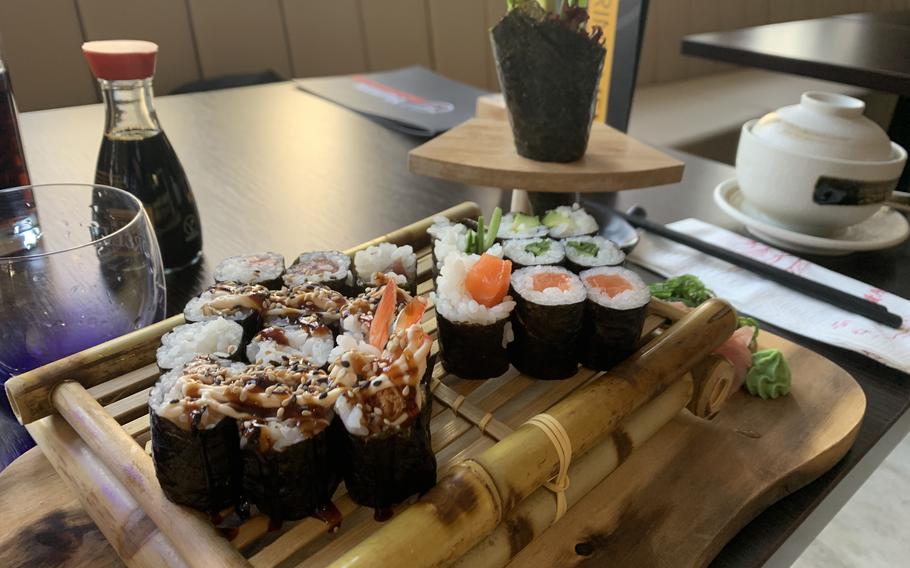 Sushi was once a bigger part of my diet, but when I spotted the newly opened Yunmi restaurant in Kaiserslautern's pedestrian zone, I realized I couldn't remember the last time I had the rice-and-fish dish.
Yunmi opened a few weeks ago near the whimsical Kaiserbrunnen fountain downtown, in a corner space with two walls full of bubbled-out windows.
I'd always been interested in the spot but never cared for what occupied it until last month, when I noticed a row of colorful balloons above the windows and tables full of patrons.
That end of the zone is now dominated by Eastern cuisine, with the Indian restaurant Curry House still open across the way and a Vietnamese pho spot now in what was a Chinese eatery.
None will ever fill the spot in my heart that the Thai place Phuket once occupied, but it's nice to have alternatives to burger and kebab joints.
While billed as an Asian fusion restaurant, Yunmi offers mostly sushi and sashimi, including maki, nigiri, hand rolls and the types of rice-on-the-outside rolls sometimes named after states, cities or other places in North America.
The sushi can be purchased a la carte or as one of several combination platters. Sashimi is offered in two varieties — slices of raw salmon or tuna — or as a platter with a selection chosen by a "master."
Other entrees include ramen or rice bowls and a selection of wok and teppanyaki dishes featuring fried noodles or rice and various meats.
When I visited with a colleague for a recent lunch, we opted for two sushi combos, the low-end platter at 12 euros and one on the higher side at 21 euros.
I'm by no means a sushi connoisseur, having grown up in the Midwest, where beef and chicken featured most prominently in the diet.
But over a decade ago, I lived in Hawaii and worked for a Tokyo native who seemed invariably to arrange work-related social events around sushi and sashimi or the similar fish-based Hawaiian dish called poke.
I grew partial to delicate cuts of salmon and tuna atop vinegar rice, the nigiri style, rather than the likes of California rolls that had been my go-to the handful of times I'd tried sushi back on the mainland.
Yet since leaving Hawaii, I could probably count on one hand the number of times I've eaten any of the above, if I could even remember them.
While the variety served at Yunmi was perfectly appetizing, what stood out most was its presentation. It's the kind of thing that could impress a date or out-of-town guests who might find much of Kaiserslautern plain.
Each combination was served on unique platters combining different hunks of wood and raftlike bamboo structures. They'd make for great Instagram photos, my colleague noted.
As for the meal, some of the maki-style rolls seemed a bit heavier on rice than fish, while the use of soy sauce overpowered much subtler flavors in some of the other pieces.
The Canadian roll, for example, was ruined for me when dipped in a mix of soy and wasabi, but on its own, it was among my favorites.
We also enjoyed the fried shrimp maki and fried salmon roll. I'd go back for a plate full of salmon nigiri, though my platter sadly came with only one piece of that variety.
For dessert, I'd wanted a green tea mousse, but they were out. Instead, I sampled the mochi ice cream, selecting one delightful ball of rice flour dough with strawberry filling and one flavored with green tea.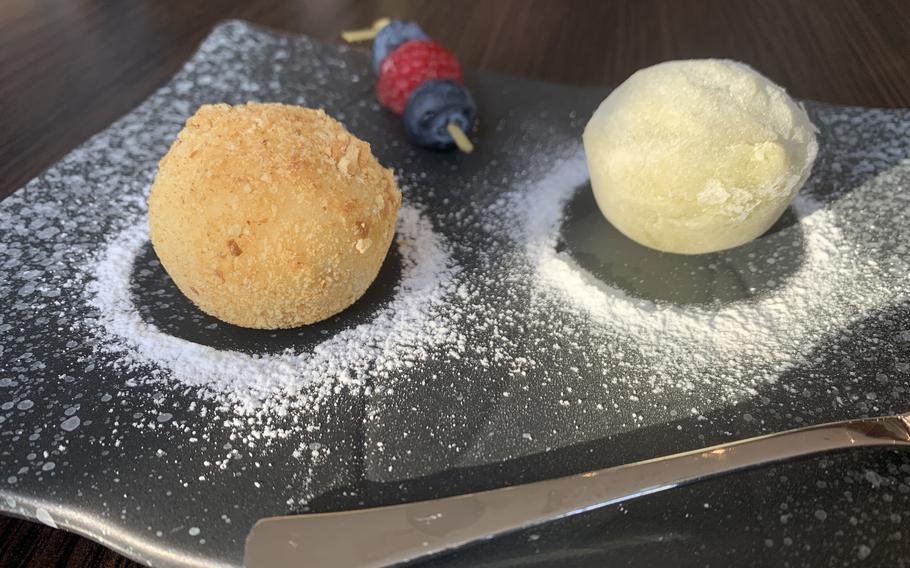 The latter was less sweet and creamy than I'd hoped, leaving me wishing I'd chosen a chocolate flavor or a second strawberry one.
We were among only a few patrons dining in at lunchtime, though the small staff filled several take-out orders during our time there. We left satisfied.
And we went back again, this time in the evening, finding a dining room populated with young ladies on an apparent girls' night, a group of men on perhaps a similar adventure, a couple on a date and two old friends reuniting after some time in different parts of the world.
This time, my colleague ordered a chicken filet from the teppanyaki menu. It was beaten thin, breaded and fried to an as-advertised crispiness that made it a quick favorite.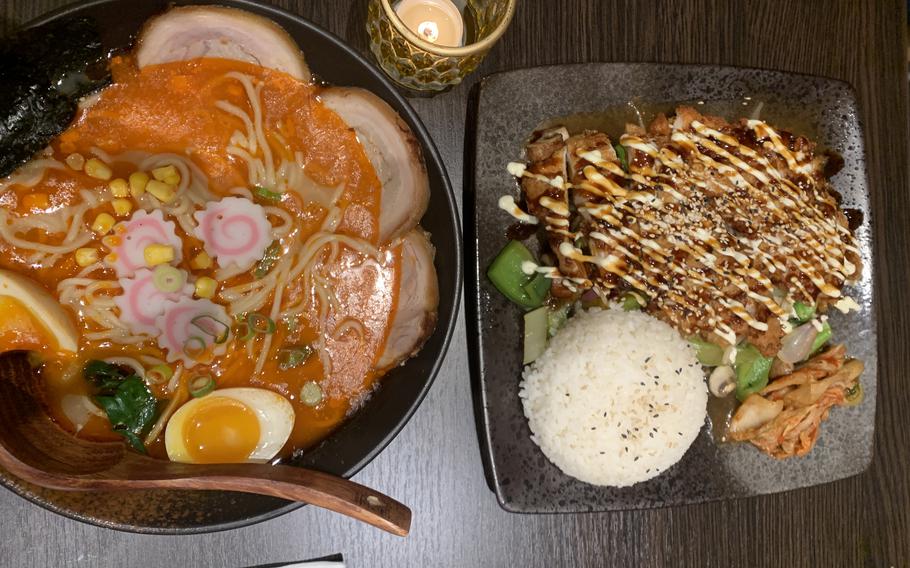 I asked for a bowl of red tonkotsu ramen, forgetting that dishes heavy on liquid components are not mustache-friendly. What arrived was a large bowl of handmade noodles in a spicy red broth with slices of pork, hard-boiled egg and bok choy.
It was too much for the pair of us to finish off in one sitting. I brought home a large portion that hadn't been deposited into our bellies or siphoned away by my whiskers.
That, too, was gone by morning.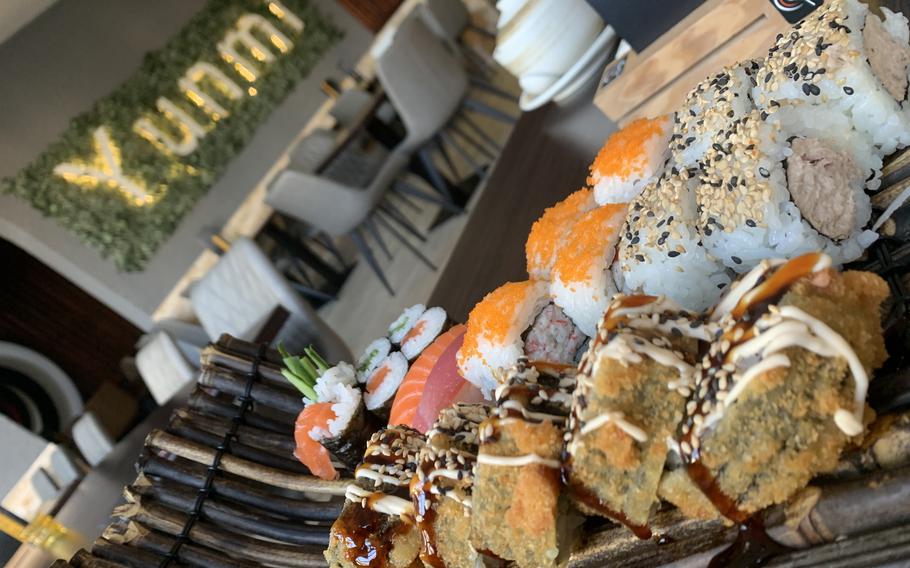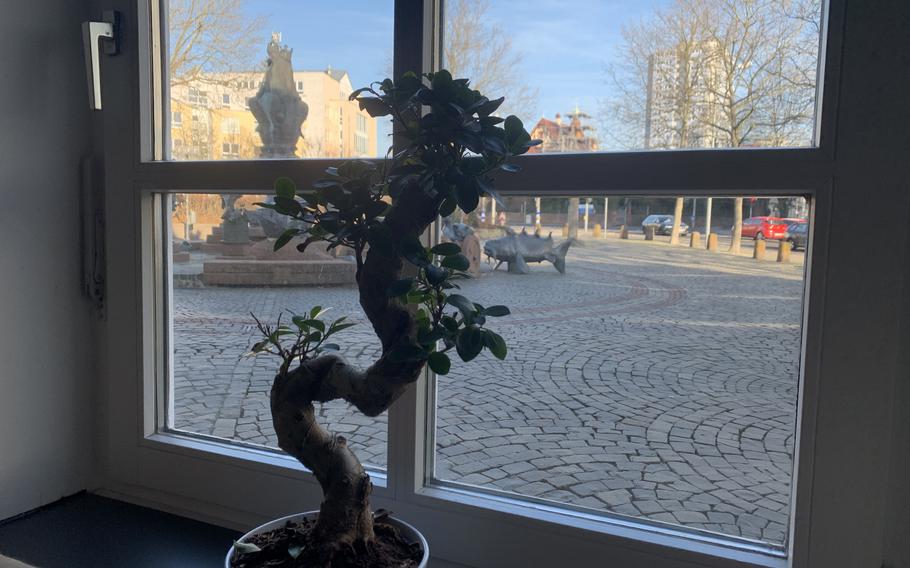 Yunmi Asian Fusion Restaurant and Bar
Address: Steinstrasse 56, Kaiserslautern
Hours: Dine in or carry out, 11:30-3 p.m. and 5:30-10 p.m. most days; Friday and Saturday, open till 11 p.m.; closed Tuesdays
Prices: Maki, nigiri and sushi rolls about 1 to 3 euros per piece; sushi combination menus, ramen and other entrees typically range from 12 to 24 euros. Soups, salads and appetizers about 4 to 8 euros.
Menu: English and German, available online at restaurant-yunmi.eatbu.com
Information: Phone: 631-6241-8613; email: yunmi.kaiserslautern@gmail.com; online: restaurant-yunmi.eatbu.com; Facebook: facebook.com/Yunmi.kaiserslautern/
---
---
---
---