Masons in Kaiserslautern is global cuisine with a German accent
by
Erik Slavin
Stars and Stripes
December 9, 2021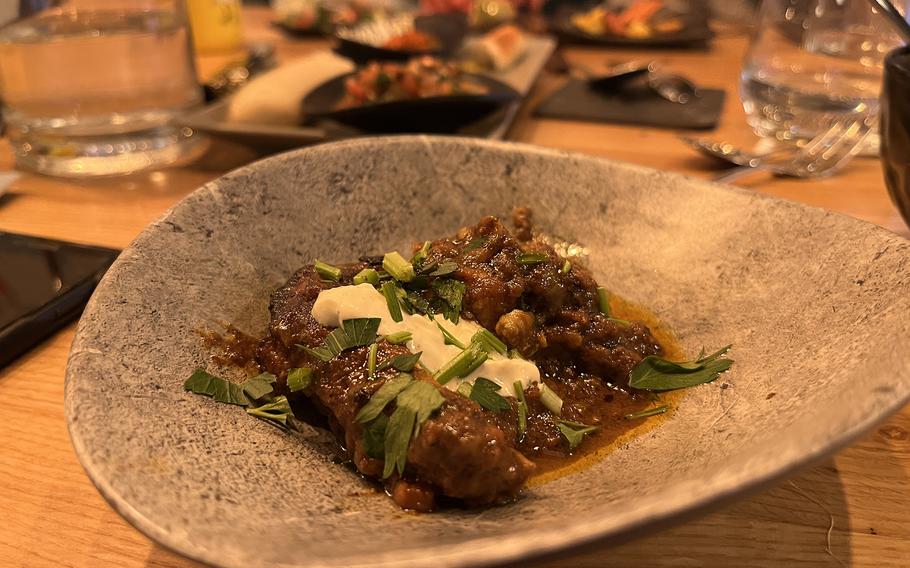 Masons bills itself as a culinary adventure around the world, complete with menus resembling passports and food listed by continent.
The experience is indeed global in scope, though it feels a little like you're traveling in a German tour group. You can cover thousands of imaginary food miles and end up in the Americas or Australia, but the German tendency toward pork, potatoes, cabbage and cheese is never that far behind.
The Asian dishes have a few successes, though the spice levels are mostly toned down, in line with the standard-issue German palate (I'm not sure where these are issued, but I'm reliably told this by our German staffers, one of whom thinks mayonnaise is wild stuff).
Where Masons succeeds is with its fun concept. It's a new addition to Kaiserslautern, which isn't especially known for its restaurant scene's creativity, unless you count slight variations on brown schnitzel sauce.
Every meal here is all-you-can-eat; the only difference is whether you order from a list of five specials, which cost one euro more. Kids 4 and under eat for free, so if you're a single parent showing up with a horde of hungry children, you're getting a deal. Otherwise, at 27.95 euros for dinner, consider this a splurge.
Diners have two hours to select up to 20 small plates, which can be ordered every six minutes from a tablet on your table. I found this off-putting at first until I got into a rhythm and realized that there was no way my party of three was going to order 60 plates of food.
If you're a hungry adult, 10 or 11 of your own and a few bites from the plates of others should stuff you pretty nicely. So I relaxed, knowing that my plates were coming, though not always in the sequence I ordered them.
In two trips to Masons, I tried all of the approximately 30-40 items on the menu.
You could start off with the grilled halloumi cheese, which is delightfully squeaky and dressed with fresh greens, balsamic vinegar and olive oil. It's tasty and it's the adult thing to do. But that's not what I did.
I say order the caramel ice cream first, just because you can. It's small enough and your parents aren't around to tell you it'll spoil your appetite.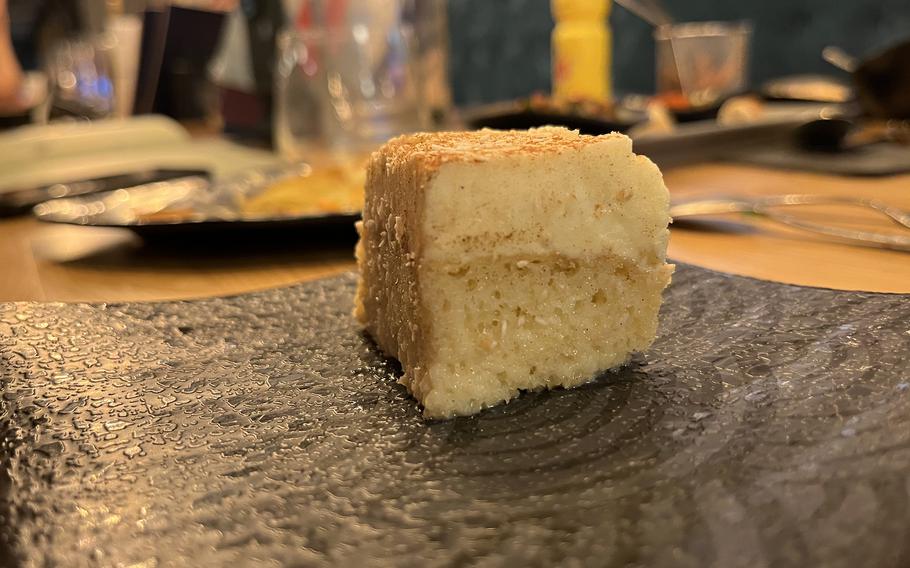 The Moroccan-themed Nomad Burger, with marinated meat and harissa-tinged mayonnaise, was another hit at the table. The Japanese tonkatsu was described as "reasonably authentic" by a Japanese diner, and since it's fried pork on cabbage, it's bound to be popular around here.
I'd also rank the following among my top choices: Hawaiian chicken long rice, the mild but satisfying Thai curry, ras-el-hanout chicken wings and for kids especially, the ragu alla Bolognese.
The crispy Korean mandu are worth ordering too, though they don't much resemble the dumplings I had while living in South Korea. Like many other dishes here, they're more inspired by the country's cuisine than they are replicating them.
There are several dishes that focus on bacon, potato and cheese. If this combination works for you, you'll be happy.
A few dishes missed the mark or weren't prepared well. The flammkuchen was limp and dry, and the Kumara sweet potato fries would have tasted good if they hadn't come out soggy. The banh mi brioche burger was the one dish with significant hot spice, but all it did was cover up the pickled vegetables and other subtleties normally found in good Vietnamese banh mi.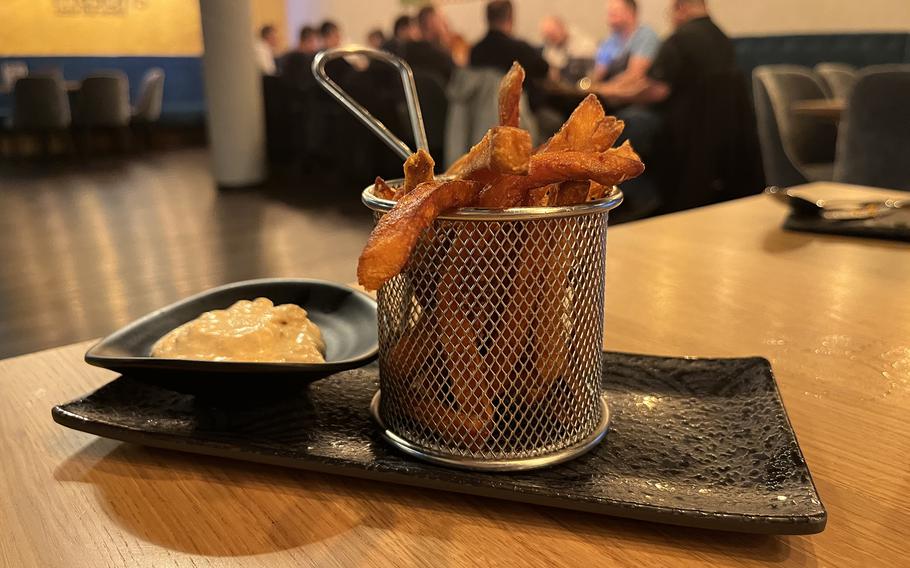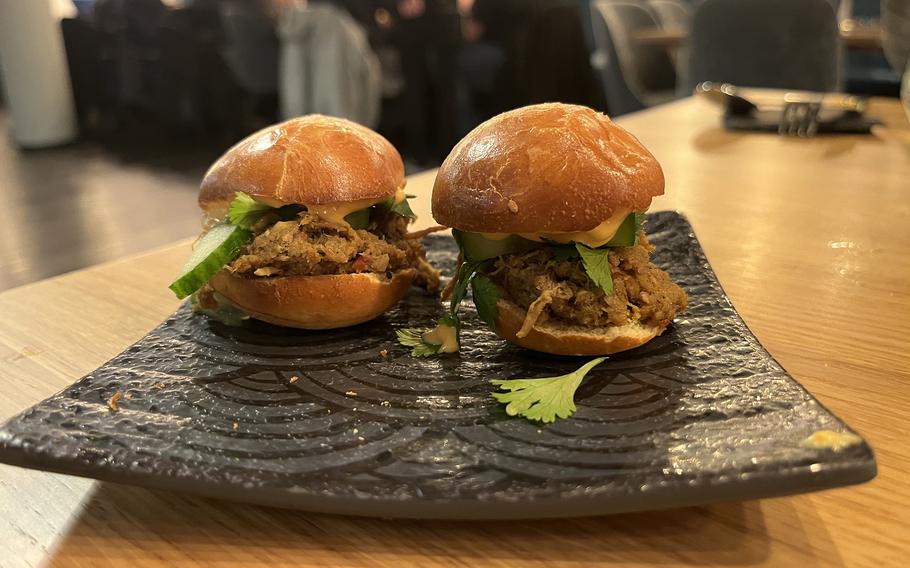 Fortunately, a misstep doesn't ruin the night, because there's always a new dish to try.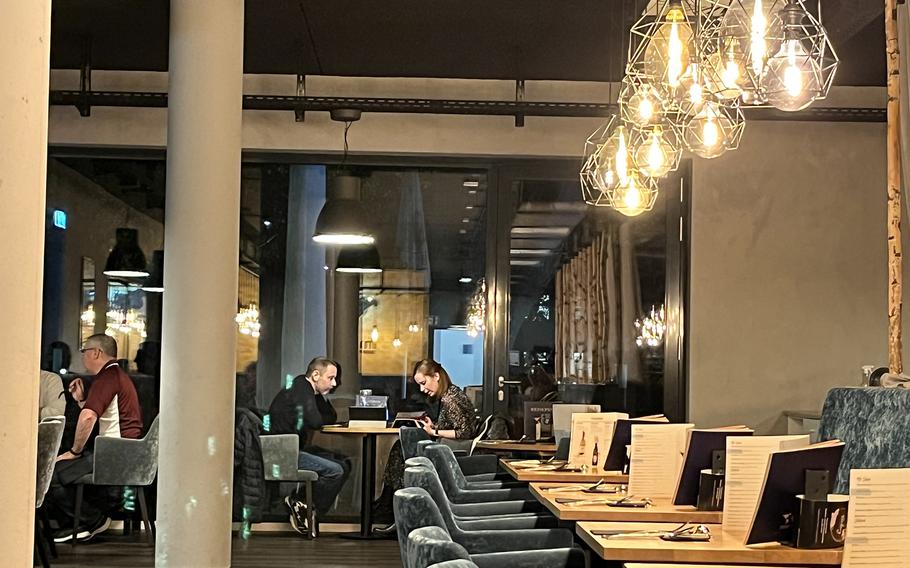 Masons Kaiserslautern
Address: Fischerstrasse 78, 67655 Kaiserslautern. Located on the ground floor of the Hampton Inn. There are also locations in Saarbuecken and Trier.
Hours: 5 p.m. to 11 p.m. daily
Prices: 26.90 euros for adults and 12.90 for kids ages 5-12 Monday through Thursday, 27.90 euros and 13.90 for kids 5-12 Friday through Sunday and holidays. Specials are one euro extra. Kids under 5 eat free.
Menu: English and German, available online at masons-restaurant.de/konzept-gerichte
Information: For reservations, call 0631-3619-0165, or make them on the Masons website.
---
---
---
---