A little of the north and a lot of Bavaria at Erdinger's capital city restaurant
by
Immanuel Johnson
Stars and Stripes
December 2, 2021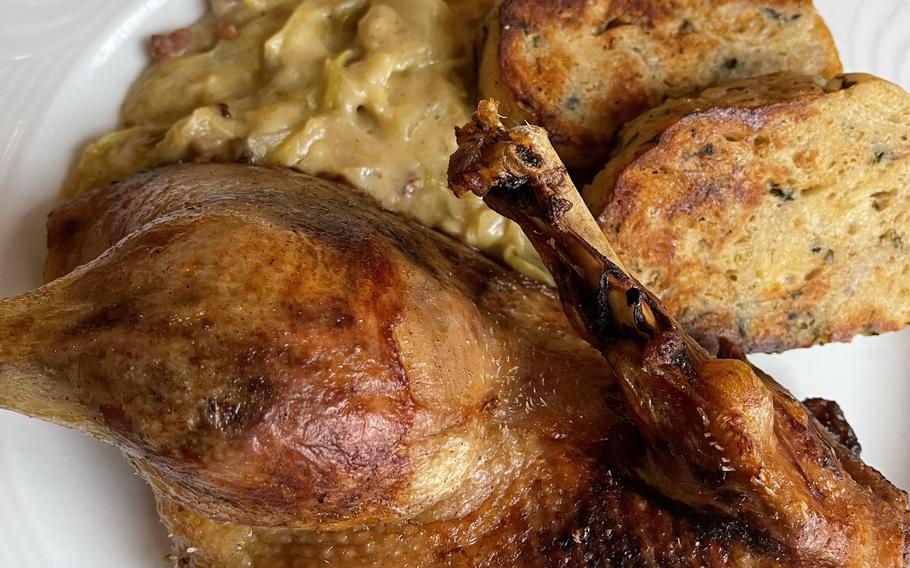 My quest to find the best version of a duck dish from the northwestern German city of Oldenburg led me to a surprising place: the Bavarian-style Erdinger am Gendarmenmarkt, an eatery smack dab in the heart of Berlin.
For unfamiliar American readers, this is a little like looking for southern barbecue at a Tex-Mex restaurant in Boston. But it had good reviews from Tripadvisor and was recommended by staff at the hotel where I was staying, so I had to see for myself what the hype was about.
Erdinger is a popular wheat beer that has been brewed in Bavaria for more than 130 years, according to the restaurant website.
And it's fun to get a taste of Bavaria in northern Germany, which has some fine breweries but far less domestic and international renown. Erdinger says its beer is exported to more than 90 countries. I happily enjoyed a glass while poring over the menu.
As for the aforementioned Oldenburger duck, fortunately most German food isn't as complicated as regional specialties might be in other countries. I was impressed with it for the most part, though I thought it could have been more tender.
The bread dumplings served with the dish brought back Thanksgiving memories because they tasted similar to stuffing, and the cabbage was exceptional.
Pasta lovers should try the spaetzle, specifically the one with Allgau cheese, Zillertal mountain cheese and roasted onions. It comes with a side salad.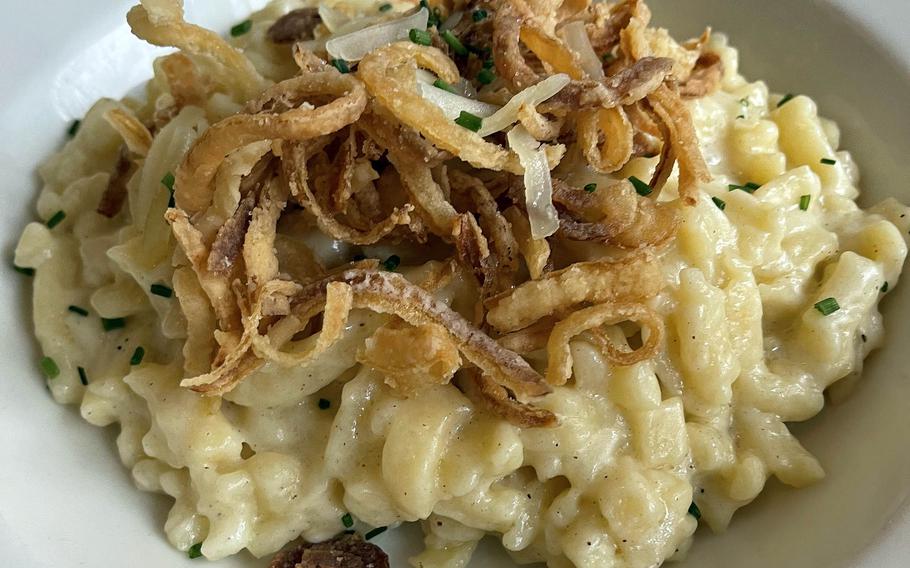 The cheeses mixed well together and the salad was one of the best I've ever had. One portion of this will fill up most people, and the price is reasonable.
For dessert, I indulged in a treat with an Austrian twist that is a favorite at Erdinger: kaiserschmarrn. It's basically cut-up pancake caramelized with apple sauce and vanilla ice cream.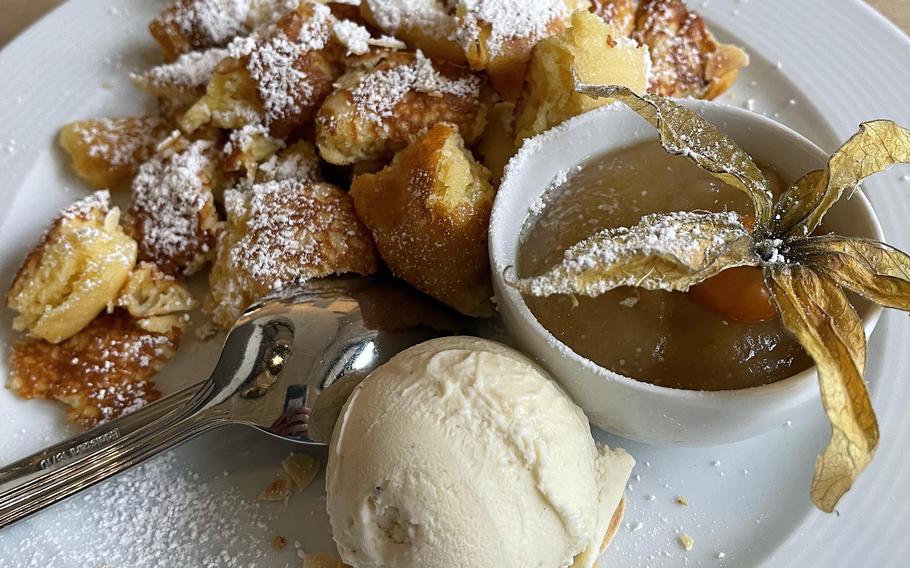 The restaurant also offers another dessert, apple strudel with vanilla sauce.
Berlin by train from Grafenwoehr or Vilseck is between four and five hours. Some routes offer the high-speed ICE train, which is what I would recommend.
You may receive an email from Deutsche Bahn offering you a first-class upgrade for about 10 euros. The upgrade is well worth it and includes access to select DB lounges.
Should you opt to drive, parking on the street is possible, but if you're looking to spend a night or two in the city, the train is painless minus the occasional delays.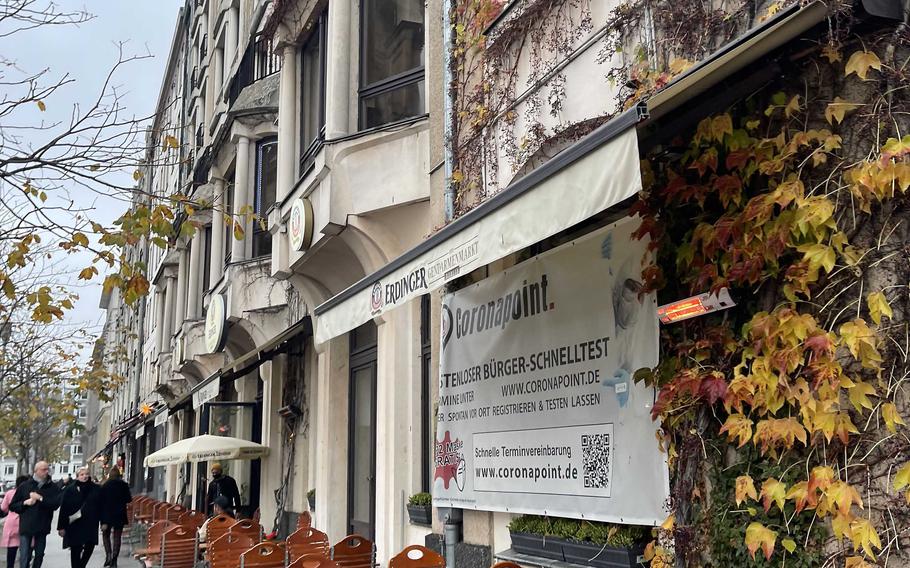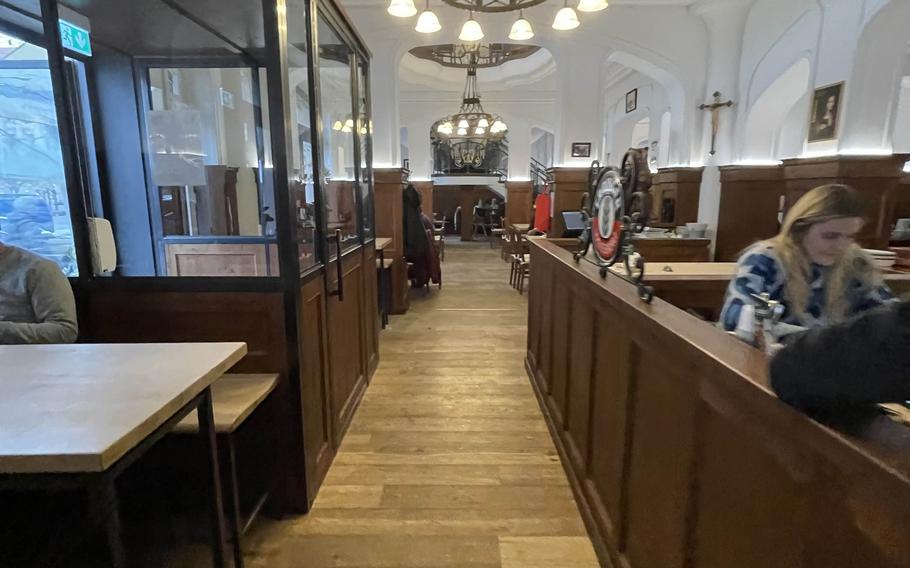 Address: Jagerstrasse 56, Berlin
Hours: Monday to Sunday from 10 a.m. to 12 a.m.
Prices: Between 1.50 and 30 euros. Most credit cards accepted.
Menu: Available in English and German and online at erdingerberlin.de.
Contact info: Phone: +49 30208-799800; email: events@erdingerberlin.de
---
---
---
---