Mighty and meaty: Rheinland-Pfalz eatery elevates burgers and other favorites
by
Alexander Riedel
Stars and Stripes
November 26, 2021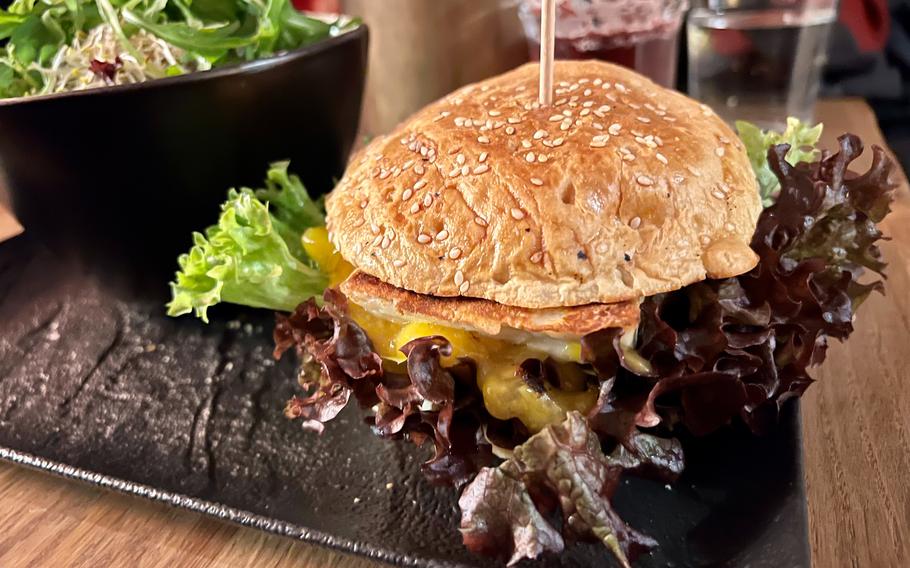 During a recent cold night exploring the nearby Neustadt an der Weinstrasse, I was overcome with a craving for the comforting, warm bite of a good ol' juicy burger.
A quick internet search led my wife and me to Bruno's Burger & Lieblingsgerichte (favorite dishes), a small restaurant in Neustadt's old city center.
On our way inside, we admired the historic building's beautifully restored trusswork. Bruno's is located along what was once a creek used for washing off by-products from the tanneries shops upstream.
Because of this, the area was considered an industrial and less desirable part of town. Today, though, the alley leading to the restaurant is lined by swanky wine bars, cafes and a plethora of sit-down restaurants.
Bruno's is a relatively new addition to this old city core, having opened in 2017. Its namesake is the dog of one of the co-owners, and Bruno the beagle's picture symbolically guards the front door.
We walked into the small space, where the open kitchen welcomes customers. A friendly waitress was more than polite and said she could squeeze us in between reservations at one of the two-seater tables.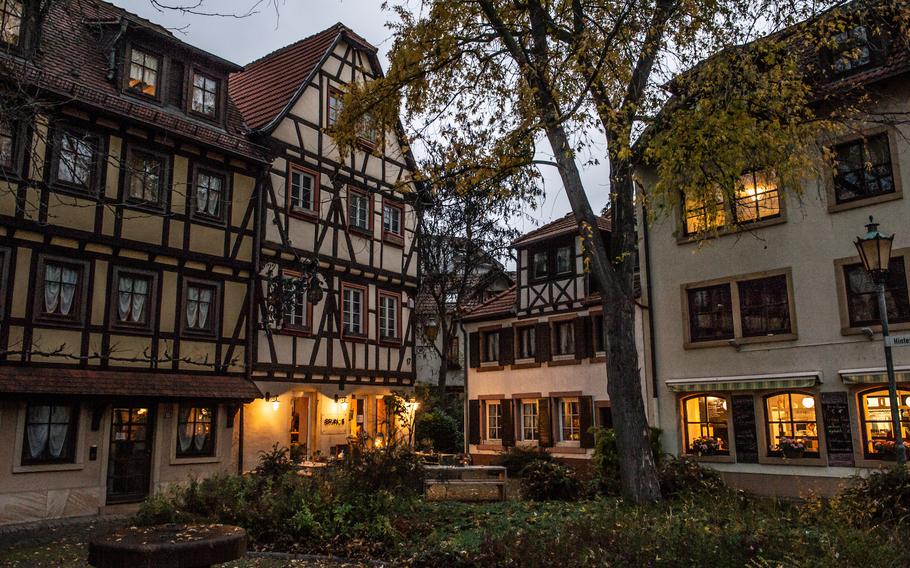 The interior blends the historic with a modern touch. Most of the furniture is utilitarian and consists mainly of benches or spartan stools with cushions held in place by industrial tie-down straps.
Large lamps and electronic candlelight provide a warm glow, resulting in a casual yet stylish vibe.
A burger joint may have once been the antithesis not only of fine dining but also of a healthy or vegetarian diet, but Bruno's is inclusive in its burger culture, offering both gluten-free and vegetarian options.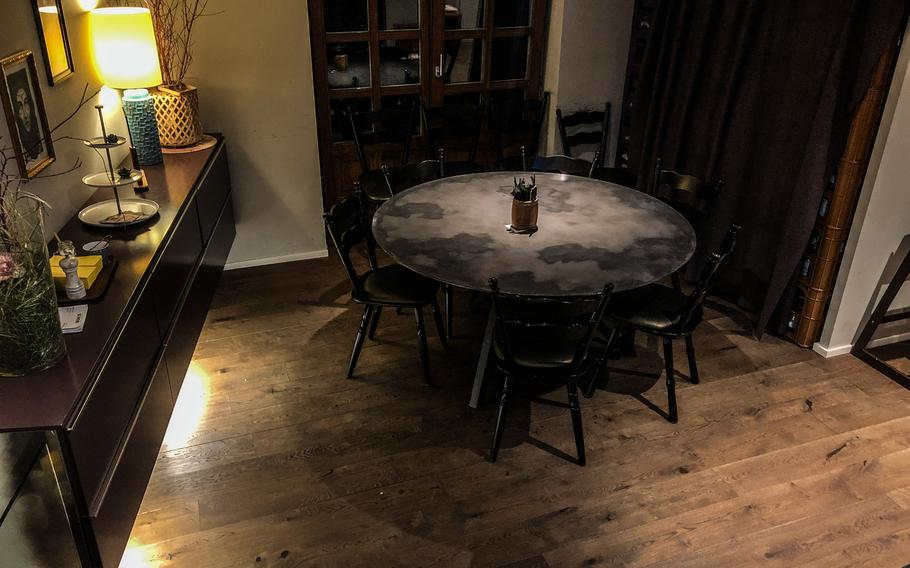 And for those looking for something else entirely, there are such favorites as grilled salmon with caramelized ginger or chicken salad.
Although Bruno's unashamedly focuses on the ground round, vegetarians have the option of the Veggie-Magic, which surprisingly consists not of a veggie burger or mock-meat patty but of a decidedly delicious and hearty cut of grilled halloumi cheese accompanied by a mango-lemongrass chutney.
Although fantastic and filling, the burger seemed more like a great summer snack to me. The side salad was equally summer-oriented and refreshing with a light vinaigrette dressing.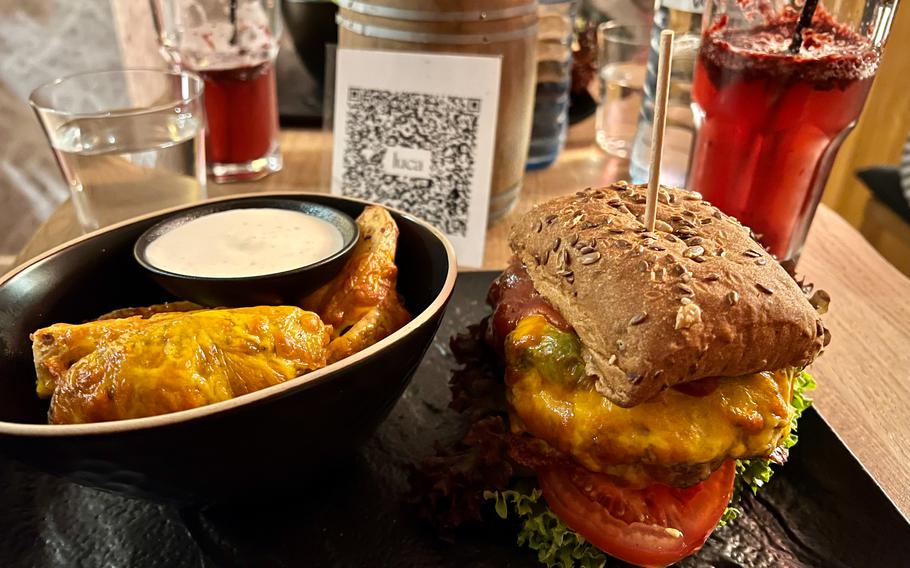 The restaurant offers hip sodas and organic lemonades with flavors such as pomegranate and rhubarb. Of course, there are German beers as well as local wines.
While we waited for our burgers, we were delighted by the fresh blackberry lemonade, which is made in house and was bursting with real fruit flavor.
For nonvegetarians, burger choices range from the classic Route 66 to the shrimp-topped Garnelikuss. This isn't Texas, but we figured "go big or go home" and ordered the German High Roller, a double cheeseburger with tomato, lettuce, cucumber, onions, mustard, mayonnaise and wild garlic pesto.
The burger didn't disappoint. A generous helping of cheese accompanied moist, well-seasoned patties seasoned with a healthy dash of pepper and a sauce with hints of curry.
The burger was well-paired with a side of homemade potato wedges baked to a delicious golden-brown with the skin on and smothered in melted cheese.
Bruno's buns come from a local bakery and are miles beyond their foamy cousins at fast-food places. This also applied to the gluten-free option, which was just as fluffy as its wheat-containing counterpart.
It was a truly appreciated surprise for my wife, who has dietary restrictions that often force her to eat burgers sans bun — but not on Bruno's watch.
We rounded out the meal with a chocolate tart topped with a raspberry drizzle, one of two items on the admittedly limited dessert menu. But after the delicious burgers, we didn't have much room to spare anyway.
The traditional hamburger has come quite a ways from its industrial image of a loveless ground beef patty between two bread rolls. In Neustadt, though, Bruno's stands alone.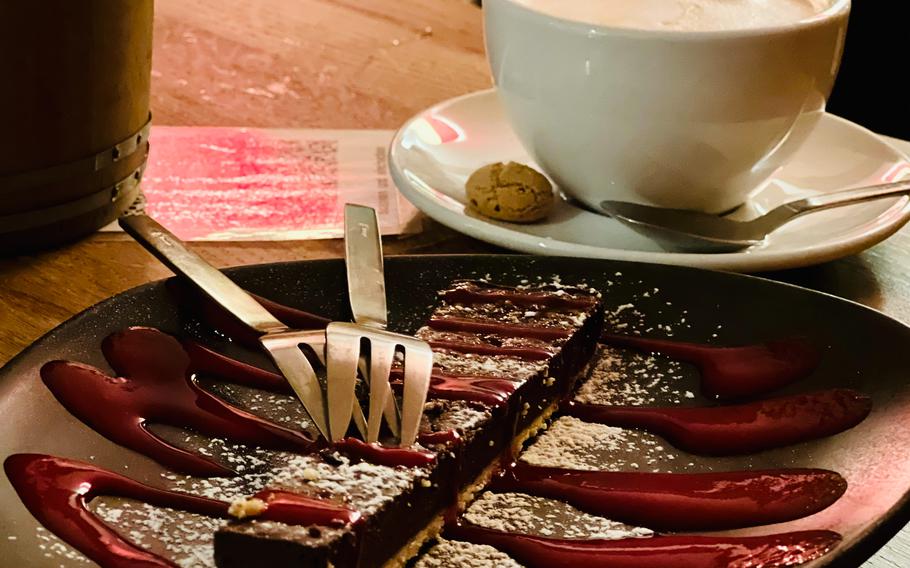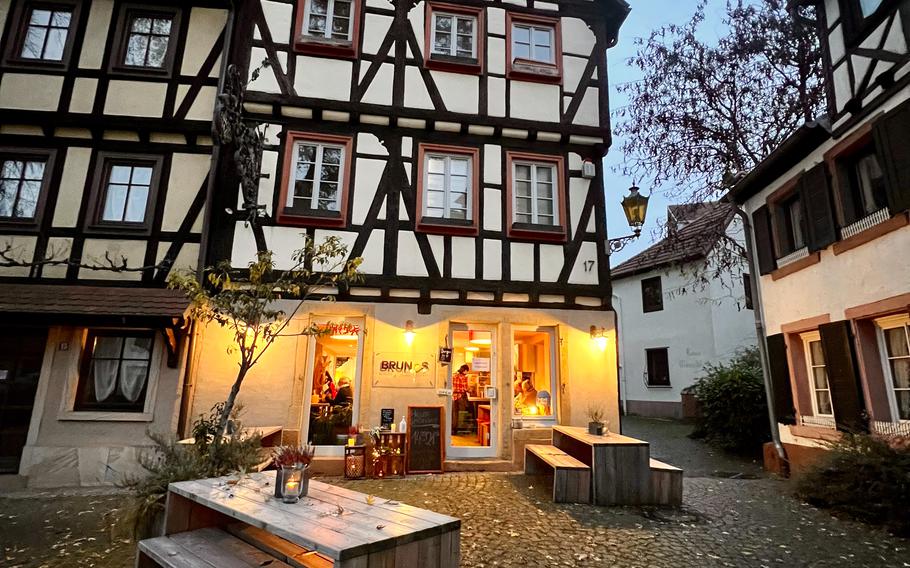 Bruno's Burger & Lieblingsgerichte
Address: Zwerchgasse 17, Neustadt an der Weinstrasse
Hours: Tuesday, 12-5 p.m.; Wednesday-Friday 12-5 p.m. and 5:30–9 p.m.; Saturday 2–9 p.m.
Prices: Burgers range from 6.90 euros to 12.50 euros. Sides dishes from 3.50 euros to 6 euros. Favorites plates are offered from 9.90 euros to 11.80 euros. Dessert options, including creme brulee, are 3.50 euros to 4.50 euros. Drinks, depending on size, range from 2 euros for bottled soft drinks to 3 euros for iced tea and from 2.40 euros for beer to 32 euros for some wine selections.
English menu: No, but most staffers speak English and are happy to assist.
Contact information: Phone: +49 (0)6321-3554426; email: info@brunos-lieblingsgerichte.de; online: brunos-lieblingsgerichte.de; Facebook: /BrunosBurgerundLieblingsgerichte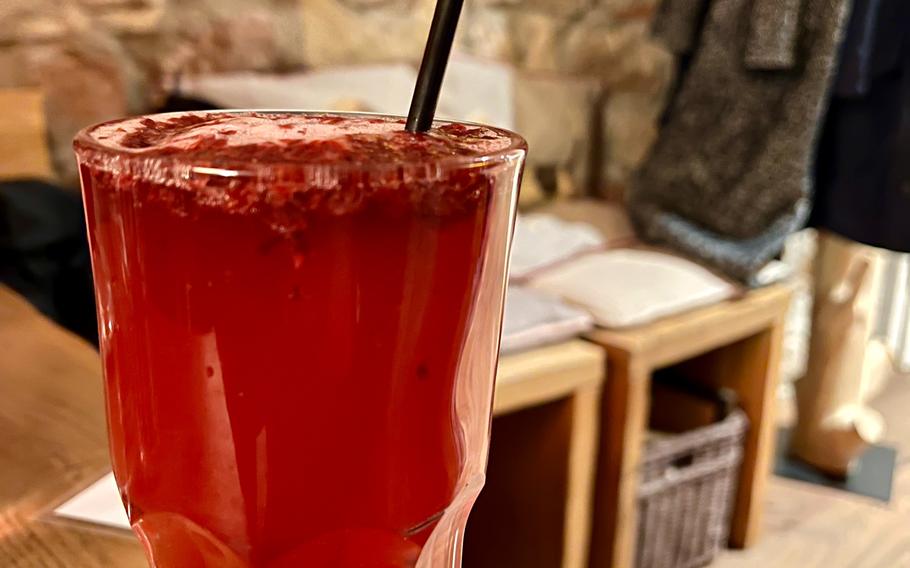 ---
---
---
---