Enjoy coffee from slowly, freshly roasted beans in a German wine village
By
Stars and Stripes
November 18, 2021
---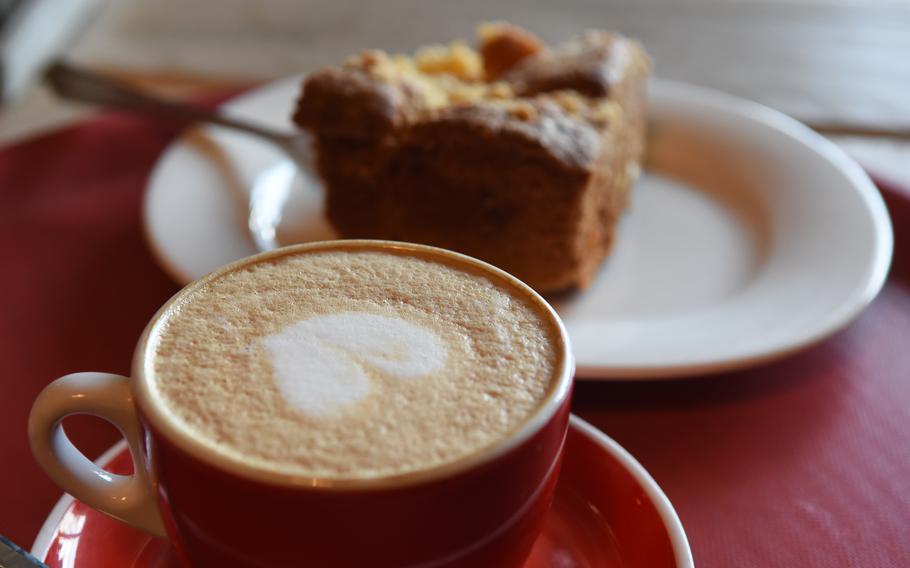 Neustadt an der Weinstrasse, a small town in the middle of the Pfalz wine region, is most famous for its many wine taverns and thousands of acres of vineyards.
Wine, however, isn't the only beverage worth sipping when visiting Neustadt, about 25 miles southeast of Kaiserslautern on the German Wine Route. Anyone who loves coffee should stop at Blank Roast for a satisfying cup of joe that beats anything with caffeine from Barbarossa or McCafe.
As soon as you walk in the door, the aroma of coffee greets you. A hulking machine made in the 1930s and fitted with state-of-the-art controls hums loudly in the corner. The coffee beans are roasted and then cooled and spun in an open vat.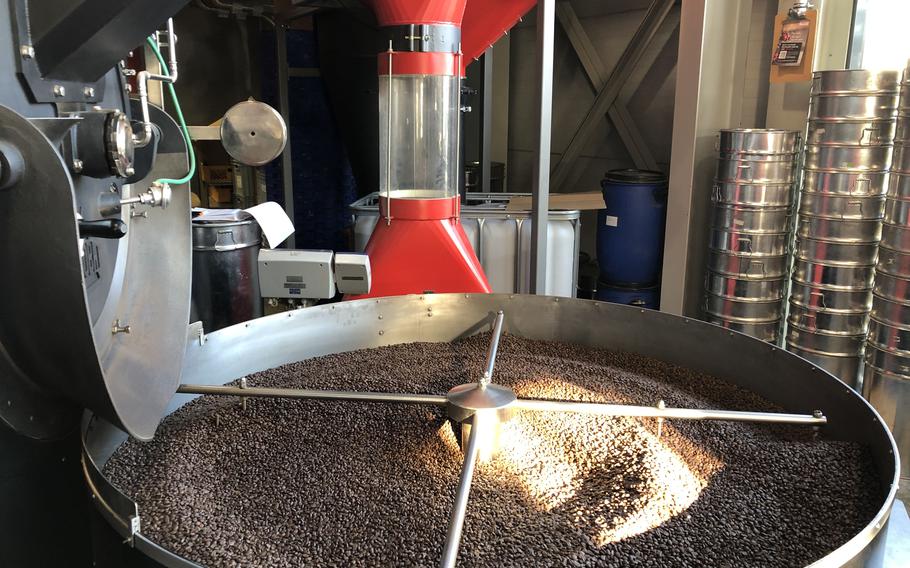 Master roaster Holger K. Blank has been at the helm of the shop's coffee-making since 2007. Blank's methods are unique; during the roasting process, he adds organic grapevines from the region, which add moisture and bring out more aroma from the beans, the coffee shop's Facebook page says.
Vanilla, almond and cinnamon are among the flavor notes created during roasting, Blank Roast employee Helmut Lohre said. "We are roasting the coffee beans very long, about 15 to 20 minutes," he said.
On a recent morning I saw Blank checking on the beans as they cooled. Customers get a front-row view of the cafe's open workspace.
What this also means is that getting lost in one's thoughts or holding a conversation over a cup of coffee may be disrupted by the noise of the roaster firing up. But the tradeoff is enjoying the fragrant smell of roasting beans coupled with a hearty cappuccino.
Daily breakfast options are listed on a board, and it's best to ask about those choices when ordering at the counter. A selection of cakes and pastries and pre-made sandwiches are available all day.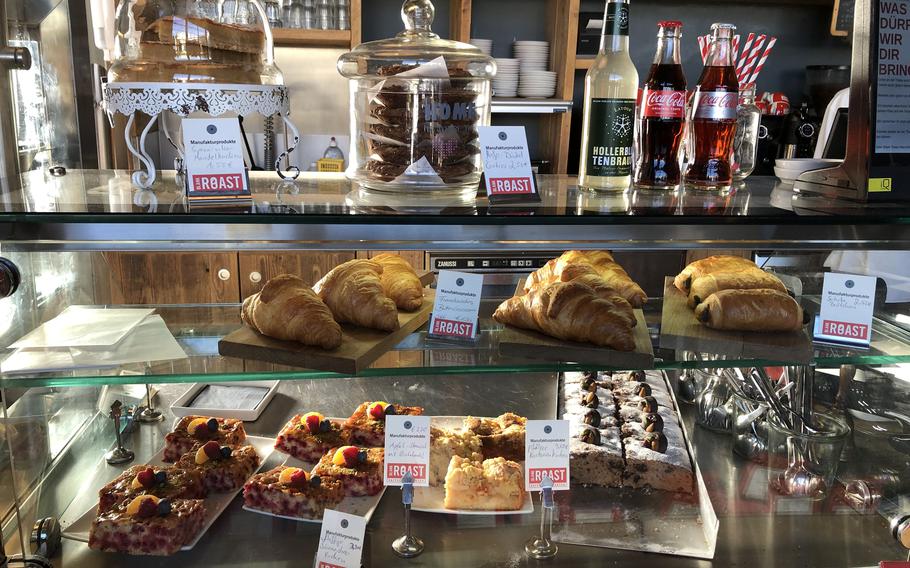 The apple cake was especially good. You can order coffee by type of bean and aroma, as described on a chalkboard by the register. Also available are shots of two kinds of espresso, cappuccinos, latte macchiatos, mochaccinos, milk coffee and hot chocolate.
The café also sells coffee beans, whole or ground, by the bag. Other regional food items are for sale, from local wines and jams to cooking oils and holiday cookies.
Stars and Stripes reporter Marcus Kloeckner contributed to this report.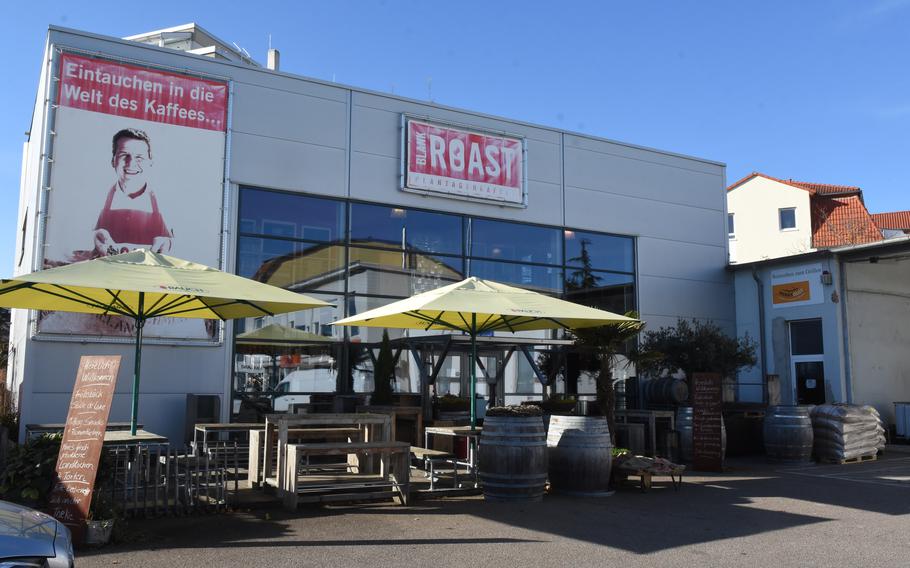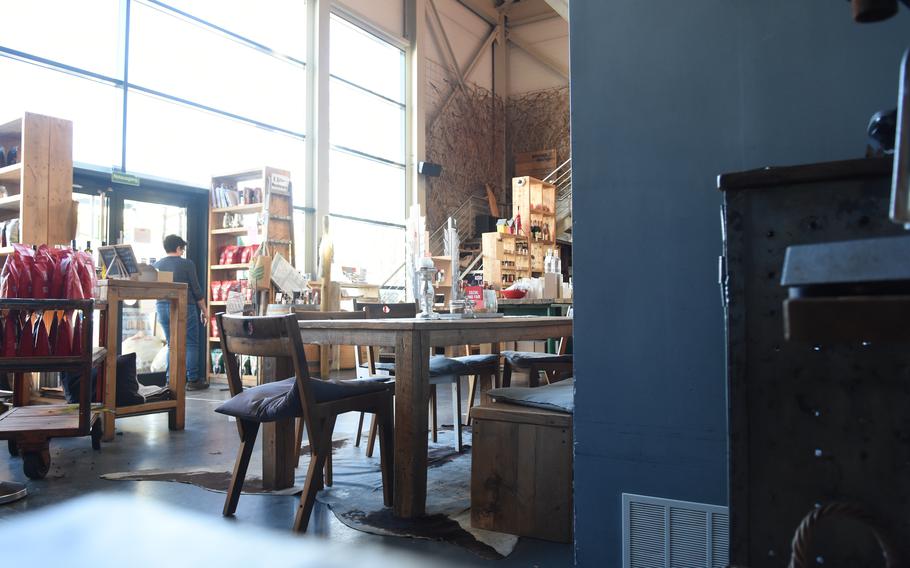 Blank Roast
Location: Mussbacher Landstrasse 21, 67433 Neustadt an der Weinstrasse
Hours: Monday to Saturday, 9 a.m. to 5 p.m.; closed Sundays. Breakfast from 9 a.m. to 11:30 a.m. Reservations encouraged but not required.
Prices: Coffee drinks cost from 2.50 euros to 3.80 euros (about $2.90 to $4.35), depending on the size of drink and type of bean. Large cappuccinos and latte macchiatos cost 4 euros. Other options such as cake and pastries start at about 1.50 euros.
English menu: No, but some English spoken.
Information: Phone: +49-(0)6321-93788-0; Email; info@blankroast.de; Online: blankroast.de; Facebook: search under Blank Roast Manufaktur.
---
---
---
---