Wurst-Kuech in Kaiserslautern brings back memories of pubs of bygone days
By
Stars and Stripes
November 11, 2021
---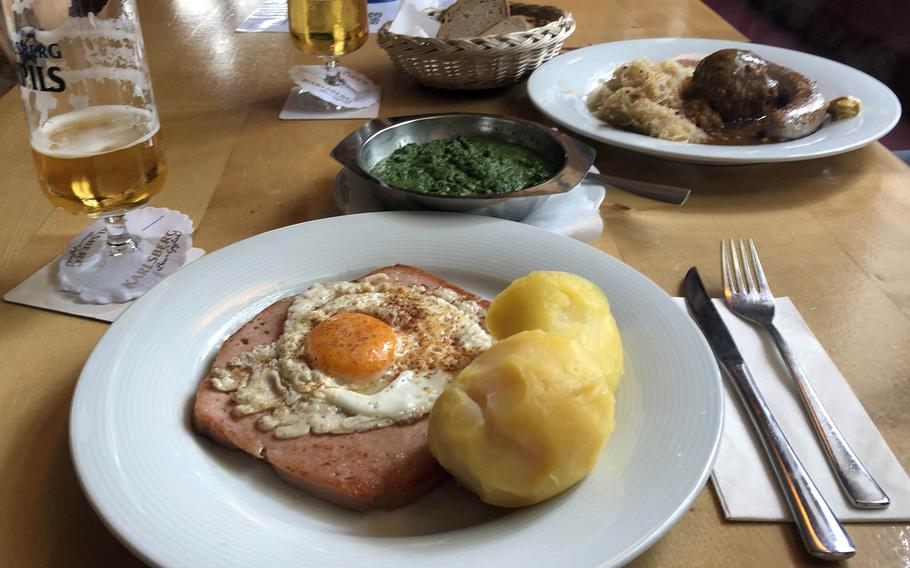 Once upon a time in Germany, just about every village, town and city neighborhood had its local watering hole.
The "kneipe," which translates to pub or bar, was where you went for a beer after work, soccer practice or a game. On Sundays after church, men would often go for a quick drink while their wives prepared lunch at home.
But in this century, and especially this decade, what is known as "kneipensterben," or "pub dying," has taken place, with more and more pubs disappearing from the landscape.
Changes in lifestyle and work habits, a nationwide ban on indoor smoking and then the coronavirus pandemic sounded the death knell for many establishments.
So when I found a typical neighborhood kneipe not far from the Kaiserslautern train station, I thought I'd give it a try.
The Wurst-Kuech, or sausage kitchen in English, reminded me of the pubs of long ago. A lot of wood — tables, chairs, wall paneling — and the sound of something frying in a pan somewhere.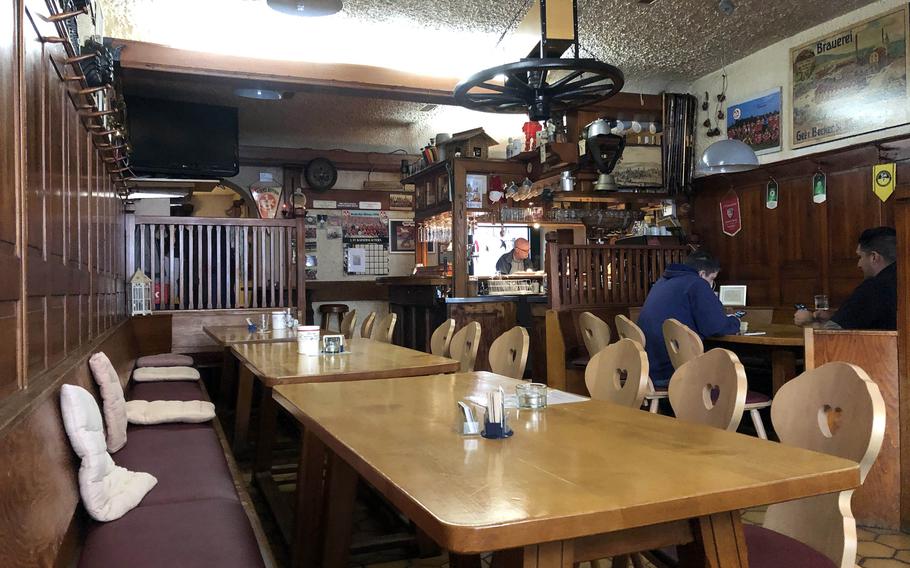 Photos of local soccer teams and pennants hang on the wall, and trophies sit on shelves. Fans of the city's top team, 1. FC Kaiserslautern, gather here before and after matches.
While a kneipe was mainly a place to drink, most served good, solid German food. You'd find schnitzel, bratwurst, rump steak — in other words, meat.
That's what's on the menu at the Wurst-Kuech, too.
We ordered fleischkaese, which was the daily special, and a Pfaelzer teller. The former is like a slab of fried bologna topped with a fried egg. It came with spinach and boiled potatoes.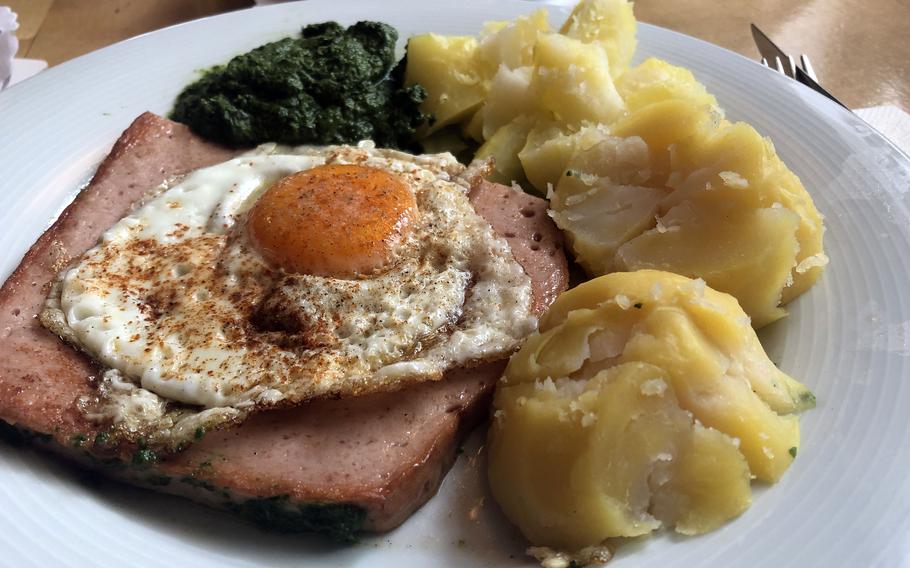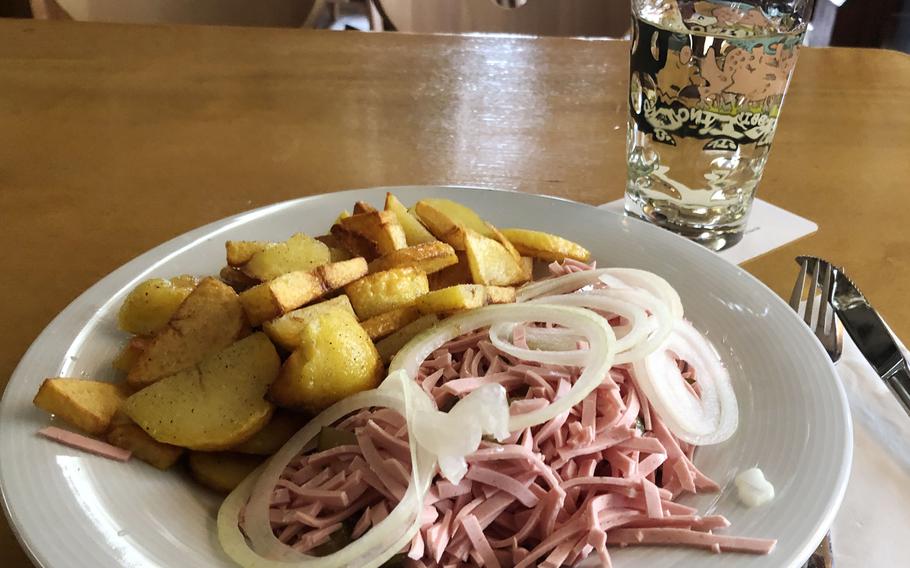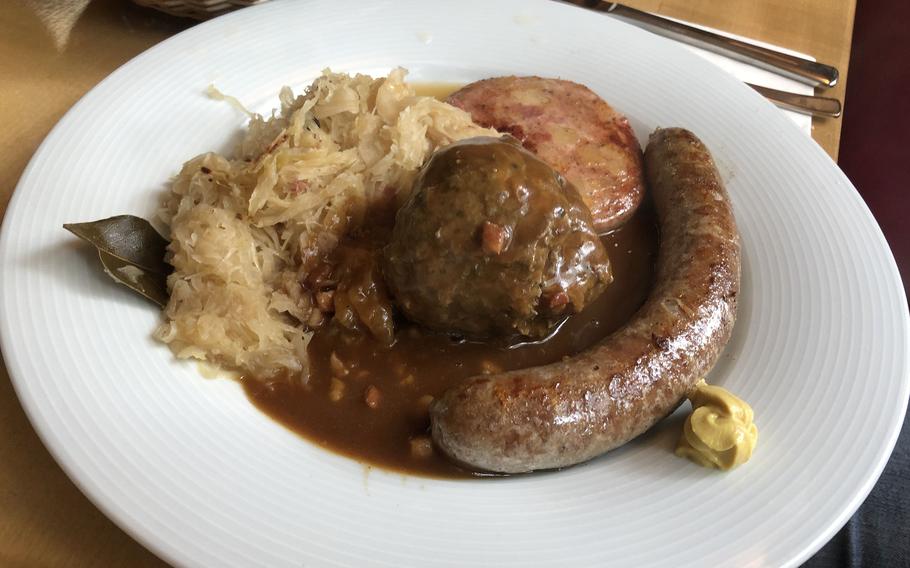 The latter is a plate of specialties from the surrounding Pfalz region. It featured stuffed pork stomach, a liver dumpling and a bratwurst served with sauerkraut and bread.
Everything was delicious. The meats were spicy in a peppery way, the sauerkraut tangy. Only the boiled potatoes were a little plain. We washed it down with Karlsberg beer from nearby Homburg.
On a follow-up visit, I tried the wurstsalat, or sausage salad. It is made with sliced cold cuts and pickles in a vinegar dressing, topped with onions and served with fried potatoes. Very satisfying.
But not all is meat here. There are several vegetarian items on the menu, including a vegetarian schnitzel and a mushroom omelet.
And you don't have to drink beer, either. The Wurst-Kuech has a large selection of wines from the Pfalz, Germany's second-largest wine-producing area.
We had a good time, reminiscing about kneipen where we once hung out that are no longer around, and enjoying this one, which still is.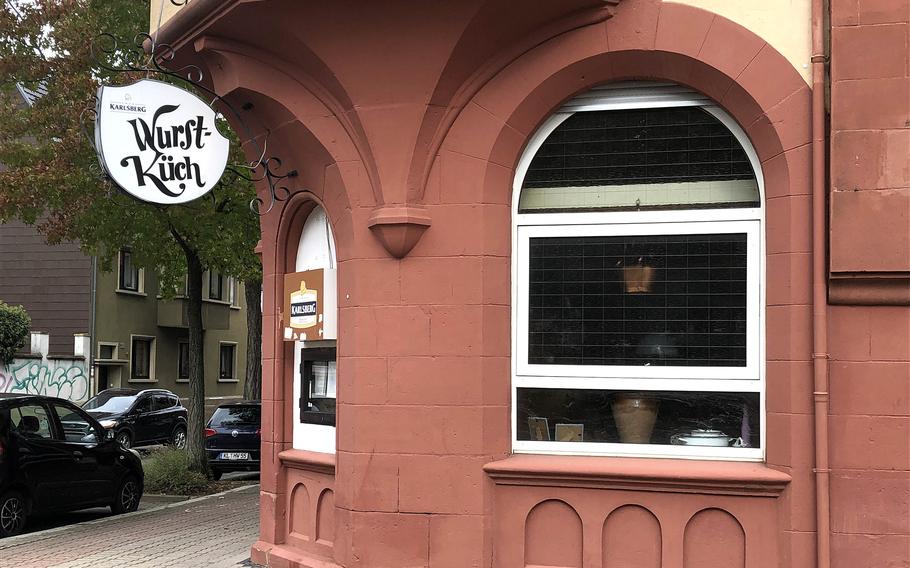 Location: Wilhelmstrasse 29, 67655 Kaiserslautern
Hours: 11 a.m.-2 p.m. and 5 p.m.- 11 p.m., Monday through Friday; 11 a.m.-11 p.m., Saturday. Closed on Sundays except when the 1.FCK soccer team is playing.
Dress: Casual
Prices: From 4.60 euros for soup to 18.90 euros for a rump steak.
Information: Online: wurst-kuech.de. Menus have English translations. There is a separate room for smokers. Daily specials Monday through Friday. Outside area in the summer.
---
---
---
---