Staj noodle bar delivers on Asian street food but save the ramen for japan
By
Stars and Stripes
November 4, 2021
---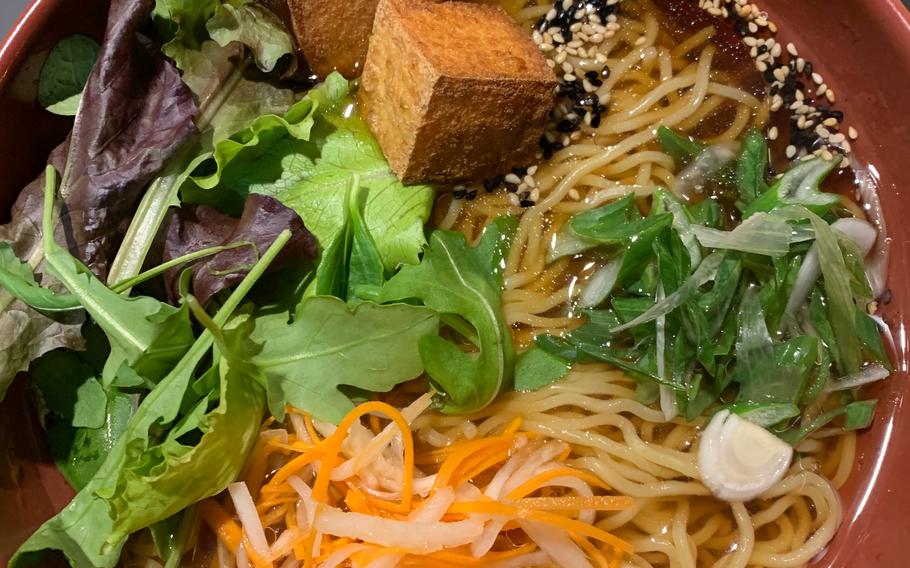 Even the most stalwart Italian food fan occasionally needs a break from pizza, pasta and mozzarella.
Staj Noodle Bar fills that niche with a surprising assortment of Asian-inspired dishes from stir-fried noodles to ramen and even bao.
The popular restaurant in Naple's Vomero neighborhood, just a few blocks from the Chiaia funicular Cimarosa stop at Via Gian Lorenzo Bernini, features a sleek, minimalist decor as the backdrop for indoor and outdoor seating areas with attentive, friendly servers.  
One highlight of the menu: the variety of vegan and vegetarian dishes, which are hard to find in many Naples restaurants. Beer, wine and craft cocktails also are available.
Staj isn't the easiest eatery on the wallet, though. For example, ramen bowls are priced at 15 euros.
We tried the steamed vegetable dumplings, which included two versions: three in a green wrapper with daikon, carrots, edamame and other vegetables and three in a white wrapper with cabbage, carrots and chives.
Each featured crisp vegetables and good flavor, but overall, they were only slightly better than what could be found in a grocery store freezer aisle. Next time, I'll try them pan- or deep-fried.
A better choice may have been the sweet potato fries with sweet chili sauce or, for seafood eaters, the takoyaki octopus fritters with wasabi mayo.
The mushroom bao were a standout. They consisted of two puffy bao "tacos" filled with nicely sauteed shitake mushrooms and fried onion flavored with a soy glaze and sriracha.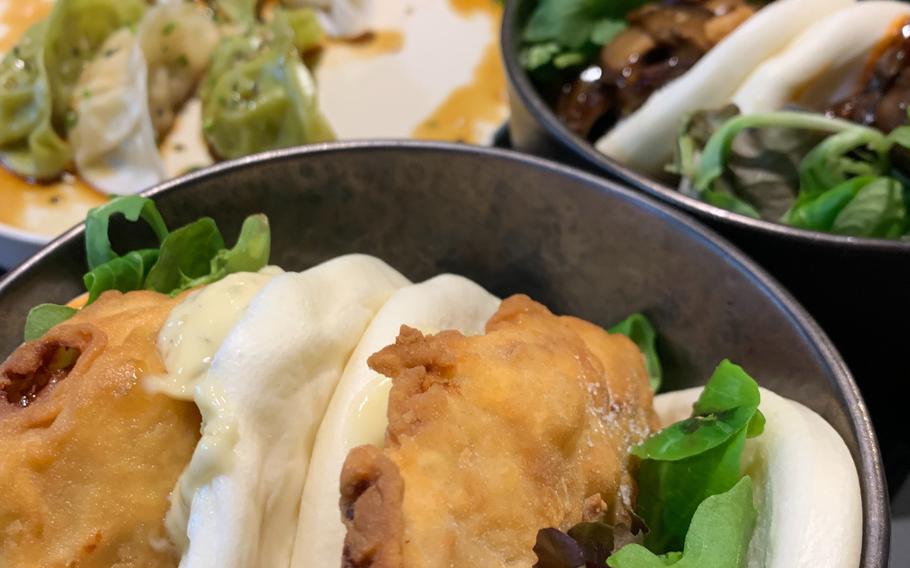 Two of these along with a glass of Fiano di Avellino, a regional white wine, would make a satisfying appetizer or light meal.
They even were a hit with my meat-eating companions, who preferred them over the fried chicken bao with tartar sauce, pickles and sesame seeds. That dish earned a simple "good."
A source of pride for Staj is its noodles, which are made fresh daily. And it was here that the restaurant came through nicely.
Ramen bowls featured well-made, thin noodles that didn't lose their firmness as we ate.
The vegetable ramen included two small squares of tasty fried tofu — I found myself wanting more — pickled vegetables and greens. But the mushroom-and-kombu broth did not live up to expectations. It had a salty and unappealing taste.
The shoyu ramen, consisting of chicken and dashi broth with braised pork shoulder and the traditional egg and fish cake, was similarly underwhelming.
One of my dining companions, who lived for many years in Japan, said it was OK but a long way from authentic.
The pad thai, however, was delicious. The rice noodles were served with nicely cooked prawns and squid and accented with peanuts, lime and coriander. I thought it could have included more seafood, though.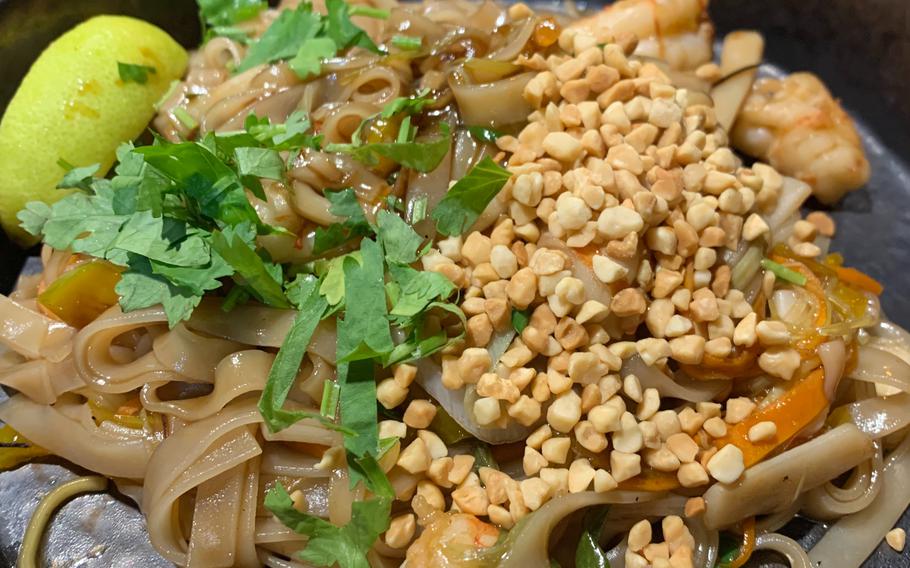 Overall, Staj hits the high notes, with tasty noodles, an expert take on Asian street food and some of the best service in Naples.
But ramen is best made and eaten in Japan.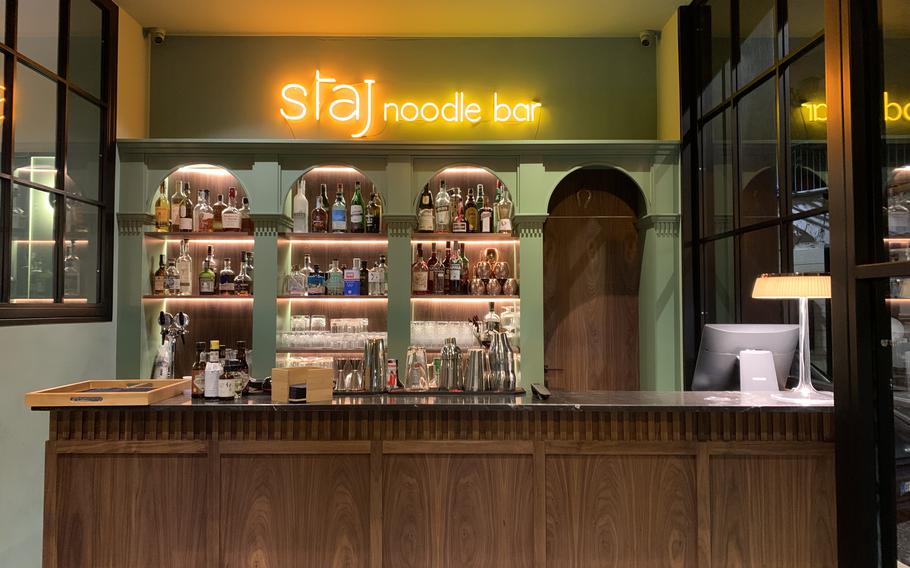 Staj Noodle Bar, Vomero
Address:  Via Gian Lorenzo Bernini 87A, Naples, Italy 80129 (Note: another restaurant in Chiaia is closed for renovations)
Phone: +39 081-379-9194 (reservations strongly recommended, https://www.quandoo.it/en/place/staj-noodle-bar-vomero-90303?aid=63)
Hours: 7-11 p.m. Tuesday-Sunday; closed Mondays
Menu: Available in Italian and English, https://staj.it/vomero/inglese/damangiare-inglese.pdf
Prices: Appetizers, 5-10 euros; bao, 8-10 euros; stir-fried noodles and ramen, 10-15 euros plus add-ons; specialty dishes, 10-15 euros; desserts, 5-8 euros.
---
---
---
---