Julien restaurant offers food with a slight French accent in Kaiserslautern
by
Karin Zeitvogel
Stars and Stripes
September 9, 2021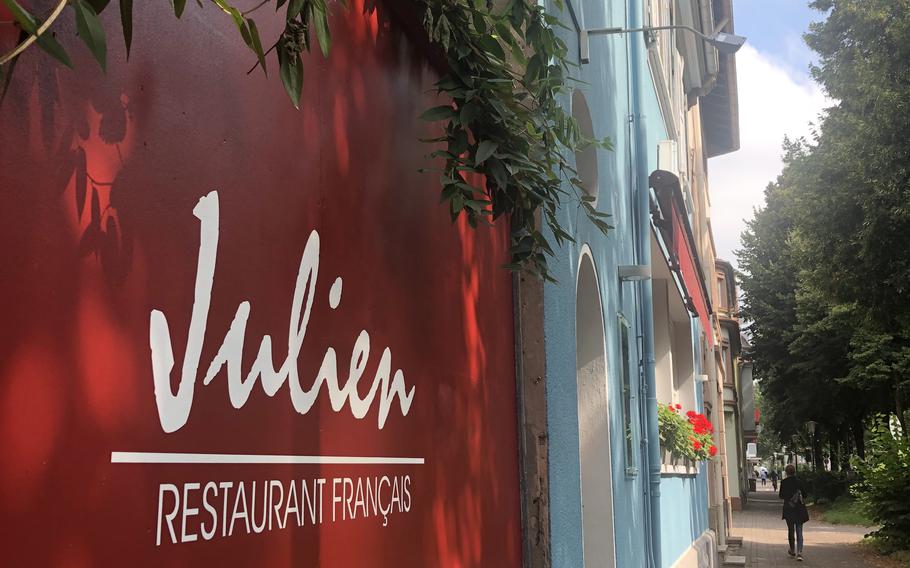 Walking into the Julien French restaurant on one of the busiest streets in Kaiserslautern is like finding an oasis in the desert.
Immediately after you enter the 35-year-old restaurant, a flight of stairs on the left leads to an outdoor dining area with water features, socially distanced tables, chandeliers and heaters.
None of the heaters was on in early September, but their presence told us we could still eat outdoors in cooler weather.
The indoor dining room on the right is reminiscent of upscale restaurants in France, with wine glasses at the ready on white tablecloths and pictures hanging on the walls.
We had reserved a table in the garden area, which turned out to be a good thing because the restaurant was busy on the midweek evening that we went there.
One of my party started with a kir royale, which is supposed to be sparkling wine with a fruit liqueur. This one was unlike any kir royale I'd ever tasted in France.
For one thing, the ice cubes in it killed the sparkling wine's bubbles and watered down the liqueur. Knowing that someone was serving bubbly wine with ice cubes in Germany would probably have led to cries of "Quel scandale!" in France.
One of our party ordered from the prix fixe menu, which is updated several times a week. He chose a terrine of rabbit as a starter, followed by salmon with arugula and thinly shaved Italian cheese and dessert, all for around $31.
Wednesday's menu also offered soup or salad to start, a choice of beef, chicken or fish for the main course.
The beef option, ribeye steak — or entrecote in French, which sounds sexier — was $5 more, and for around $78, two hungry carnivores could have a chateaubriand, a thick slab of meat cut from the center of a filet of beef.
The dessert choices were crepes, French cheeses, elaborate coffee concoctions or creme brulee.
The prix fixe menu did not offer vegetarian meals, but there are about a dozen available a la carte.
My other dinner partner chose roast New Zealand lamb with pesto and a balsamic vinegar sauce from the regular menu.  I selected two items — the jumbo shrimp with a garlic veloute or blackened salmon with Cajun-style spices — and asked the server to confer with the chef and bring me whichever was gluten-free.
I ended up getting the salmon with Cajun-style spices, which isn't French but American and wasn't piquant enough to be real Cajun. The server ruled out the shrimp dish, my first choice, because it was served with spaghetti, even though I said I would have been OK with swapping the pasta for rice or potatoes.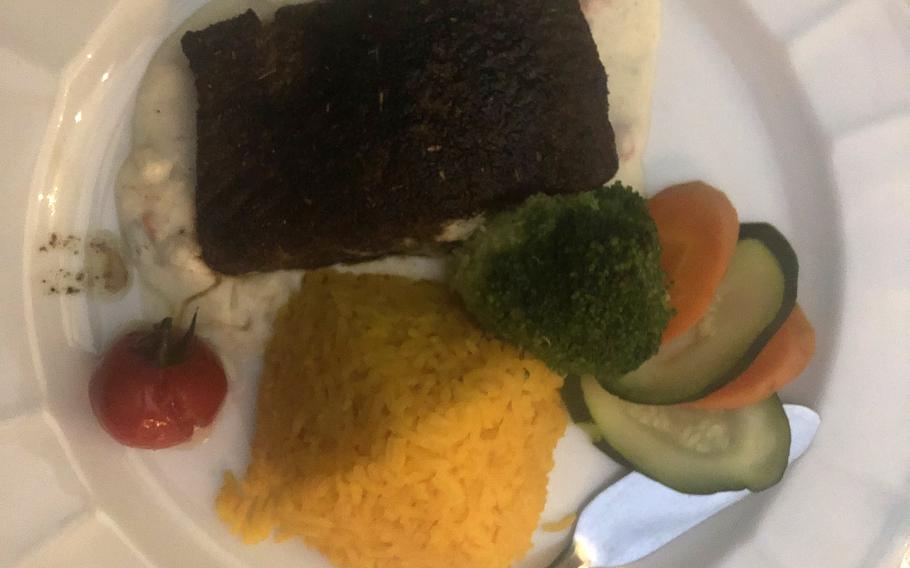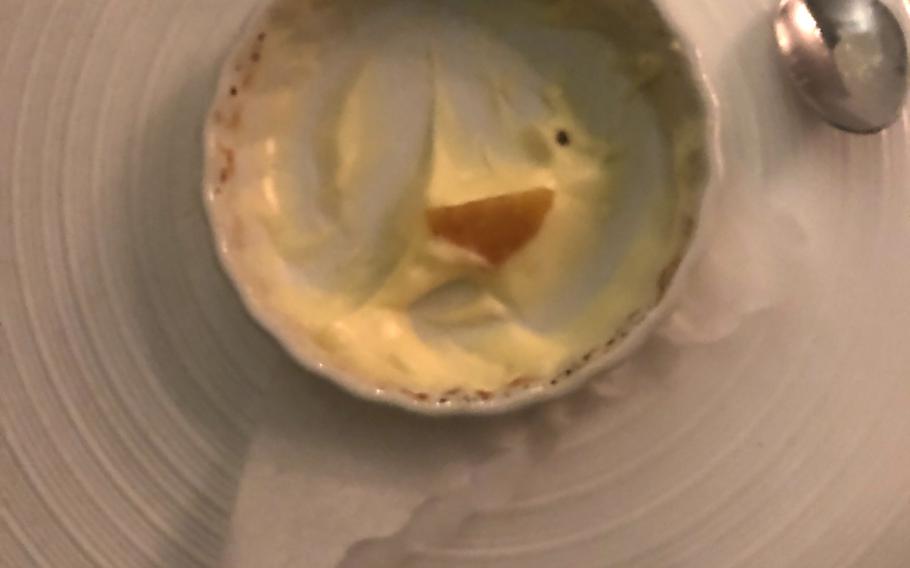 None of our main dishes were typically French, but they were tasty and enjoyable. The most French thing we had was the creme brulee for dessert, which one of my guests said was the best she'd ever tasted.
We washed down the meal with German mineral water and a red from the Languedoc-Roussillon region called Cochon Volant, which means flying pig.  
As one of us lapsed into wine taster's talk and commented on the wine's subtle chocolate overtones, the others reminisced about the Pink Floyd album cover with flying pigs over Battersea power station in London.
From there, we moved on and chatted about the time I met Pete Townsend of The Who at the Frankfurt airport, and from there to something completely different. Conversation is a key ingredient of a memorable meal.
The bill for three came to more than $120. I can eat for a month on money like that. But our stomachs were filled and we were happy, having enjoyed a meal in good company, with interesting conversation, in an idyllic outdoor setting during a pandemic that has made dining anywhere other than your own kitchen very difficult over the past 18 months.
It may not have been very French, but it was tres bon and whetted my appetite to go back to Julien for Sunday brunch in their garden oasis in the middle of Kaiserslautern.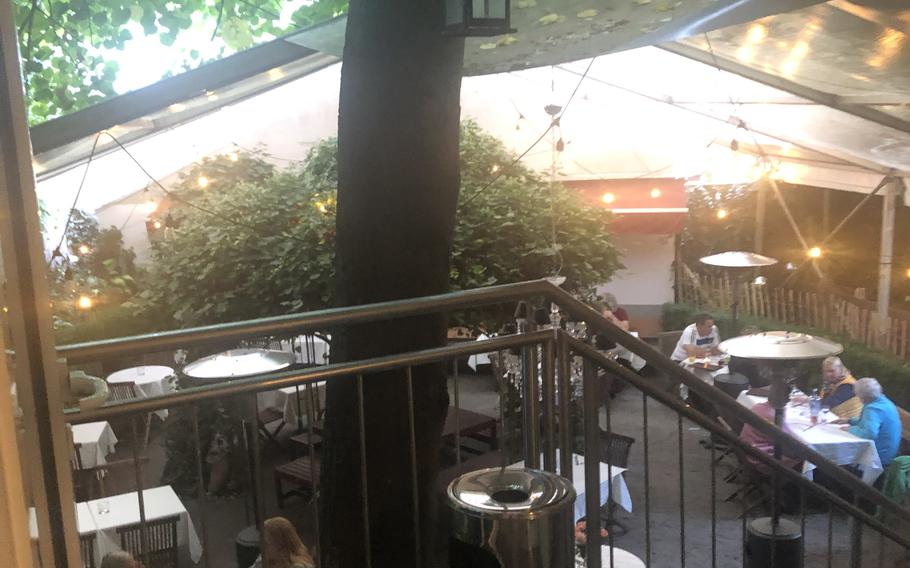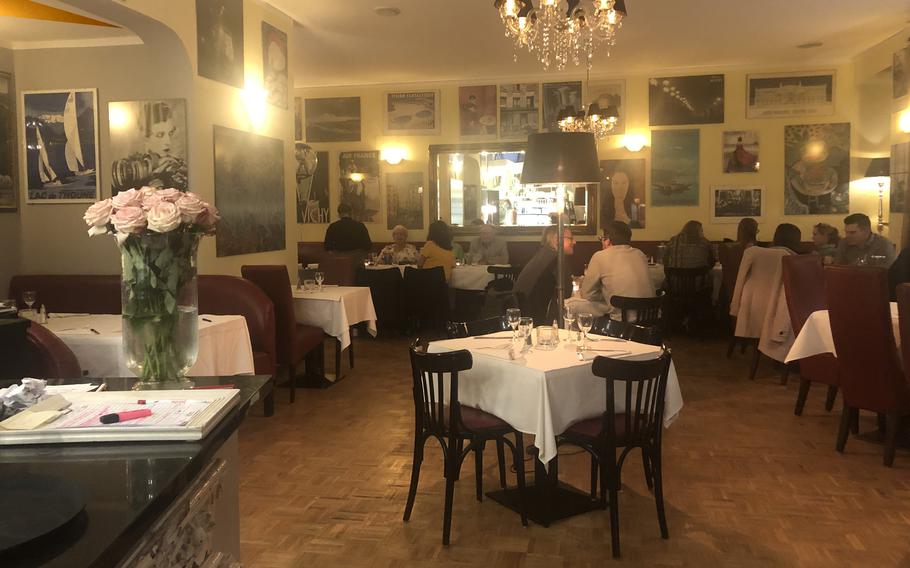 Address: Altenwoogstrasse 3, 67655 Kaiserslautern.
Hours: Open Tuesday-Saturday from 6-11 p.m., Sunday 11 a.m.-2 p.m. for brunch and 6-10 p.m. for dinner. Closed Monday.
Reservations: by phone only at +49 (0) 631 64887. The owner and many of the staff speak English.
Menu: Prix fixe and a la carte menus and prices are available online at www.restaurant-julien.de
Other Info: Two-hour street parking is available with a blue "Parkscheibe" until 8 p.m., after which parking is free until the next morning.