Germany
Big terrace, big food selection is the draw at Piazza in Griesheim
by
Michael Abrams
Stars and Stripes
July 15, 2021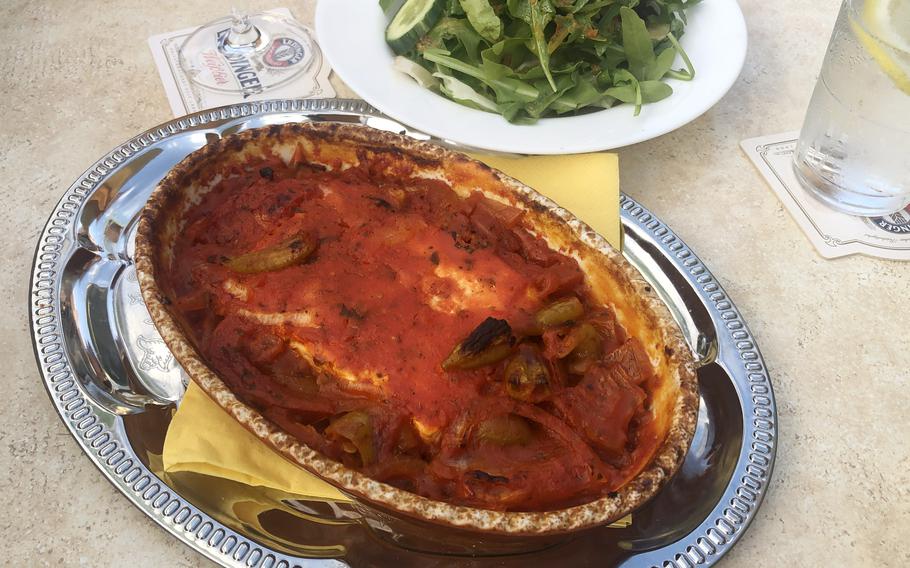 It was a taste of freedom. And it wasn't the "American Style" burgers and wings on the menu.
It was being able to sit outside at a restaurant for the first time in months, among other human beings.
True, there was social distancing and you still needed to leave your personal info, but the terrace at Piazza in Griesheim, Germany, felt liberating.
Before the pandemic, the restaurant, just down the road from the U.S. Army's Dagger Complex, was a go-to favorite after work when we didn't feel like cooking.
Piazza started as a small neighborhood gas station. When it folded, someone opened a takeout pizza place in its small building. Later it was expanded to a tiny Italian restaurant before the current owner enlarged it to its present state, adding the large, partially covered terrace.
Besides the terrace, Piazza's big draw is the variety of dishes to select from.
There's pizza and pasta, a range of schnitzels, steaks, poultry, salads, seafood, baked potatoes, and the aforementioned wings and burgers.
I am usually not a fan of this kind of a hodgepodge of cuisines, but sometimes it's nice to have a mix, especially when dining with friends or family with different tastes.
My wife and I shared the eight chicken wings as a starter. They were crisp and juicy. The barbecue sauce dip that accompanied them was sweet and tangy, with a hint of fire.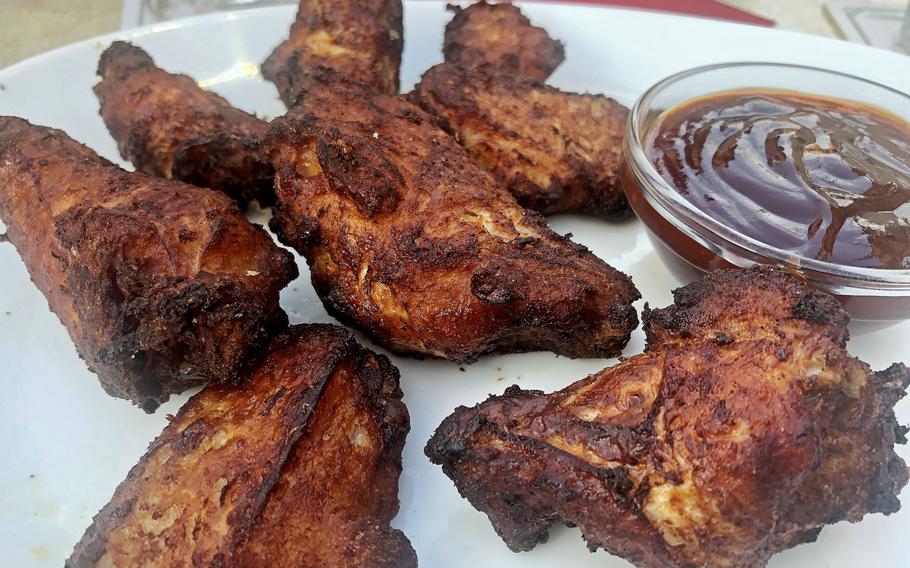 For our main courses, she had the schafskaesepfaennchen, or little sheep's cheese pan, which is a slab of feta cheese baked in a tomato sauce with peppers. As a side, she ordered the small piccola salad with lettuce, rocket, tomatoes and cucumber.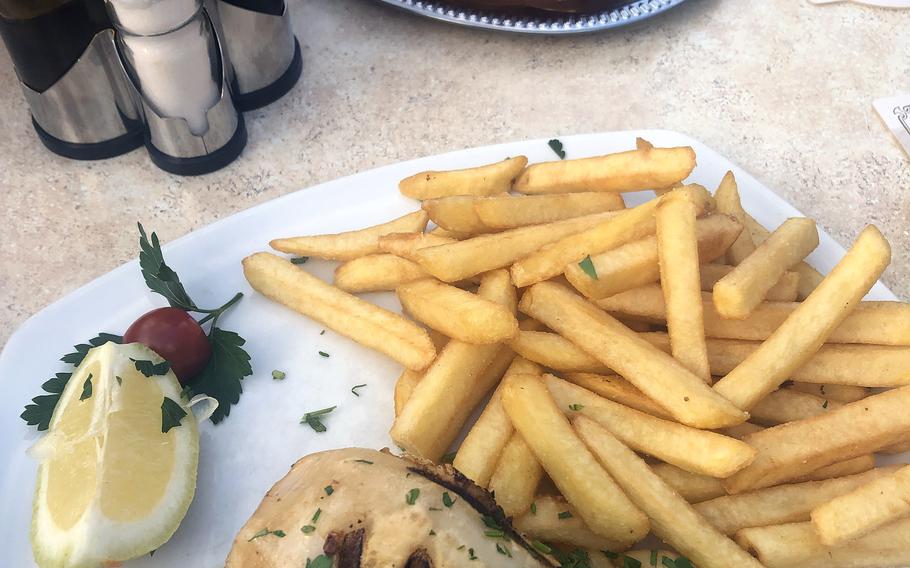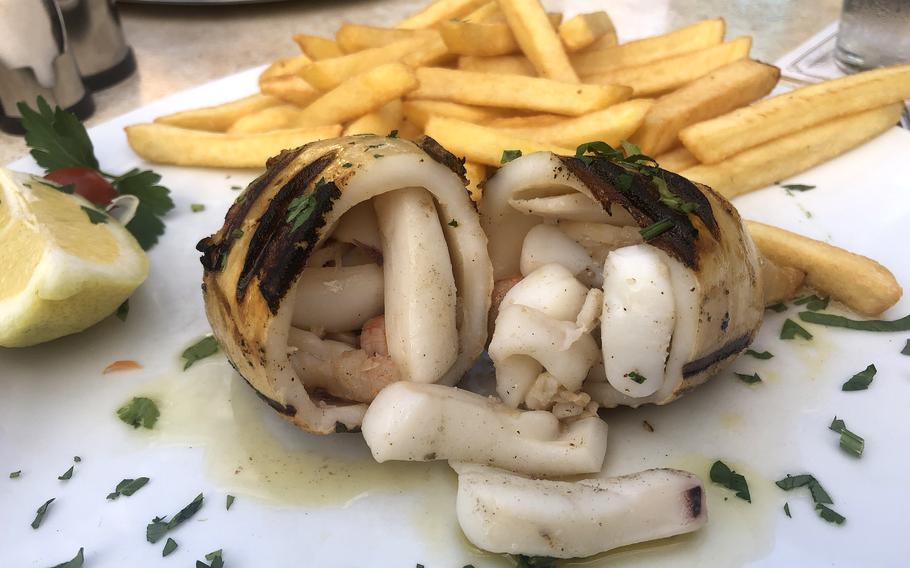 It's one of our favorite dishes, although she likes it best in summer and I prefer it when it's cold in winter. Anyway, the sauce was rich and bubbly, the cheese just still solid and the peppers hot, but not scorching.
I had the stuffed grilled calamari, a squid tube filled with seafood, served with fries and a side salad. The filling was mostly squid and shrimp and was quite tasty. The squid was nice and tender, not chewy like it can sometimes be. It came with fries, which were good but not as crispy as I like them, and a side salad.
We washed it all down with an Italian pinot grigio and a large bottle of mineral water.
For dessert, we ordered a house-made tiramisu — "with two forks, please" ­— and sipped espresso. The tiramisu was mouth-watering, with the ladyfingers soaked just right, not still crunchy, not yet soggy.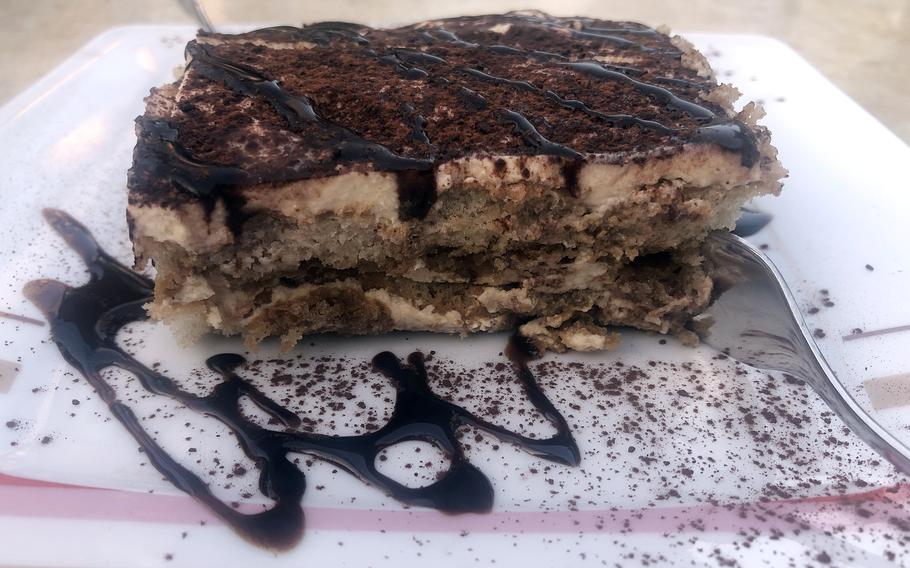 We've tried other dishes on previous visits and I can recommend just about everything.
The burgers are huge and delicious, but in German fashion, made with a mix of beef and pork. There is a good choice of vegetarian pizzas and pastas. The schnitzels come in generous portions. When I'm not too hungry, the baked potato with sour cream and shrimp in garlic oil, surrounded by a salad, is a favorite.
Piazza isn't fancy, but they serve good, solid, satisfying food, and it never disappoints.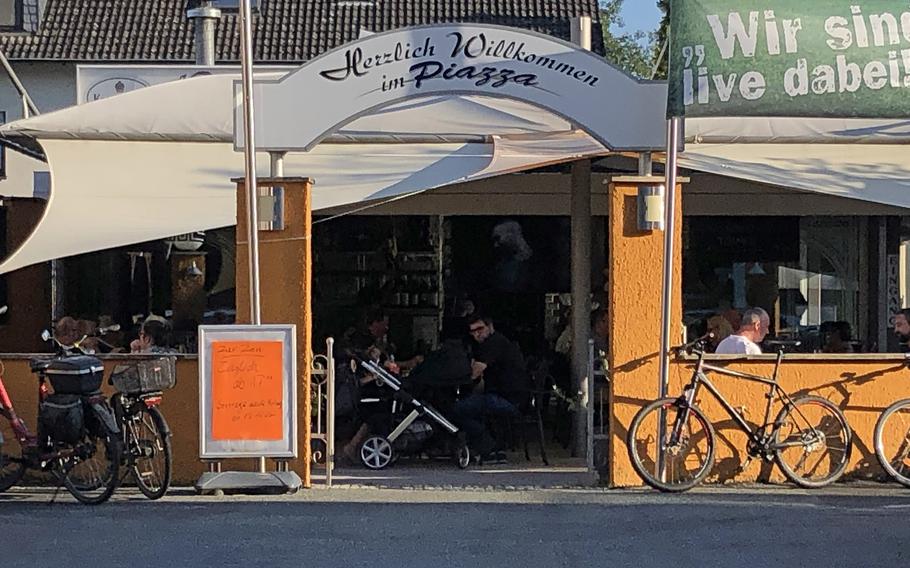 Location: Bessunger Strasse 107, 64347 Griesheim, about 1 mile northwest of the U.S. Army's Dagger Complex at the intersection with Lindenstrasse.
Hours: 5 p.m. to 9 p.m. Tuesday through Sunday; also, noon to 2 p.m. Sunday. Closed Monday.
Dress: Casual
English menu: Unfortunately, no
Prices: Starters begin at 4 euros; the baked sheep's cheese is 9.90 euros. Pizzas start at 6.50 euros and the schnitzels at 9.90 euros. The calamari cost 17.50 euros. The most expensive entrée is steak with mushrooms in cream sauce for 24.50 euros. Tiramisu is 4.80 euros.
Information: Website is in German at piazza-griesheim.de. Telephone is 06155-3949. Reservations highly recommended.