Europe After Hours
Modern burgers pair with an ethos of sustainability at Burgerheart Regensburg
by
Immanuel Johnson
Stars and Stripes
June 17, 2021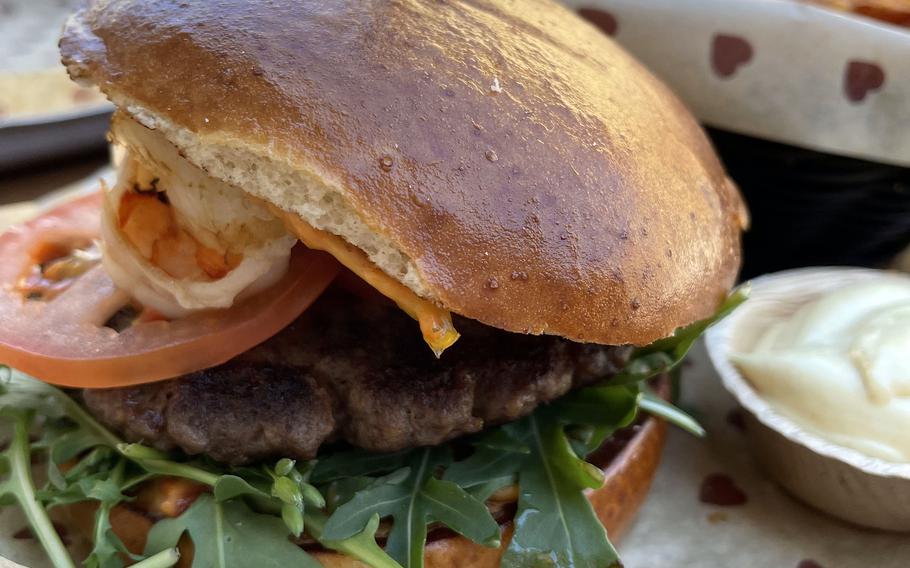 Summer is just around the corner and for most people in Bavaria, including several thousand U.S. service members, the idea of outdoor dining is finally a reality again.
Regensburg, a city of about 150,000 an hour south of the U.S. Army garrisons at Grafenwoehr and Vilseck, is a fun day trip and has several good lunch options. If your cravings tend toward burgers, fries and refreshing drinks during one of Bavaria's heat spells, I'd recommend Burgerheart for its creativity and selection.
The chain started in Wuerzburg in 2013 and now has 17 locations, each with an emphasis on sustainability and social responsibility. They've eliminated plastic waste and teamed up with some leading German charities to donate meals to the less fortunate for each burger that they sell, the company's website says.
That's all great, but the food still has to pass muster, and for the most part it does. Before your meal comes, the mango lemonade is a choice you won't regret. If you'd like beer or wine afterward, they've got that too.
"Burger" in Germany often means just about any kind of sandwich involving a bun, and that's the case here — there are all manner of plant-based patties on the menu, along with grilled cheese and fried chicken sandwiches at some locations. But when I'm reviewing a burger restaurant, beef is going to be a deciding factor.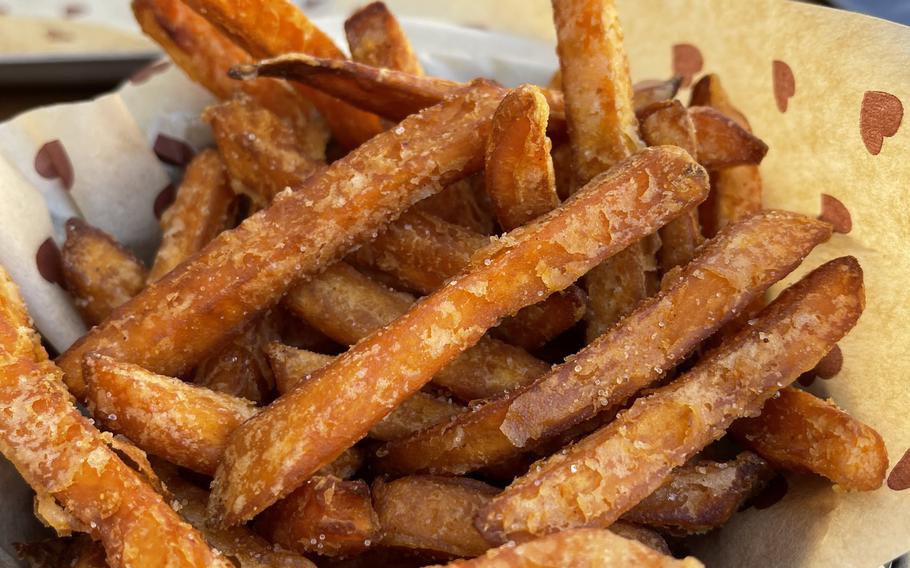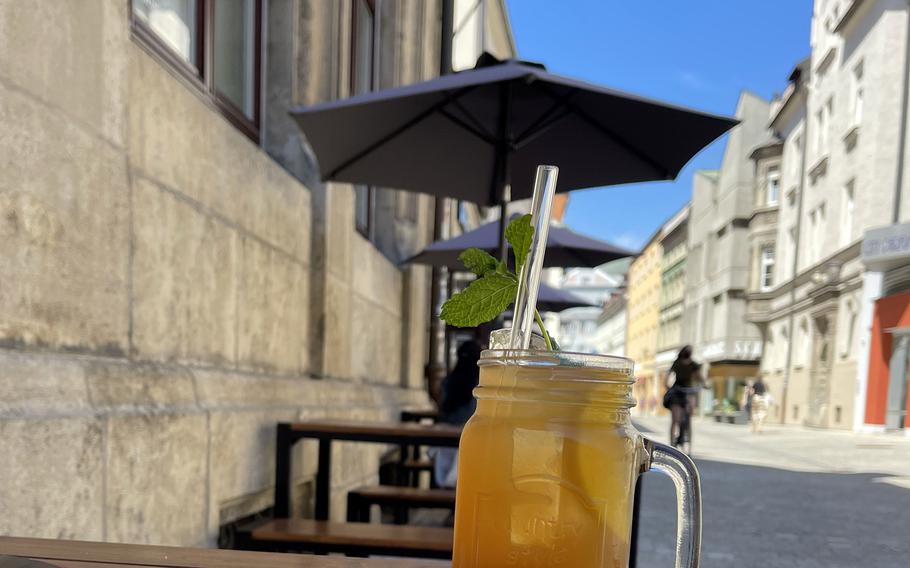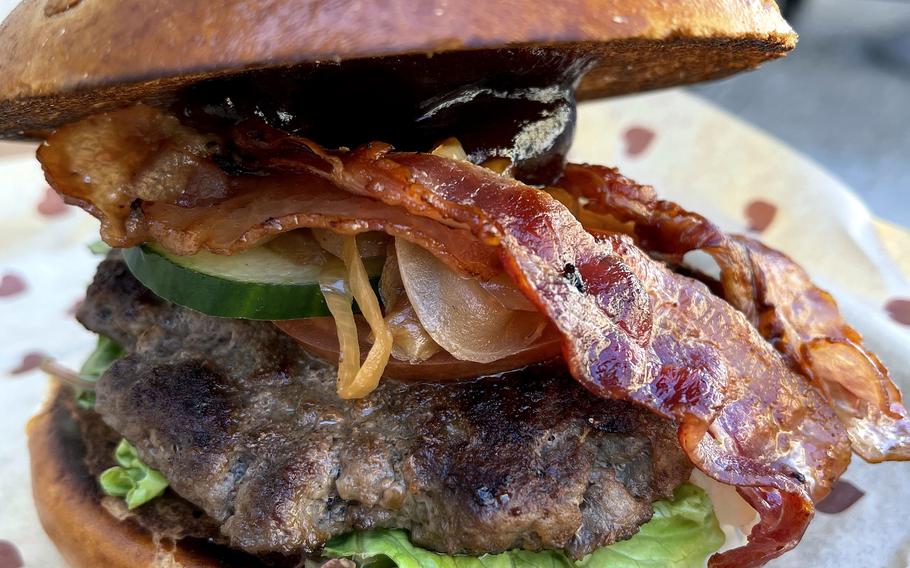 My first choice was the Surf & Turf burger, featuring a German beef patty topped with black tiger prawns, tomato, rocket salad and vegan tomato mayonnaise on a brioche bun. For my money, I'll always insist on vegan mayo with my beef.
I wasn't a fan of the Surf & Turf's bun; it was dry and tasted like eating a bunch of cotton swabs. I'd swap it out for one of the other buns available. But I was impressed with the prawns and the patty.
The second burger I indulged in was the Chuck Norris burger. Norris spent some time in the Air Force, and this burger is as American as it gets, with bacon, tomato, caramelized onions, ranch and burger sauce on a sesame seed bun. The onions and the bacon really made the burger, and I'd recommend this to first-timers.
To make whatever burger you choose that much better, get the sweet potato fries if they're your thing, along with a side or two of the aioli sauce.
If you still have room, the caramelized cheesecake with orange cream has the right balance of sweetness and flavor without being overpowering; it goes nicely with a glass of sweeter wine.
Burgerheart compares pretty well with other burger joints in town. Max+Muh is another good pick. It's less expensive and has a tasty Caprese with a mozzarella-olive patty and tomato relish. But if I had to recommend one to someone headed to Regensburg on a day trip, I'd choose Burgerheart and its more plentiful options.
johnson.immanuel@stripes.com; Twitter: @Manny_Stripes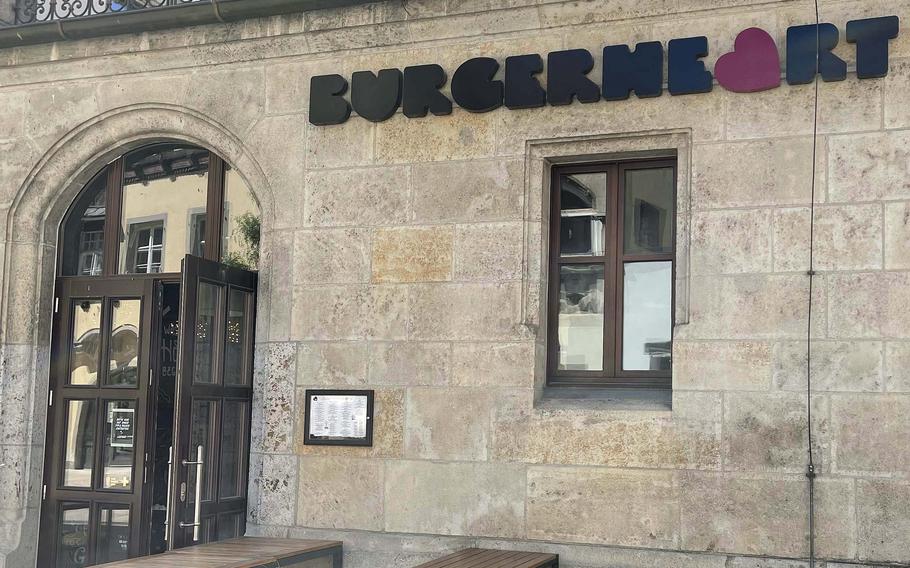 Address: Schwarze-Baeren-Strasse 10, 93047 Regensburg
Hours: Open daily from 11:30 a.m. – 10 p.m., taekout and delivery only. For updates on restrictions and indoor dining, visit Updates online at facebook.com/burgerheart.regensburg.
Prices: Between 6 and 15 euros. Most credit cards accepted.
Menu: Available in German and English on their website: shop.burgerheart.com/storedata/listStore. They have English menus in the restaurant.
Phone: +49 0941 46627330