A foray into genever, a Dutch spirit soaked in history
by
Liza Weisstuch
Special to The Washington Post
November 26, 2021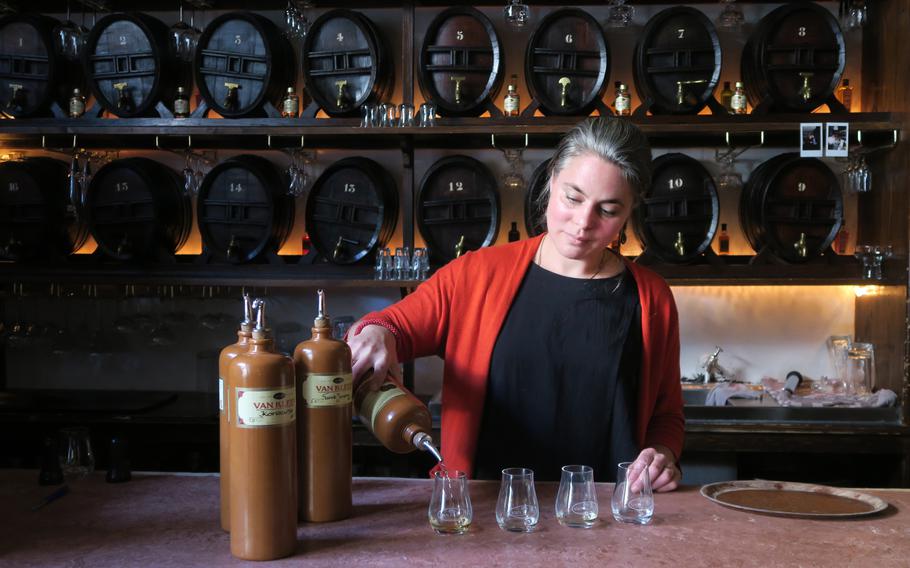 The ferry ride from Rotterdam to Dordrecht is only an hour long, but it seems to take you centuries away. Boat seems the most appropriate way to travel to the oldest city in Holland, which thrived for centuries thanks to its location at the intersection of three rivers. Wood, grains and genever - a traditional Dutch spirit flavored with juniper - were among the goods local merchants shipped out to the rest of the world. In the 1870s, some of the genever was made by Simon Rutte, whose distillery still stands, seven generations later, in a square about a 15-minute walk from the harbor along winding cobblestone streets.
From the outside of this modest three-story building, you'd never imagine the extent of what goes on in what you might call the flavor factory inside. In the tasting room, adorned with vintage family photos, there are about two dozen dark-glass spritz bottles, each labeled hazelnoot, Kaffir lime, oranje-bloesem and an assortment of other fruits, nuts, herbs, flowers and spices. They're the aromas of the individual distillates that are blended to craft various genevers, such as Old Simon, the founder's recipe involving roasted hazelnuts and almonds, cinnamon, mace and celery.
"It's the broadest category in the world," said Myriam Hendrickx, master distiller and former food scientist, of genever. "You have all elements from gin in terms of having flavors from so many botanicals, and all the variables in whiskey, grain-wise and aging-wise. Plus you can age it or not."
Downstairs in the vintage-style store, the shelves are lined with hundreds of bottles, a kaleidoscopic assortment of liqueurs, gins and all kinds of genevers: wood-aged varieties, single oat, single malt. Genever is often explained as the predecessor of gin, and it is, but to describe it as such is to understate it, as I found out on visits to distilleries and bars throughout the Netherlands this past summer. (Though the Dutch traditionally write "jenever," "genever" is typically the U.S. spelling.)
I had gone there on a quest to learn about the spirit, which played a huge role at the dawn of cocktail culture in the United States in the latter half of the 19th century. In fact, it was the original spirit in many classic cocktails we know today as gin-based, such as the Collins. Genever is traditionally distilled from grains, like whiskey, to make a malt wine, which is then redistilled with botanicals, including jeneverbes, or juniper berries. It's distinguished by a maltiness that calls to mind a gentle Irish whiskey. In the first half of the 17th century, the Dutch East India Company was thriving, establishing the Netherlands as an influential commercial force. Genever production grew around England - sort of. Local distillers stripped down the process, infusing the botanicals into less costly neutral spirit. Gone was the maltiness, here to stay was juniper flavor in high definition.
It was hardly only America that clamored for the stuff. Experts estimate that, at points between 1850 and 1880, 1 million liters of genever were exported from the Netherlands each week. Around 1880, it went into free fall with the widespread use of the column still, a more efficient piece of equipment that allowed for cheaper production and much lighter flavors than spirit made in a pot still, which was common until then. If you had cash, you didn't want cheap stuff. Its reputation spiraled.
These are all things I learned at the Jenever Museum in Schiedam, the country's historic genever capital, located a short drive from Rotterdam in a former distillery across from a canal that feeds directly into the Atlantic. A century-plus ago, distilleries lined the street. Barrels were rolled directly onto the ships and sent off to the rest of the world. The museum is jampacked with vintage advertising posters, antique bottles, miniature models of distilleries and paraphernalia, including mid-century decanters shaped like traditionally dressed Dutch matrons, sassy vixens and Uncle Sam.
I should note here that genever is a complex spirit category. In 2008, the European Union granted it protected geographical indication, the same standard as Champagne and cognac. It established genever as a product that can be made only in Holland, Belgium and small regions of France and Germany. Today, E.U. law defines several styles of genever, including jonge (young) and oude (old). Dutch law further defines korenwijn, which can omit juniper altogether. Here's where it can get tricky: Jonge and oude aren't indications of age, but of recipe. Oude, the Old World style, has to contain at least 15% malt wine but can contain more, while jonge, a newer style, can contain no more than 15% malt wine but often contains less. All genever must have some measure of juniper. It can be aged, but that's not a requirement. Today, an estimated 98% of genever sold is jonge. But traditional styles are making a comeback as smaller distilleries emerge.
At the museum's tasting room, I met Rutger Vismans, whose passion is so evangelical that I actually considered renouncing all other spirits forever. Or at least for the rest of my time in the Netherlands.
"I really love genever - I love the smell, the flavor, the historic part," said Rutger, head distiller at the museum, as he poured me a sample of Old Schiedam, the house expression, made with 100% malt wine and no botanicals other than juniper. He distills on-site with a team of five volunteers - local retired men, an avuncular crew of nostalgic hobbyists. He led me through the distillery, which smelled of fresh-baked sourdough, and invited me to meet him in Haarlem, just under an hour from Rotterdam by train, where he works as distiller for Jopen, a brewery where the owners know a thing or two about vintage drinks. Jopen is known for reviving lost styles of Dutch beer with recipes unearthed from city archives. And he makes his own brand, Rudy's. Like I said: passionate.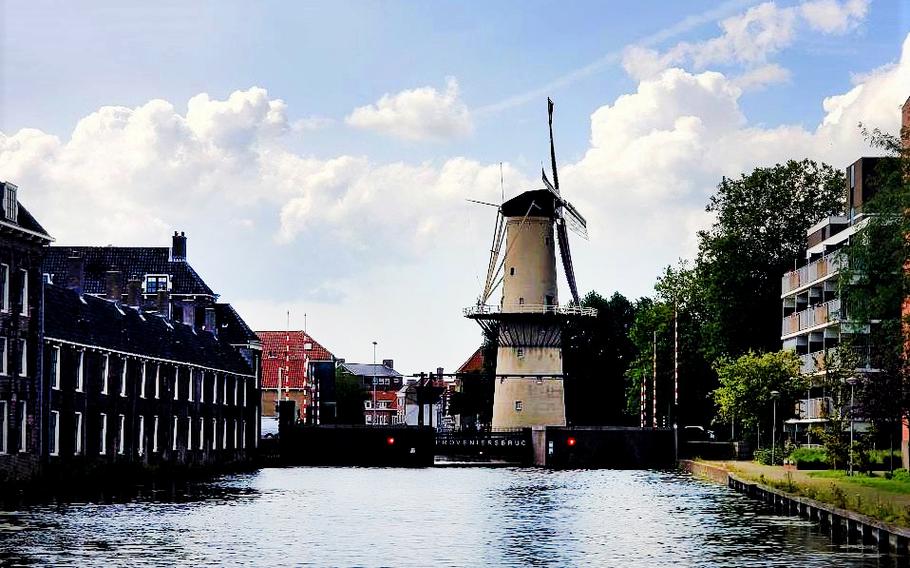 The museum encompasses the Walvisch, or the Whale, a faithful reconstruction of a centuries-old windmill that burned in 1996. It's one of seven mills in Schiedam today, where once there were 24 making flour for distillers and bakers. From the upper deck, stories above, it became clear just how thoughtfully the city was designed around the industry. In its heyday, Schiedam had about 400 distilleries. It was known as Zwart Nazareth, or Black Nazareth, because of the canopy of black smoke from all the production. No building in the densely packed streetscape is higher than 2 1/2 stories, so nothing interferes with the wind powering the mills' blades.
"Want to see it in action?" one of the millers shouted. He locked the gears and proceeded to scramble, super-hero-like, up the wood lattice of one of the blades to attach a heavy sail to the frame, which would catch the wind and turn the blades. He hauled the heavy ropes up and nimbly hooked it to the top of the frame. He scrambled halfway down and swung the rope like a lasso, unfurling the tarp and swiftly tying knots to secure it at the midpoint. Then he darted down to the base and fastened it into place there. Henk, a retired university professor of aeronautics who volunteers at the mill, watched approvingly.
"It's all the technology of motion and power," he told me, explaining how aeronautics was not all that different.
Genever distilleries proliferated in other cities, too, so I traveled to The Hague, a half-hour train ride from Rotterdam, to visit Van Kleef, one of van Gogh's watering holes, as legend has it. It sits on a narrow street, and its facade hasn't changed much since it opened in 1842. Today, it's a store, tasting room and museum. Much of the distilling happens off-site. Owner Fleur Kruyt, a convivial host, showed me The Hague's first phone book from 1883, where Van Kleef Distillery held a distinguished position of the first listing and the phone number "1." She explained "drankorgel," or drinking organ, the tradition of knocking on barrels to determine the volumes of their contents. And she poured me a flight of soft, cardamom-accented wheat genever, a spicier, musky rye variety, and a robust yet velvety five-year-old.
The next day I lit out to Haarlem, where I joined up again with Rutger at Jopenkerk, which is located in a former church on a main square. We tried a few Gospel genevers, including a caraway-accented, soft and citrusy barrel-aged Piet Honingh, distilled from Jopen beer, then strolled a few blocks to Bar Wigbolt, a genever-focused cocktail bar decked out with old-fashioned tan ceramic genever jugs. (Seek out van Gogh's more obscure paintings and you'll spot a few.) Bob van den Bree, an owner, presided over the bar. If we really want to get a sense of what genever does for a cocktail, he said, try a Happy Bob, made with Old Duff 100% malt wine genever, an Old World style produced entirely with malt wine, no neutral grain spirit. There were several strong-flavored ingredients in the drink - lemon juice, Campari, IPA syrup - yet the brawny maltiness popped through.
"A lot of people say, 'My grandfather drank genever, I don't like it,' " Bob lamented. "That's because they drink jonge genever. But as we see older styles introduced more, it's easier to explain to people why they should be proud of the heritage. It's working. Young people spend more for better products."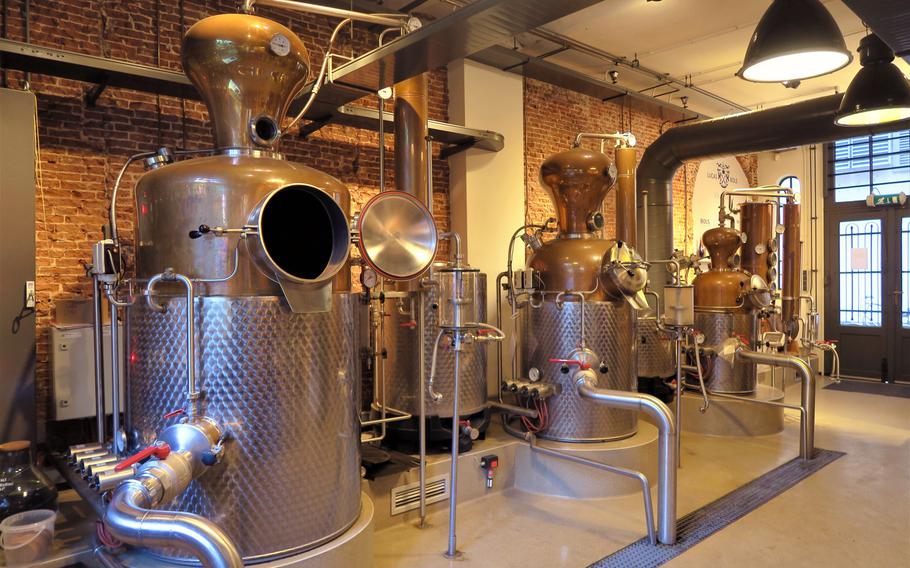 I had one last stop on my circuit: a small urban outpost of Dutch giant Bols. The compact distillery on a narrow pedestrian street is the same location that Lucas Bols opened in 1575. He started as a liqueur maker and would later make genevers with exotic spices and herbs the Dutch East India Company brought to the city. Having been known throughout the 20th century for its liqueurs, Bols changed course in 2008 to focus on its genever-making tradition.
In this small facility, head distiller Monique ten Kortenaar redistills malt wine to make the individual botanical distillates that are blended with straight malt wine or grain spirit at a larger facility to fashion the genevers. She also makes a product independently. Otenba is a cross between gin and genever that highlights Asian botanicals, a nod to her grandfather, a perfumer who specialized in fragrances for the Far East market. (A tattoo of flowers in a vintage perfume bottle is another tribute to him.) She designed the spirit to pique curiosity of younger drinkers who think of genever as too fuddy-duddy, she told me.
After we toured the distillery, which still boasts some of the building's 16th-century construction, we went up to the Victorian-accented proeflokaal, or tasting pub, where I was about to learn how the Dutch traditionally drink genever. It's called kopstootj, or "little head butt." The bartender pours genever into a tulip glass to the point of near-overflow. Then he presents a glass of beer.
"It's poured to a meniscus, because Dutch people want to get their money's worth. OK, put your hands behind your back," she instructed. "Now bend over, slurp the surface, then pick up the glass and drink the rest. And the beer."
If that doesn't call for Dutch courage, I don't know what does.
- - -
If you go
Where to eat
Bar Wigbolt
Smedestraat 41, Haarlem
barwigbolt.nl
011-31-23-202-5970
This stylish cocktail bar features a wide assortment of genevers, creative cocktails and a staff with a deep knowledge of the spirit and its history. Cocktails from about $10. Open Tuesday through Thursday and Sunday 6:30 p.m. to midnight; Friday and Saturday 5 p.m. to midnight.
Rutte Distillery
Vriesestraat 130, Dordrecht
rutte.com
011-31-78-613-4467
Since its founding in 1872, Rutte Distillery has made a vast assortment of genevers, liqueurs and gins, and it's known for its creative takes on traditional styles. Shop Monday to Saturday 9.30 a.m. to 5 p.m. Distillery open to visitors for tours without reservations 9:30 a.m. to 5 p.m. Friday and Saturday.
Bols Distillery/Wynand Fockink bar
Pijlsteeg 31, Amsterdam
011-31-20-639-2695
wynand-fockink.nl
First opened in 1575, this distillery produces the botanical distillates that are blended into Bols's genevers. The old-timey bar and store are operated by Wynand Fockink, a different brand. Tickets for tours and tastings can be purchased through Wynand Fockink. Tasting and tour tickets about $20 per person. Tours Saturdays and Sundays at 3 p.m., 4:30 p.m., 6 p.m. and 7:30 p.m. Bar and shop open daily 2 p.m. to 9 p.m.
What to do
Jenever Museum
74-76 Lange Haven, Schiedam
jenevermuseum.nl
011-31-10-246-9676
A broad history of genever, from when the Dutch East India Company brought exotic spices to the Netherlands to today, is on view at this canal-side museum. Also features working distillery and tasting room. Open Tuesday through Sunday, 11 a.m. to 5 p.m. Entrance about $14 per person; tastings about $11 for three samples and about $22 for six.
Van Kleef
Lange Beestenmarkt 109, The Hague
museumvankleef.nl
011-31-70-345-2273
This compact distillery, established in 1842, is the last one in The Hague. Its museum features vintage equipment and a variety of historical documents, antique books and paraphernalia. Drinks from about $1 per tasting glass, cocktails about $12. Bites such as olives and cheese plates from about $2.80. Open Tuesday to Saturday 10 a.m. to 6 p.m. and Sunday 1 p.m. to 6 p.m. Ninety-minute tour with tasting session about $23 per person. Tours offered noon and 2 p.m. on Saturday and 2 p.m. Sunday.
Information
holland.com/global/tourism.htm
---
---
---
---