In France, Narbonne takes a turn in the international spotlight
by
Sylvie Bigar
Special To The Washington Post
November 11, 2021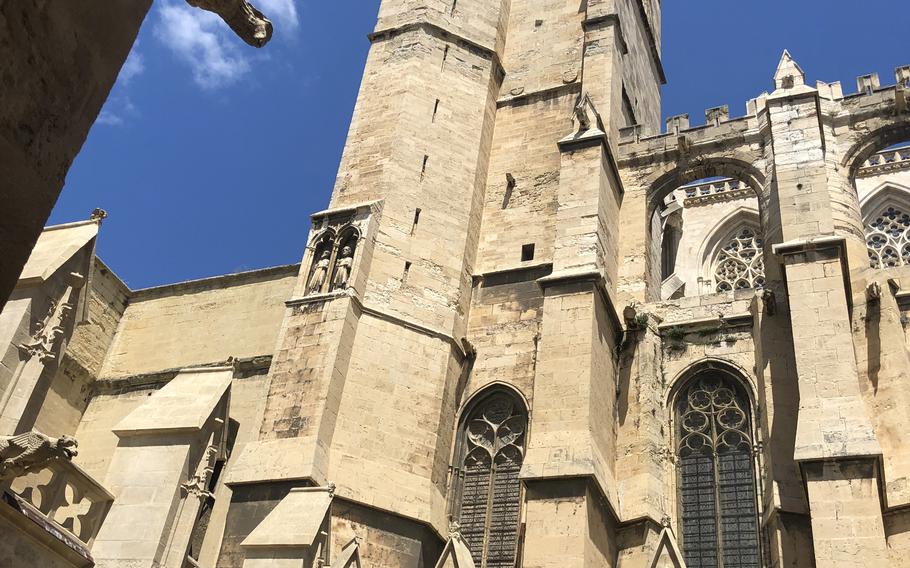 Perched on a rocky ridge surrounded by dense vineyards near Narbonne in the Occitanie region of France last August, I couldn't stop singing "Blowin' in the Wind." Beyond the vines, the shivering ripples of the Mediterranean carried cool, salty air. To my left, a fluttering wind cone planted in the middle of the vineyard had been torn to shreds.
It's not just the wind that's fierce in this coastal area, between Barcelona and Montpellier. Everyone I met there, including the young fisherman with a bright stare who "cannot imagine another career," the towering winemaker responsible for bringing local crus to tables around the world and the former rugby pro-turned-restaurateur/showman at the covered market, seemed to share a fierce passion for their land.
I had driven through Narbonne twice: Once on one of many jaunts to nearby Carcassonne during my obsessive quest for the best cassoulet in France, and once on my way to Spain, just about an hour's drive away. But this time, it was my destination.
The past year saw the opening of a museum designed by the British studio Foster + Partners and dedicated to this ancient maritime capital's rich Roman history. Within the Clape massif, a low mountain range nearby, biodynamic winemaker Gérard Bertrand was expanding Château l'Hospitalet - his wine-centered resort - adding new suites, restaurants, a spa and a beach club. If this wasn't enough to spark interest, filmmaker Ridley Scott had chosen the local Abbaye de Fontfroide as the backdrop for many scenes in his 2021 movie "The Last Duel," starring Ben Affleck, Matt Damon and Adam Driver.
From Geneva, where I was visiting family, I arrived in Narbonne by train through Lyon. Thursday turned out to be market day, and along the charming Canal de la Robine (a branch of the Canal du Midi), vintage tulle dresses and lacy sheets sailed in the gentle breeze. Someone was selling deep-red clay bowls of all sizes and spoons carved from the wood of olive trees.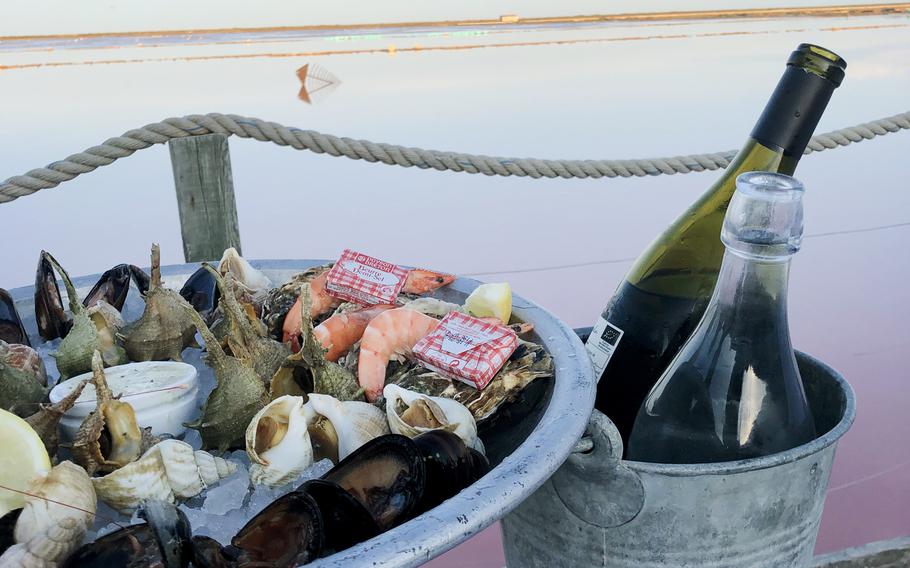 I was hungry, though, so I headed to Les Halles, the stunning steel-and-glass-covered market built in the beginning of the 20th century. (Turns out, it recently came second in a national competition for the most beautiful market in France!) Crowded aisles revealed more than 60 vendors: butcher shops framed with hanging sausages, stinky stalls filled to the brim with more cheese varieties than there are French departments, produce stands redolent of sweet summer fruits, several bakeries, patisseries and even a flower shop.
"You ever tasted grooved sea squirts?" asked a blond fishmonger, her eye shadow matching the iridescent scales of the fish. I hadn't, so she proceeded to slice open what resembled a mossy rock and serve it to me with a lemon squeeze. I savored the creamy interior, brinier than a sea urchin but similar in texture.
Hearing a commotion, I followed the crowd and found myself standing across a rectangular counter surrounding a prep kitchen and massive grill. Taller than all his employees (many are relatives, I would learn) and barking into a megaphone stood the market celebrity, a former rugby star named Gilles Belzons and nicknamed Bebelle.
"Everything we cook comes directly from this market," he told me after I was finally able to wedge myself between a teenager devouring a steak the size of his head and a lavender-haired lady lapping at a glass of red wine. Bebelle first shouts the orders to the butcher across the aisle and the poultry vendor on the other side. Then he runs, his right arm raised to catch the prize thrown at him: a duck breast, perhaps, or the entrecôte, nicely wrapped. While the crowd cheers him on, he passes the package to his sister, who works the grill. Back at his spot at the bow of the stall, his biceps bulging, he is beaming.
Narbonne's historical quarter, a short walk away, is lined with lively cafes and boutiques, and centers on an excavated strip of Via Domitia, the antique Roman route that connected Rome to the Spanish peninsula. It's one thing to read about it but another to wonder whether the wide stones, so soft to the touch, were flattened by wheels of ancient chariots. Little remains standing of Narbonne's Roman past, but it's worth exploring the Horreum, underground galleries that probably served as a food warehouse in the 1st century B.C. Well-lit and preserved, they bring to life the habits of the inhabitants of Narbo Martius, the ancient Narbonne.
Narbo Via, the new museum at the eastern entrance into town, has reignited interest in the many current archaeological digs and chronicles the importance of the city as an ancient commercial center. Most impressive, the refurbished mosaics and a wall of 760 fragments of funerary steles. In Roman times, I learned, Narbonne was a crucial harbor, at the crossroads of the maritime ways. Back and forth from Libya to the south, to Sicily and Rome to the east, sail-driven merchant vessels carried olive oil, cheeses, charcuterie and wine often stored in massive terra-cotta amphoras.
It was humbling, the next day, to step into the Saint-Just-et-Saint-Pasteur cathedral and stand under one of the highest brick vaults in France. Above the flowery cloisters, ferocious-looking gargoyles ignored the children noisily chasing each other and stretched toward the indigo late-summer sky, praying for rain.
What a contrast, later, to stroll on the grounds of the tranquil Abbaye de Fontfroide, about a 15-minute drive from the bustling city center. Set against the first tiers of the Corbières mountain range, surrounded by tall, thick cypresses, this stately monastery (now a private museum) was founded in 1093, and at some point housed as many as 300 monks and lay brothers. Remodeled over centuries, the abbey melds architectural styles but exudes harmony and calm. Beneath the rib vault of the exquisite cloister, sculpted marble columns and round apertures paint a stunning natural chiaroscuro. Outside in the rose garden, approximately 2,500 bushes harbor flowers chosen to match the warm ocher tones of the sandstone building.
"Here they are!" I screamed to the wind on my hike, another day, along the grassy marshes of the Regional Natural Park of Narbonne in the Mediterranean. I had never seen flamingos in the wild and marveled at their staccato ballet, long legs emerging from a salt pond. Again, only about a 15-minute drive from downtown, and I was immersed in nature, this time surrounded by lagoons, sandbars and inlets. Nearby, a horse farm offered horseback-riding excursions through the park, along the Mediterranean, the ponds and the meadows where stocky black bulls grazed. The landscape brought to mind the Camargue, the flat marshlands to the south of Arles. Watching the horses galloping through the reeds, I couldn't distinguish mane from sea grass.
It's hard to imagine today that the 22,700 acres that make the massif of La Clape used to be an island, but the wooded valleys, vineyards and stony fields covered by garrigue - the typical Mediterranean landscape consisting of low trees and bushes - are in fact dotted with underground water tunnels. With the sea in the distance, the Gouffre de l'Oeil Doux (Soft-eyed Chasm), a stunning emerald-colored lake surrounded by towering white limestone cliffs, is the most striking evidence of the intricate subterranean water network. From the parking spot, it's an easy 20-minute walk through the low vegetation toward the top of the cliffs that envelop the still-water sinkhole. Even though the water appears inviting and refreshing, it is forbidden to jump or dive. Rumor has it that the mysterious hole is filled with seawater, but no one has been able to identify its source.
Dinner that evening at l'Hospitalet Beach, Château l'Hospitalet's beachfront restaurant, heralded a return to present-day civilization. Land yachts were still gliding by, but the time was ripe to savor local oysters and the meaty grilled dorade the young fisherman had brought earlier. Sitting a few miles from the vineyards, it seemed fitting to order the white biodynamic Château l'Hospitalet wine, a citrusy and crisp blend. I had not had the time to explore the cellar of the vineyard or to partake in one of the joyful tasting sessions I had read about, but I vowed to come back as soon as I could for a longer stay. At the same instant, a jazz duo started playing, and the breeze picked up. Magically, the perforated sun tent that ran the length of the restaurant began undulating in sync. It wasn't Bob Dylan, but it would do.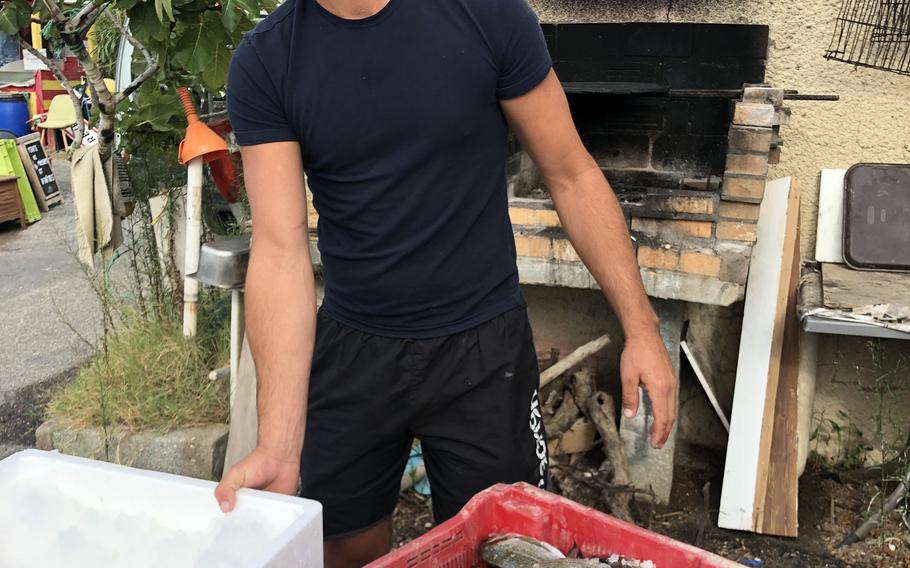 IF YOU GO
Where to stay
Château l'Hospitalet
Route de Narbonne-Plage, Narbonne
011-33-468-452-850
Few resorts propose rooms with vineyard views. Here, guests are plunged into the middle of a working estate but with luxurious accommodations, such as two heated pools, boutiques, a spa and a massive tasting room and cellar. A new restaurant opened this year and another is slated to open in the spring. Rooms from about $280 per night.
Chacun Son Rêve Villa Narbonne
40 Blvd. Marcel Sembat, Narbonne
011-33-615-444-802
chacun-son-reve.narbonne.hotels-fr.net/en
Nathalie and Guy Reydellet welcome visitors to this former family home in the center of town as if they were long-lost relatives. Each room is unique, but all feature contemporary design and chic vintage furniture. During the pandemic, breakfast is optional and not included. Rooms from about $134 per night.
Les Ilots de Gruissan
Alliance Plaisance, Quai Cap au Large, Gruissan
011-33-613-083-251
One- or two-bedroom overwater bungalows are solidly docked to a secure pathway and feature simple maritime decor - perfect if you've dreamed of sleeping on the water but get seasick. A kitchenette and large terrace complete this unusual and reasonable offering, perfect for families. Bungalows from about $105 per night.
Where to eat
Chez Bebelle
Halles de Narbonne, 1 Blvd. Docteur Ferroul, Narbonne
011-33-685-400-901
Squeeze yourself next to the counter of this convivial Halles eatery, where owner Gilles Belzons orders his meats from nearby butchers via a megaphone. The former rugby pro then reaches his arm high as the meats fly from one stall to the other, and the crowd cheers on. Keep some room for dessert. Entrees from about $15.
La Cambuse du Saunier
Salin de Gruissan, Route de l'Ayrolle, Gruissan
011-33-482-531-061
Sit at the high tables, order the seafood platter and sip the local wine while the sunset turns the salt marshes from blue to bright pink. If you're still hungry, the ancestral cassoulet de seiches (cuttlefish) will definitely take care of that. Entrees from about $14.
L'Hospitalet Beach
Parking du Languedoc, Avenue de Gruissan, Narbonne
011-33-468-277-506
Sit at the elegant tables set on the deck or below on the sand and enjoy live music, cocktails and a gastronomic menu at the beach prepared by Chef Laurent Chabert. Seafood (of course) but also impeccable meats, some vegetarian options and a serious wine list. Open seasonally. Entrees from about $16.
What to do
Les Halles de Narbonne
1 Cours Mirabeau, Narbonne
011-33-468-326-399
Don't visit the second-most-beautiful covered market in France on Mondays, when some vendors are off. Between the meats, charcuterie, fish, cheeses, produce, breads and cakes, you won't know what to check out first as you wander among the stalls, but you will get hungrier by the minute. Open daily 7 a.m. to 2 p.m. Free admission.
Narbo Via
2, Avenue André Mècle, Narbonne
011-33-468-902-890
Narbonne's rich Roman heritage is well-documented in this new museum designed by Foster + Partners. A towering wall of rotating stone funerary stele fragments welcomes visitors. Narbo Martius, the Roman town, was an important commercial port and hub for culinary products, especially wine. Open Tuesdays through Sundays from 10 a.m. to 7 p.m. May 2 to Sept. 30; 11 a.m. to 6 p.m. Oct. 1 to April 30. Closed Mondays. Admission about $9.
Abbaye de Fontfroide
Route Départementale 613, Narbonne
011-33-468-451-108
Leave the bustling town behind and plunge into this medieval jewel founded in 1093. Stroll through the ancient stone rooms and imagine the lives of the monks who lived, worshiped and meditated along the stunning cloister and gardens. Hours vary; check website for details. Admission for self-guided abbey and garden tours about $15 adults, about $9 children 6 to 17, about $11 students 18 to 25 and people with reduced mobility, free for children 5 and under. Guided tours and special exhibits available; check website for ticket prices and availability.
Information: visit-lanarbonnaise.com