New Streets of Rage 4 update turns fighters into gods, making a great game even better
by
Gene Park
The Washington Post
August 3, 2021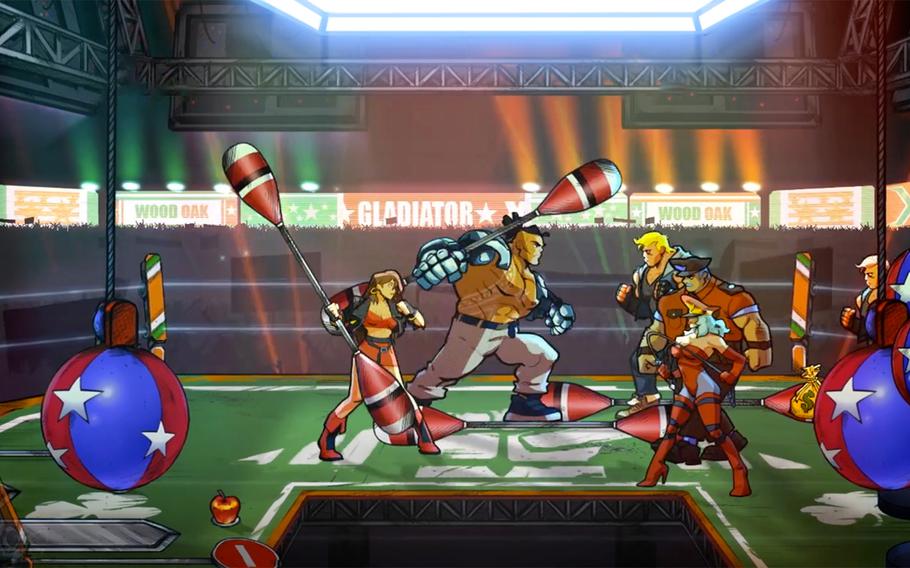 While playing the new content for Streets of Rage 4, my fighter, Cherry Hunter, picked up a new power-up item during a break between matches. Sadly, it was obscured by the scattered weapons, so I didn't see what power I received. No matter, I thought, I would just see what the next round entails.
Turns out, it infused Cherry's punches with lightning. My favorite fighter in last year's exceptional beat-'em-up game had been gaining god-like powers for a few rounds now. Her electric guitar now also shot flames, her heavy punches could poison people, and now every last punch or kick of hers was going to be supercharged with lightning.
Cherry and I jammed our way through 22 rounds of ever-escalating goon mobs and environmental challenges before we were finally beaten down by the inevitable overwhelming swarm of other similarly supercharged enemies. But it wasn't for naught. Besides having a total blast, Cherry also gained enough experience to unlock a new version of her dash attack, letting her slide across the floor on her knees like a rock star paying homage to The Who.
The new mode in the Mr. X Nightmare DLC, just released last month, seems a bit thin in concept. It's just an endless horde mode. But LizardCube, Dotemu and GuardCrush Games have created an insidious gameplay loop that will be familiar to any fans of Hades or recent hits in the rogue-like genre.
As your chosen fighter progresses through each wave, you're given the option to pick one of either two or three power-up items. These are almost uniformly a net positive for you, like the aforementioned lightning kicks and poison punches. There's a small sense of risk and reward. Some of these powers will increase your damage output by 100 percent, but you also take damage by that same amount. However, it's all but guaranteed that by the end of your run, your street fighter is going to feel as powerful as the Doom Slayer.
Even if you fail, and you inevitably will in an infinitely replayable mode, it's not a waste of time. All 15 characters get new special moves, unlockable by using the characters in this new Survival mode. Even if you lose quickly, it'll add to each character's small experience meter. The base game's initial cast of four, as well as the three new additions, each get a whopping six new moves, while the Streets of Rage 1, 2 and 3 Sega Genesis versions each get between one or three new moves each.
This adds a brand new reward feedback loop for what would otherwise be a side content distraction, all of which feeds into the main gameplay experience. Beyond this motivation to unlock more permanent abilities, these moves somewhat address one of the smaller complaints about the otherwise excellent 2020 brawler. Because of its adherence and reverence to old school beat'em-up gameplay, many of the characters didn't have more "modern" abilities like rolling, dodging or running. My favorite fighter, Cherry, was the only character from the main game who could run.
But now with these unlockable moves, the bearlike brute Axel can do a forward roll that sets the ground aflame. It's not only a debilitating attack that combos easily with his base move set, but it gives him more maneuverability around each stage. And all of these moves can be used to improve your Survival run too.
All of this adds a surprising new layer of customization, depth and strategy to a game that already felt complete when it released last year. Streets of Rage 4 was not only one of the greatest games of 2020, but it's perhaps the finest example in the genre to date. That's no small feat considering the franchise history and the genre pedigree. Now these indie studios have improved upon what was already a near-perfect product. There are also new music tracks and Survival-only levels that evoke the past games to a remarkable degree, often bringing back long lost enemy characters from the original Genesis trilogy.
It's to this new content's credit that I am only now talking about its stars, the three new fighters: Estel, the noble and powerful police captain; Max Thunder, the classic wrestler; and Shiva, the martial artist with long reach but who can't use weapons. Each fighter comes with base set of new moves, along with the unlockable ones from Survival. All three characters have been requested by fans since the game released, particularly Estel, who debuted in the fourth installment as an antagonist.
The beautiful thing about beat-'em-up games is that the genre's appeal is immediate: Walk right, punch everyone along the way and feel great about it. The beauty of Mr. X Nightmare for Streets of Rage 4 is less apparent, because the original game was already packed with value. But at $8, this trio of indie studios somehow made a far more robust and replayable package. There's little else to say besides Streets of Rage 4, as a now-complete package, has my highest possible recommendation.
Platforms: PC, Nintendo Switch, PlayStation 4, Xbox One
Online: streets4rage.com