Mike Faist was a 'blue-collar working theater actor.' Now, he's a standout in Spielberg's first musical.
by
Thomas Floyd
The Washington Post
December 13, 2021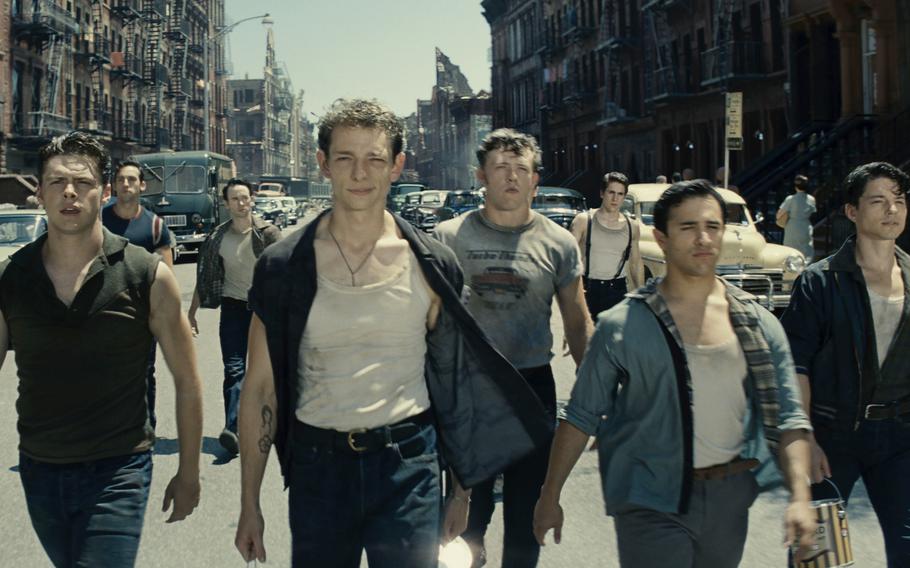 When screenwriter Tony Kushner reflects on his favorite memory from the filming of "West Side Story," Steven Spielberg's rousing reimagining of the beloved musical, he cites neither a glimpse of the distinguished director's visual mastery, nor a tune from Leonard Bernstein and Stephen Sondheim's canonical songbook. Rather, he fixates on an unassuming moment of on-set cleanup.
It came after the shooting of an early scene, in which Mike Faist's Riff and his Upper West Side gang, the Jets, splash paint on a mural of the Puerto Rican flag to antagonize the Sharks, their territorial rivals. As Kushner lingered on set, and crew members got to work scrubbing the paint off the mural, he glanced over and caught an unexpected sight.
"One of the people washing it was Mike," Kushner says of the 29-year-old actor. "And it really wasn't in any way done for display. It was something that he needed to do because he felt terribly about what his character had just done, and he needed to do something to make himself feel okay about it. It just speaks to how profoundly I think he engages with the world that he helped create."
In the New York theater community, Faist's talent, dedication and inherent empathy are no secret: He was 20 when he made his Broadway debut in the original cast of "Newsies," and he earned a Tony nomination five years later for his supporting turn in "Dear Evan Hansen."
But "West Side Story," now in theaters, marks the first major movie role for Faist. Based on the early reactions, he may be rocketing toward newfound recognition, with critics latching onto his magnetic performance as the wayward Riff - a tragic figure imbued with further depth in Kushner's updated script - as one of the highlights of Spielberg's rapturously received film. In her four-star review, Washington Post chief film critic Ann Hornaday calls Faist a "revelation ... who is not only a gifted singer and dancer, but plays Jets gang leader Riff with just the right mix of spiky resentment, hair-trigger anger and loose-limbed grace."
"People have kind of mentioned offhand some of these things to me, and that's lovely - genuinely, that's very lovely," Faist says. "But it's not, at the end of the day, why I do what I do. For me, it has to come from a place of passion and love."
From that perspective, it's no mystery why this project fit the bill. Growing up in the Columbus suburb of Gahanna, Ohio, Faist obsessed over classic movie musicals as a child. Dance classes, community theater forays and dreams of the Great White Way followed for Faist, who recalls being struck long ago by Russ Tamblyn's performance as Riff in the Oscar-winning 1961 version of "West Side Story" (itself an adaptation of the "Romeo and Juliet"-inspired Broadway show).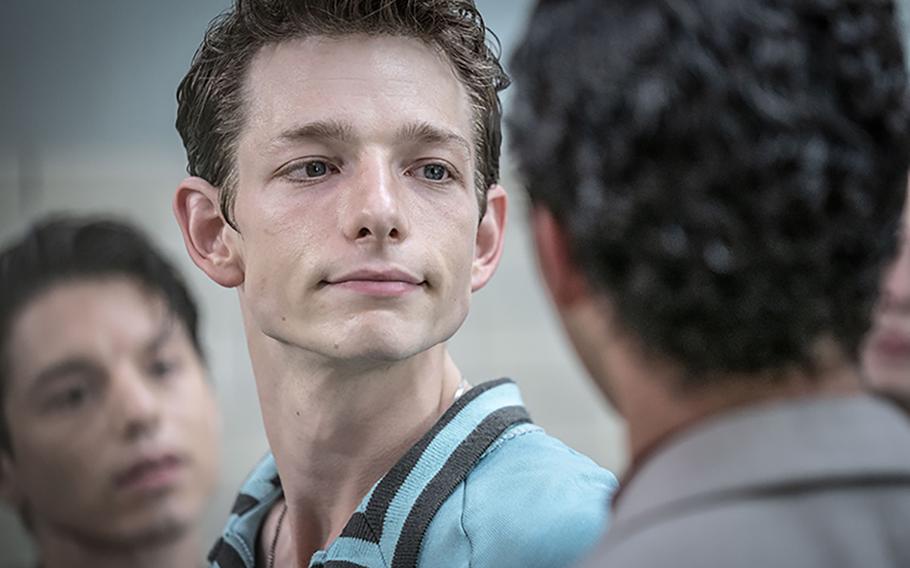 "I remember watching it as a kid in my basement and wanting to be a Jet, and being mesmerized by these guys dancing and the story that was being told," Faist says. "After I would watch those films, it was one of those things - I don't know, it was just like instant love. I just knew that I had to do this."
After grabbing headlines for his "Newsies" breakthrough, Faist joined the original company of "Dear Evan Hansen" for a 2015 production at Washington, D.C.'s Arena Stage. He would go on to play Connor Murphy, the tortured teen whose suicide sets the musical's plot in motion, for the better part of three years, accompanying "Dear Evan Hansen" for its subsequent off-Broadway run and acclaimed Broadway transfer.
"As soon as he was in the room and began working on Connor, it was really clear that he was a very unique and very special actor," says Michael Greif, the director of "Dear Evan Hansen." "He always took extremely seriously his responsibility of representing this kid in that kind of emotional despair and that kind of crisis."
Shortly after Faist exited the show in the summer of 2018, he sent his audition tape for another tormented character: the pithy but pitiable Riff. That November, he was performing in Steven Levenson's off-Broadway play "Days of Rage" when he got the call to audition. Yet, he figured the competition to be cast as the violent ruffian would be a brutal melee in its own right. In his mind, reading for Spielberg was probably nothing more than a bucket-list-checking anecdote.
"I'm a blue-collar working theater actor and this is a big, buzzy Hollywood production," Faist says. "And blue-collar theater actors don't really get those chances."
But his rapport that day with Ansel Elgort - who had already been cast in the lead role of Tony - was electric. Surprising even himself, he walked out of the audition confident he had the gig. Upon formally landing the role, he called Kushner to better understand this film's version of Riff, then peppered the Pulitzer Prize and Tony winner with questions over coffee.
As Faist came to learn, Kushner fleshed out Riff by running toward Mercutio, the character's "Romeo and Juliet" analog, and embedding the ill-suited Jets leader with traces of lyrical language and manic madness. Kushner also talked to Faist about the 1950s-set film's approach to gentrification and tribalism, and how mid-century New York's changing landscape left young men from broken homes struggling to build a sense of community.
"Mike really gobbled all that stuff up," Kushner says. "He really is one of those actors who wants to know as much as he can possibly know about his character and really digs into the tough stuff. He really wants to think about economics and politics and psychology and psychotechnology, and he feeds himself with a kind of acuity and precision that I think is the mark of a great actor."
While a lifetime of musical theater know-how left Faist well-equipped to execute the nimble dance moves and sharp vocals required for his numbers, "Jet Song," "Cool" and "Tonight (Quintet)," the role still proved transformational.
Referencing an image of a gaunt gang member from photographer Bruce Davidson's "Brooklyn Gang" collection, Faist shed around 20 pounds to give Riff a fittingly malnourished physique. One of Riff's tattoos also was inspired by that photo, at Faist's suggestion, as was the rosary the character wears around his neck. When the cameras weren't rolling, Faist lent further verisimilitude to the production by embracing a leadership role of sorts among the actors playing the Jets.
"I wanted to morph. I wanted to change. I wanted to create an environment, not just for myself but for other people, where we didn't have to ..." Faist explains, trailing off before finishing the thought: "Where we didn't have to act. We just did it."
That vision for the role helped Faist find one of the film's tensest moments, in a scene set shortly before the Jets' rumble with the Sharks. As Riff tries to buy a gun, another character snags the pistol and points it squarely at the boy's head - at which point Riff presses his temple to the barrel. It was an unscripted choice, Kushner says, and one that came from Faist's innate understanding of Riff's doomed-to-die-young mentality.
"What Mike came up with in that moment," Kushner says, "is the whole character in this one little gesture."
In fact, Faist found the collaborative experience so fulfilling that, this year, he raised questions about his acting future, positing that "West Side Story" represented everything he had set out to accomplish as a performer. "I don't want to just be a working actor anymore," he told the New York Times, later adding, "I can't tell if I hate acting or if I love it too much."
Asked about those comments, he makes it clear he's not going anywhere: "There's still so much more to say," he clarifies, "and there's still so much more to do." Yet, when Faist talks about his projects needing to come from "a place of passion and love," he's not posturing, either.
"There was just something so pure and wonderful in the making of this thing, and it really did come from that place - that place of 'I love to do what I do,' " Faist says. "If it's anything short of that, I don't know if it's worth it. I was just really wrestling with this idea of, 'Do I love acting or do I hate it?' And the truth is that I think I love it too much. I really do."
---
---
---
---