In 'Shang-Chi,' Simu Liu finally gets the role he always wanted
by
David Betancourt
The Washington Post
September 2, 2021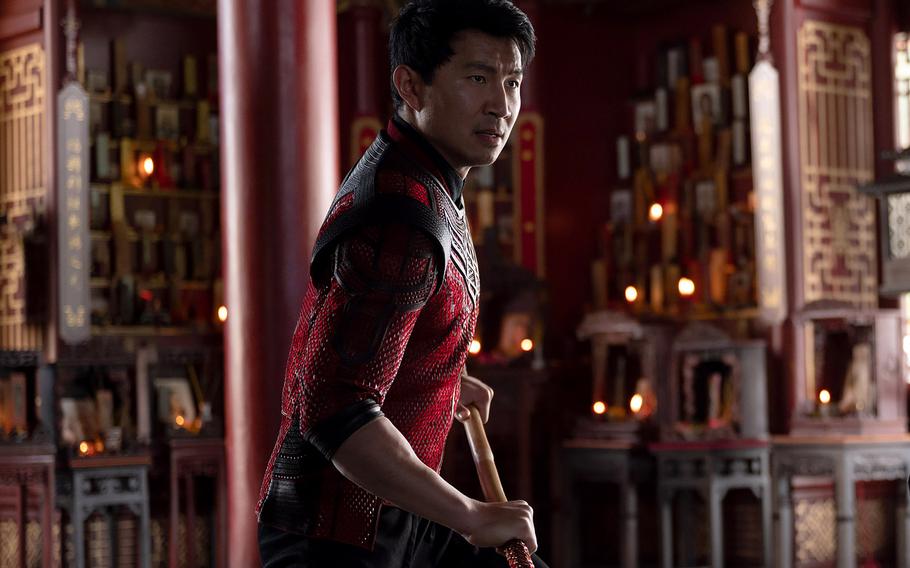 Long before he became Shang-Chi, Simu Liu was convinced that the only way he'd be an Asian superhero on an American movie screen was to craft the story himself.
So he did. Twice.
At the age of 22, Liu crafted a whole story bible for the Japanese mutant X-Men member Sunfire, certain it was his best bet to land a Marvel role.
Years later, while a member of the Young Emerging Actors Assembly in Toronto, Liu spent $2,000 to direct, write and star in the 2015 short film called "Crimson Defender vs. The Slightly Racist Family," about an Asian superhero who rescues a family that doesn't believe he is a superhero because he is Asian.
Neither of those moments resulted in Liu being fitted for capes. But when Marvel Studios announced "Shang-Chi and the Legend of the Ten Rings" would be its first movie with an Asian superhero in the lead role, the 32-year-old star of the TV series "Kim's Convenience" was convinced he was ready before he ever got a phone call. He even tweeted "are we gonna talk or what" at the Marvel Entertainment account.
The rest is superhero history. Liu was cast as the martial arts master after an extensive search, and now, with the film opening this weekend, he is an integral part of Marvel Studios' plans.
"I've been manifesting this kind of superhero role for myself for a long time since before that tweet," Liu told The Washington Post. "In my mind I had been chasing that role my entire life."
Shang-Chi's rise from comics to film is part of Marvel Studios' efforts to be more diverse in its second decade than it was in its first. "Black Panther" in 2018 became a cultural phenomenon, and women finally got title roles in 2019′s "Captain Marvel" and this year's "Black Widow." A Black Captain America (Anthony Mackie) is headed to the big screen soon, and young heroes of color Ms. Marvel (Iman Vellani) and Ironheart/Riri Williams (Dominique Thorne), as well as a female Hawkeye (Hailee Steinfeld), are coming to Disney Plus.
But whereas the comics have typically been the key inspirational ingredient for Marvel Studios projects, Liu did not have rich source material to study.
Created by Jim Starlin and Steve Englehart in 1973, Shang-Chi embarked on comic book adventures that were filled with culturally inappropriate land mines that would not transfer well to the screen in 2021. The core of Shang-Chi's story was a conflict with his father, Fu Manchu, a character carried over from early-20th-century novels whose racist imagery is not part of the film. In the movie, the father is Xu Wenwu, played by Tony Leung.
When Liu was given a stack of those comic books for research, he was told not to read them too closely.
"It does feel like we get to just carte blanche create a superhero origin story for 2021, for this day and age, that is told through a distinctly Asian American lens ... and that is distinctly our own," Liu said. "We've seen a million versions of the Peter Parker radioactive-spider origin story. We've seen Thomas and Martha Wayne at the opera ... over and over again in movies and media, and I think we're ready for something new."
"In terms of what we actually extracted from the comic books, I think it was a name and it was the fact that he was a really good fighter, and the fact that he had a very complicated relationship with his dad," he added. "We crafted an all-new story around that."
Liu vividly recalls when he saw "Spider-Man: Into the Spider-Verse" in theaters, watching a young Miles Morales going back and forth between talking to his African American father in English and his Puerto Rican mother in Spanish. It was a moment he connected with - he was born in China and grew up in a bilingual home in Canada. He's proud that "Shang-Chi" will have similar moments, when characters switch things up between English and Mandarin.
The impact of those moments on young Asian fans weighed heavily on Liu during filming, sometimes clouding his head. He said "Shang-Chi" director Destin Daniel Cretton always made sure he wasn't putting too much pressure on himself.
"A superhero represents infinite possibility. It represents the peak of aspiration and courage," Liu said. "And if you see yourself reflected as a superhero, you will give yourself permission to dream anything. I deeply believe that every single community deserves to feel that."
Cretton was confident that he and Marvel Studios had found the right actor for a potential franchise.
"There's just something that happens when an actor lines up with a character and just clicks. There are attributes that I can describe, but it doesn't quite add up to just the magical whole of when that click happened," Cretton said, adding, "He has this unique ability to show both masculinity and also vulnerability, which was very important for this character."
Another characteristic Cretton was determined to get on film was the humanity of a superhero who is a marital arts expert but doesn't immediately come off as one, and who doesn't want to be seen as a one-dimensional warrior.
"The primary hope for 'Shang-Chi' was to find an actor who would help to break the stereotype of a Kung-Fu Asian dude. We have seen that archetype of that character over time. And particularly in Western cinema, it's often the butt of a joke. We wanted to create a character that was surprisingly relatable to anybody," Cretton said. "I do think that Simu, without even trying, is already breaking stereotypes as an Asian male lead in a big movie like this."
"Shang-Chi's" all-star Asian cast and Asian director have drawn comparisons to the billion-dollar grossing "Black Panther" in its potential effect on a community that has gotten short shrift in the on-screen superhero world. The global pandemic might prevent "Shang-Chi" from matching that film's box-office haul and initial cultural influence, with some movie fans perhaps not wanting to sit in a full theater just yet. It will only have a 45-day window on big screens before it is available on Disney Plus. But Liu doesn't think that will lessen the impact of "Shang-Chi" overall.
"I don't want a single person to feel like they're compromising safety just to go to the theater," Liu said. "We have a solid movie on our hands, and one that is emotionally resonant and one that connects to its audience. I'm confident in the quality of the movie and the story that we've made. And I think that will honestly speak more than box office in this case."
Liu's character could become a next-generation Avenger should a new iteration of the groundbreaking cinematic superhero team be formed. Liu said only Marvel Studios President Kevin Feige knows for sure whether Samuel L. Jackson's Nick Fury will need a martial arts master down the line. But he's confident he hasn't filmed his last Shang-Chi tale.
"It's the culmination of all of my creative pursuits," Liu said. "If you were to ask me personally what I thought about where we were at with the character, I would tell you I think we've just begun to scratch the surface."