After Hours: Okonomi-yaki Sanshiro in Ginowan, Okinawa
by
David Allen
September 23, 2010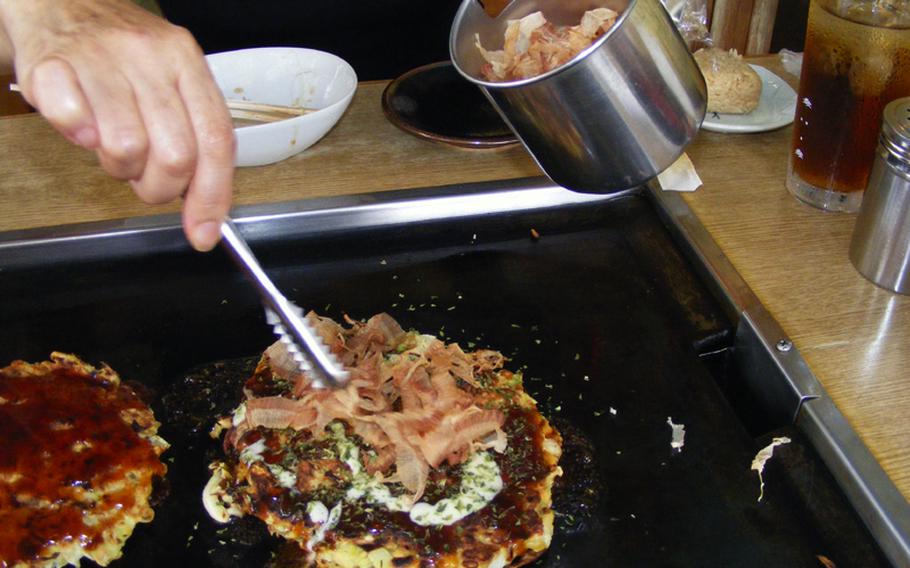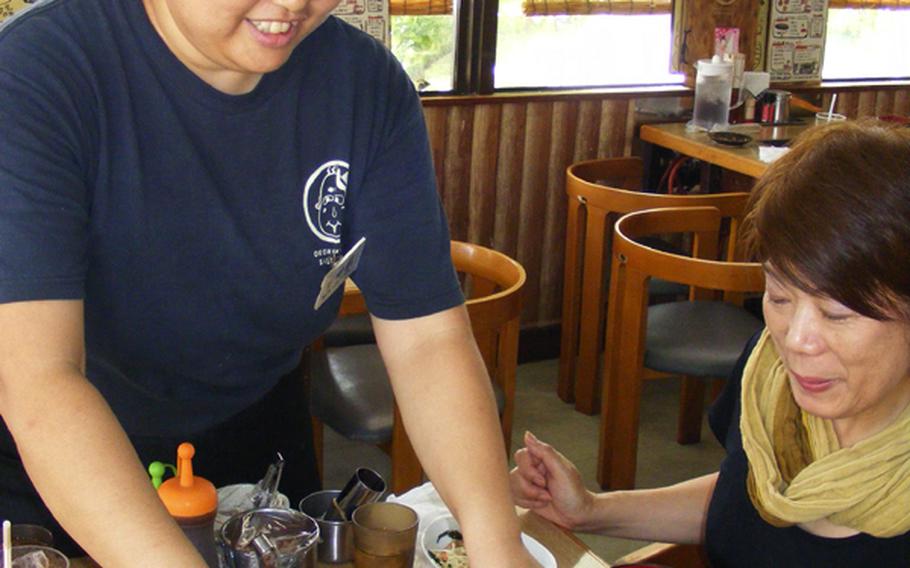 I first tasted — and fell in love with — Japanese okonomi-yaki at the fast food court of what used to be the Hypermart mall in Awase many moons ago. Who knew I was throwing myself in the midst of a culinary culture war?
All I knew back then was there was something really tasty about this pancake-looking conglomeration of a batter made up of flour, grated yam, water, eggs and shredded cabbage — lots of shredded cabbage. Add green onions, meat (your choice of pork, octopus, squid, shrimp or a mix of them all) and a special okonomi-yaki sauce and mayo to the mix and you've got yourself what some people call a "Japanese pancake."
Only this concoction is best eaten for lunch, or as a dinner with friends.
"It really goes good with beer," my dining companion said when we entered Okonomi-yaki Sanshiro, a restaurant near the Ginowan Convention Center. But we had to go to back to work after our meal, so we settled for iced tea.
No matter. This stuff is so good, whatever you drink to wash it down is an afterthought.
I had no idea what was in store. First of all, this was nothing like the fast food fare at the mall. The Sanshiro is a traditional okonomi-yaki restaurant. The tasty stuff is made right at your table and if you don't trust the ability of the waitress, you can cook it yourself.
We chose to let the waitress do the honors. Besides, this was an Osaka-style okonomi-yaki restaurant and my guest was from Hiroshima, where okonomi-yaki purists claim it takes years to learn to prepare it correctly.
"In Osaka, anyone can flip it," she said. "In Hiroshima, we use more cabbage — more everything. It takes patience and practice. Not everyone can do it correctly." They also layer the ingredients instead of mixing them before slapping them onto the grill.
My companion has lived outside Hiroshima, mostly on Okinawa, for over 20 years. She said she is still looking for a Hiroshima-style restaurant.
There was a sign posted on the wall near our table that my companion translated for me. It suggests the best way to dine: "Patience is best. When it is done, no more time for chatting. Deliver the okonomi-yaki to your mouth as quickly as you can. This is the best way to enjoy this delicate food."
I had the okonomi-yaki with pork; my Hiroshima friend had it with octopus. We topped both entrees with the special otafuku sauce (a thicker, sweeter kind of Worcestershire sauce), seaweed flakes, bonito flakes, mayo and pickled ginger.
With a small salad, soup and a bowl of rice, this was heaven. Or as the Japanese say, "Oishii!"
Location: Ginowan, Okinawa
Hours: 11:30 a.m. until 11 p.m. daily
Prices: Special lunch okonomi-yaki sets 580 to 850 yen; dinner sets for two 1,980 yen. Teppan-yaki and yaki-soba also available.
Specialties: Osaka-style Okonomi-yaki
English menu: Yes, with pictures
Dress: Very casual
Clientele: Mix of Japanese and American
Directions: Take the Highway 58 bypass toward the Convention Center. Turn left at the Convention Center light (complex is on the right). Okonomi-yaki Sanshiro is on the righthand side, about a block past the first light.
Website:www.musu-b.com/shop2034/ (Japanese)
Phone: 098-899-2977
---
---
---
---