After Hours: LoewenThor offers uniquely German dining experience
by
Steve Mraz
October 5, 2006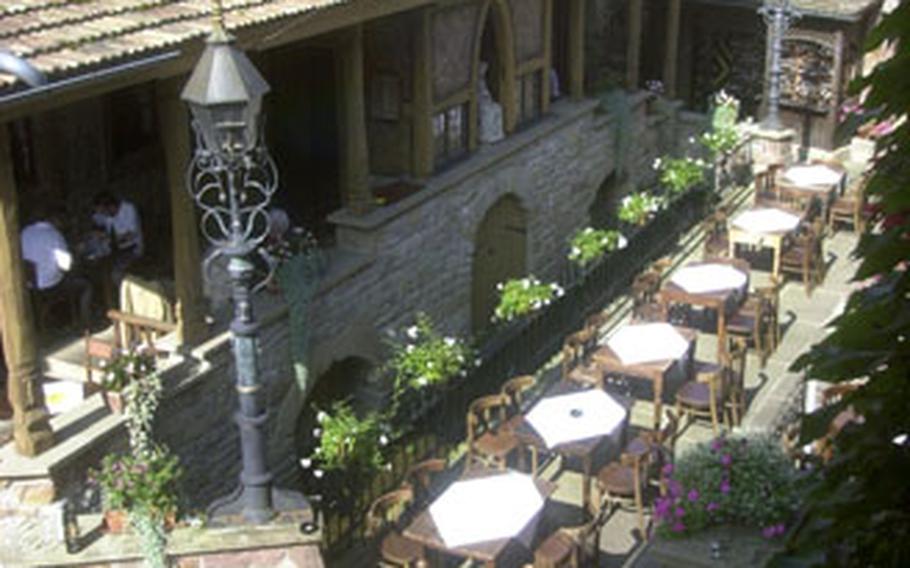 GONDELSHEIM, Germany — Treat your eyes and your taste buds to an authentic German adventure when you dine on the tasty food, drink the specialty beer and drool over historic craftsmanship at the LoewenThor restaurant.
About a 40-minute drive south of Heidelberg, the LoewenThor has an Old World charm that is a must experience while you're in Germany. A rich warmth surrounds the nearly 300-year-old restaurant from the stone, wood and ivy-covered outside to the balconied courtyard to the cozy interior dining rooms replete with dark wood. It's the kind of place you imagine when you think of old school Germany.
It's a good idea to make reservations, which can be done online or via phone, and get good directions to the out-of-the-way restaurant that doubles as a hotel. You can get directions off the LoewenThor Web site, but www.mapquest.com works just as well.
And bring your camera. Before entering the LoewenThor, you'll probably spend a few minutes outside snapping pictures.
When you enter, you'll want to take even more pictures. Immediately off to the right is a room containing a wood-carved altar area from a church, but if you walk straight ahead you'll enter a charming courtyard that has outside seating. To the left of the entrance are the many wood-laden dining rooms that epitomize historic Germany. Your mouth will be watering long before you get your food.
Upon being seated, take time to explore the restaurant, working up a thirst and an appetite while perusing the historic building. When you've seen it all, select one of the numerous specialty beers the LoewenThor offers. The restaurant has everything from peach-flavored beer to weighty dark beers that are 9 percent alcohol.
Adding to your dining experience, the beers are served from .75-liter corked bottles. On one occasion later in the evening when a bachelor party kept ordering beer after beer, the waiter carefully began uncorking the beers with a sword. After several unsuccessful swings, one of the bachelor party crew sliced off the cork of his beer to rousing cheers from everyone in the room.
The menu offers plenty of choices, from duck, beef and pork to fish and vegetarian dishes.
The prices are a little steep, but you should treat yourself to this uniquely German experience before you head back to the States.
See our After Hours index for more German restaurant and nightclub reviews.
Gasthaus LoewenThor
Gondelsheim, Germany
Prices: Main courses from 19.50 Euros to 15.50 Euros.
Specialties: Specialty beer and high-end German cuisine.
English menu: Yes.
Dress: Business casual.
Clientele: Quiet, romantic setting.
Location: Bruchsalerstrasse 4, Gondelsheim. Do not try to get there without good directions, consult LoewenThor Web site or mapquest.com. Phone: 07252-6676.
Hours: Kitchen open from 11 a.m. to 10:30 p.m., seven days a week.
Web site: www.loewenthor.de