After Hours: Germany, Zum Välta
by
Dan Blottenberger
January 24, 2010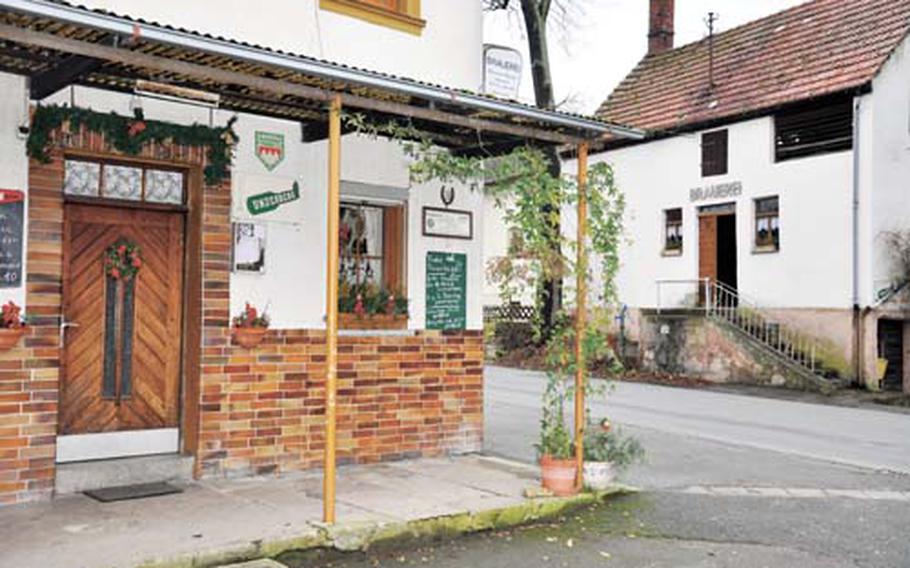 Scene, Sunday, January 24, 2010
Take a short, 12-mile ride out of the city of Bamberg and follow some winding roads through the country until you arrive in Appendorf, Germany, a town that reminded me of Sleepy Hollow.
But instead of running from the Headless Horseman, drive toward the distant sound of music until you find the only lit building in town. That is Zum Välta, a guest house directly across the street from the Brewery Fossel-Mazour. You will know you are in the right place by the cars parked all along the road on a Friday night.
When you walk inside, you're going to have to turn your clock back about 40 years. You will be shocked by the number of people in Bavarian outfits playing musical instruments or dancing on the main floor of the restaurant, which is connected to the brewery. The crowd averages about 60 years of age, but the welcoming atmosphere will hit you as soon as you arrive — regardless of your age — especially if you have an instrument and are willing to join in with the band.
The atmosphere, coupled with the delicious Fossel brew and rollicking music, will ensure that you stay long enough to hear a few English songs that the musicians play when they hear some Americans are present. Stick around longer, and you'll experience an authentic Bavarian night in Upper Franconia that you will remember for a while.
At first look, I thought many of the patrons were too old to be dancing — even though I had been told by a friend that they would be on a Friday night — but as the band hit its first notes, chairs emptied and couples took to the dance floor. They created such a crowd that it was like being in the middle of bumper cars.
As the night rolled on, it appeared the only people not enjoying themselves were the waitresses who desperately tried to balance drink and food orders as they maneuvered around the dancers who "waltzed" (or just moved their feet and arms, you don't have to be a professional here) all over the floor.
While the food wasn't to die for, it will hold you for the night. And the beer and great conversation will more than make up for it.
If you are a music-history lover, don't miss the former owner, Edmund Fossel, who can be seen singing or playing one of the four instruments he taught himself to play. Fossel has a private museum packed full of all kinds of instruments, including old trumpets and accordions, some dating to the world wars. If you ask him about it, he may be willing to show you his collection.
Fossel recently handed off the ownership of both the brewery and guest house to his daughter and son-in-law, a former U.S. soldier. While the place is in new hands, old-timers say the atmosphere remains the same.
One final word of advice: Don't expect to sit all night and watch others dance. Be ready for some stranger — of any age, shape or size — to grab your hand and whirl you around the dance floor.
Know a restaurant or entertainment spot you'd like to see reviewed in After Hours? E-mail John Taylor at taylorj@estripes.osd.mil
Zum Valta
Location: Baunacher Strasse 28, 96169 Appendorf.
Directions: Get on Autobahn 73 toward Kronach and Coburg, take exit B279 toward Fulda and Bad Neustadt. Turn left at B279 and follow signs toward Fulda and Bad Neustadt. About three minutes later turn left onto Würzburger street (St2277). Follow this road for about five minutes until you reach Appendorf; the brewery and restaurant are the first buildings as you enter the town on the left and right.
Hours: Open 8 a.m. to 11 p.m. every day except Tuesday, when it's closed. On Friday, local and sometimes well-known musicians and bands entertain patrons starting at 7 p.m., usually continuing past 11 p.m.
Clientele: A much older crowd of Germans and some Americans, but all are welcome.
Dress: Professionally casual.
Food and drink: Not a huge variety. The most expensive thing on the menu — schnitzel and fries or a fish filet with fries — is 6 euros; other entrees cost between 2 and 6 euros. All the brewery beers cost 2 euros; wines cost between 2 euros and 9 euros a glass. Soft drinks and juices are 1 to 2 euros. There is no cover charge.
English menu: No.
Phone number: 09544-20390 or 09544-5546
Web site: www.brauerei-zum-vaelta.de