Food
A slippery concept: Is the viral banana-peel 'bacon' worth the hype?
by
Emily Heil
The Washington Post
June 8, 2021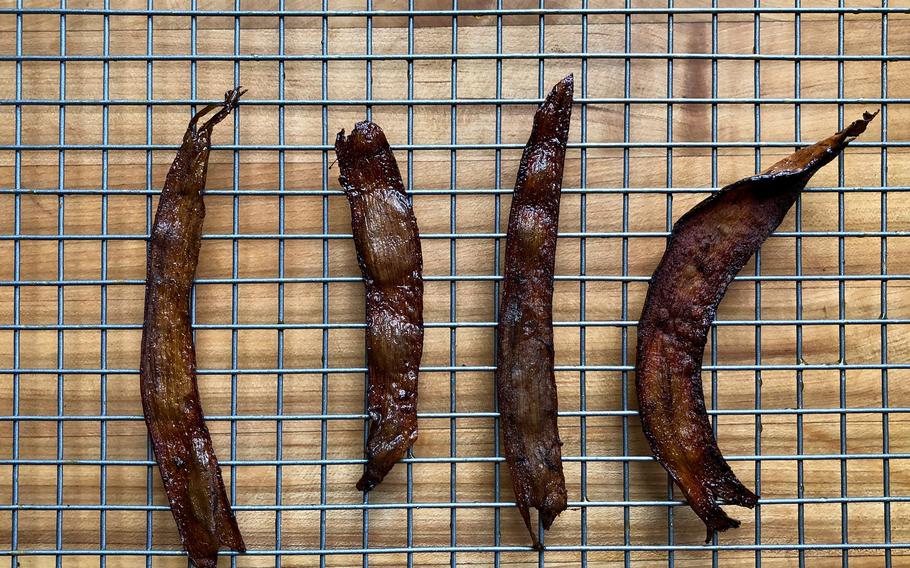 Hashtagging teenagers certainly aren't the first people to eat banana peels.
The rubbery yellow fruit casings have long been used in cooking; in India, they are sometimes used in curries and in thoran, a South Indian stir-fry. But even for those more accustomed to tossing them in the trash instead of a pan, banana peels are having a moment.
The Washington Post recently featured a recipe for banana bread based on one from Zingerman's Bakehouse in Ann Arbor, Mich., that incorporates both fruit and peel.
And two British TV chefs have recently drawn attention for recipes using peels  — Nigella Lawson mixed hers with cauliflower, and Nadiya Hussain suggested turning them into a substitute for pulled pork or chicken. The New York Times wrote about the across-the-pond phenomenon, citing a Guardian story that asked, "Are banana skins about to become a must-eat ingredient?"
Possibly. But another question is whether banana-peel bacon, a dish that's popular on Instagram and TikTok, is the scrap's ultimate glow-up.
There's reason to think so. It ticks a lot of buttons: a novelty factor and double-take looks that make it perfect for social media, and appeal (yeah, I went there) to the zero-waste and vegan/vegetarian crowds.
The origins of the dish are murky. A 2019 recipe for "fake-un" posted on Life Hacker calls for frying the peels first, then glazing them. But a popular and much-cited iteration making the rounds now comes from Charles Hunter III, a personal chef and food blogger at the Salted Table.
Hunter says he took his inspiration from a video posted by vegan TikTok star Tabitha Brown. Brown's carrot bacon was a viral hit, but she didn't like the banana version she attempted. Her verdict? "It ain't right in my spirit."
"I took that as a challenge," Hunter said in an interview. "One of my favorite things is to get people to like vegetables they don't think they like."
He ditched her air-fryer method and experimented a bit, finally landing on marinating the peels in a mixture that mimics the flavor of bacon, with Liquid Smoke and smoked paprika, then crisping them in a pan. Some of the iterations on TikTok (and Brown's, too) only briefly soak the peels in seasoning, but Hunter said a couple of hours is essential to infusing the peels with bacony essence.
Pleased with the results, he posted the recipe on social media and his blog, where it was widely shared and imitated.
I made it according to Hunter's directions. I was tempted to omit the Liquid Smoke, which I usually find off-putting, and Hunter said that if I did, to add extra smoked paprika to amp the smoky flavors. But I decided to go with the original recipe, and mixed up the potent marinade, letting the peels sit for a few hours. So far, so easy.
Cooking them was the challenge. They're easier to scorch, since unlike real bacon, the peels have no fat (duh) to render, and the sugar in the marinade goes from caramel to char in seconds. Despite Hunter's advice to go "low and slow," I accidentally cranked the heat a little too high and wound up burning them. (Turns out, burned banana peels smell as bad as you would imagine they do!)
I went easier with the next batch and got glossy, brown sticks that looked ... kinda like bacon  — or at least not like banana peels. The flavor was similarly bacon-adjacent: Mostly it tasted like the marinade  — that is, smoky and intensely salty, though there was a bitter note you don't find in the real deal. And they weren't as crisp as I like my bacon, with a chew that wasn't ideal.
Hunter acknowledges that this is not a perfect clone of the beloved meat. "It's definitely better in something rather than something you'd eat straight out of the skillet," he says. He has tucked them into BLTs, crumbled them on salads, and garnished carrot-jam crostini with them.
The use of peels can be polarizing. Hunter started his blog post with this disclaimer: "First things first, I don't really care about any negative opinions you may have about this recipe. It is not for everyone and I'm fully aware of that."
Critical commenters on our whole-banana bread also broke into two broad categories. There are the folks who are just grossed out by the very idea, with some citing the fact that monkeys discard the peel as evidence that humans should, too. And others fret about pesticides in the peels, even though the recipes recommend organic bananas to avoid that issue.
But the faux bacon has its fans  — or at least there are plenty of bacon-curious folks out there.