MUSIC
Olivia Rodrigo's 'Sour' is a breakup album on a jagged little path to greatness
by
Allison Stewart
The Washington Post
May 25, 2021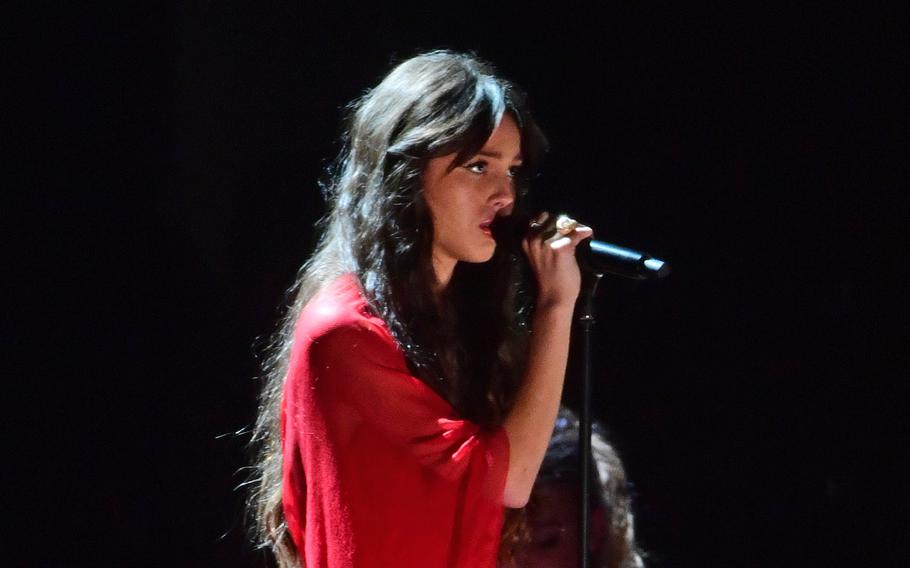 Just two short years ago, Olivia Rodrigo was second lead on the Disney Channel show "Bizaardvark." She then cycled through a role on the Disney Plus show "High School Musical: The Musical: The Series" on her way to a record deal, and a hit single, "Drivers License," so big it may dwarf any song released this year.
There's nothing on "Sour," the 18-year-old Rodrigo's incredibly good debut, quite as singular as that mournful ballad, though there's a lot like it: "Sour" is a world-beating breakup album that specializes in similarly affecting misery ballads, interspersed with Avril Lavigne manque-type pop-punk bangers, which would have been in heavy rotation in any Hot Topic store in 2003.
"Sour," co-written and produced by Daniel Nigro (formerly of the indie band As Tall As Lions), has no shortage of apparent influences: It sounds like Grace VanderWaal and Lorde had a really dramatic, self-aware baby. It burns Paramore albums for fuel. It echoes fellow child star Alanis Morissette's breakthrough "Jagged Little Pill," which placed a similar emphasis on emotions -- anxiety, vengefulness, vaguely apologetic rage -- often considered unladylike. Both albums are unicorns: They pay respect, and a kind of grave and furious attention, to the inner lives of young women. Neither of them seems like it was actually written by middle-aged men.
Rodrigo's career priorities are thoroughly Swiftian: She's a songwriter first, a pop star second. Like Taylor Swift, Rodrigo can write a bridge, and she crafts lyrics general enough to enable everyone to see themselves in them, but specific enough to feel as if they come from someone's endearingly cringey real-life experiences.
And like Swift's albums, "Sour" carries with it some not ungross speculation about its real-life subjects. It appears to be one long subtweet at Rodrigo's co-star/ex-boyfriend Joshua Bassett, who might want think about joining Dave Coulier in a witness protection program for the hapless ex-boyfriends of pop stars.
"Tried so hard to be everything that you liked/ Just for you to say you're not the compliment type." Rodrigo laments on "Enough for You." Even though Rodrigo wore makeup for him, found him a therapist and read his self-help books just to seem smarter, the boyfriend in "Sour" quickly takes up with someone older and blonder, who is almost certainly pop singer Sabrina Carpenter, according to TikTok, which would know. "It took you two weeks to go off and date her," she sings on the layered, oppressively depressing "Traitor." "Guess you didn't cheat / But you're still a traitor."
"Sour" feels atypically self-contained. It has neither guest features nor distinctive beats, and hardly any Jack Antonoff, though he does show up by proxy on "1 Step Forward, 3 Steps Back," a ballad featuring an interpolation of Swift's underrated "Reputation" closer "New Year's Day," on which he was a co-writer. Rodrigo's song bears little resemblance to Swift's, and the vaguely shared melody seems to exist merely to invite comparisons between the two.
Its title is presumably a thinly disguised tribute to 13, which is Swift's favorite number, in case you're new here. It also indicates that Swift has reached such a previously unknown level of mega fame that other people's albums are now required to contain Easter eggs about her.
For all its familiarity, "Sour" is the kind of album that changes things, crystallizing a moment we didn't know we were in -- though looking back, it will seem obvious. "Jagged Little Pill" did this, so did Billie Eilish's "When We All Fall Asleep, Where Do We Go?" "Sour" doesn't echo the latter too closely, but its rawness would not have been possible without it.
The Elastica-lite opening track "Brutal" signals this changing of the guard. When Rodrigo wonders "Where's my ... teenage dream?" she is simultaneously laying waste to her Disney princess reputation and to Katy Perry, whose chirpy, adult-singing-as-a-teenager shtick seems instantly dated; Rodrigo levels her with one offhand swipe, as if she were the monster in "Cloverfield."
One of the album's best tracks, "Jealousy, Jealousy," bemoans the pressures of social media, but it could just as easily be about her looming stardom ("I think I think too much / 'bout kids who don't know me"). "Sour" will be the last album Rodrigo releases before she becomes stratospherically famous, which is potentially worrisome: History has taught us that if there's anyone pop stardom goes well for, it's anxious and insecure teenagers. It will almost certainly mark the last time she ever wishes she was older, or more popular, or less invisible.
"Sour" lays down a marker: It's a solid album that portends better ones. You may not love it, but you will come away convinced that every single thing on it happened, and you will feel those things as keenly as if they happened to you, and anyone capable of doing that is capable of making a great album, even if they haven't made one yet.