'Welcoming Community': US Representative and Governor of Massachusetts pitch Westfield, Barnes Air National Guard Base as home for F-35 fighter jets
By
masslive.com
June 24, 2022
---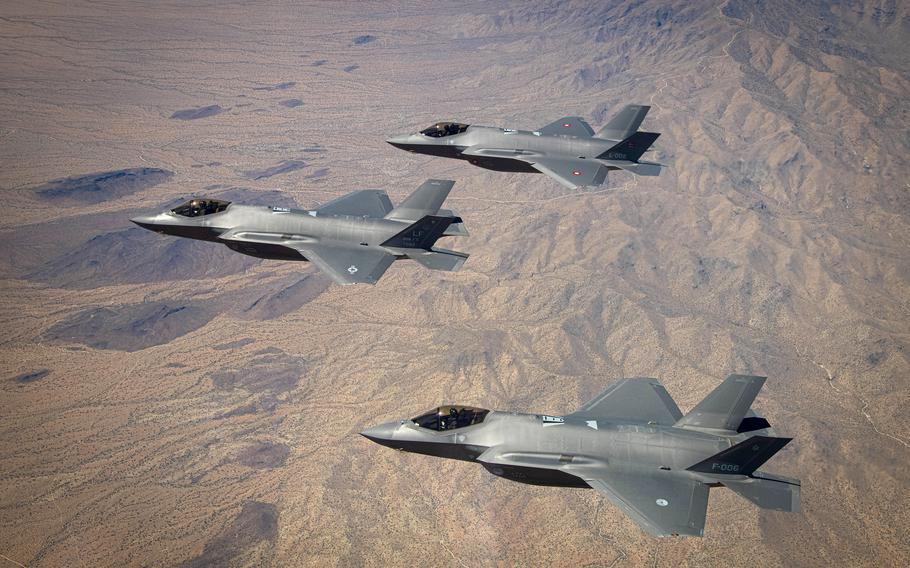 WASHINGTON — Westfield and Barnes Air National Guard Base have the airfield, the educated workforce and most importantly the desire to host the Air Force's next generation F-35A Lightning II fighter jets, U.S. Air Force Secretary Frank Kendall learned Thursday.
"The local community here in Westfield, they are interested and they want these planes," said U.S. Rep. Richard E. Neal, D-Springfield. "I reinforced that it is a welcoming community."
The F-35s cost $79.2 million each.
Neal, chairman of the powerful House Ways and Means Committee, organized a meeting Thursday in Washington between Kendall, a native of Richmond, Massachusetts, who graduated from high school in neighboring Pittsfield. U.S. Sen. Elizabeth Warren also presented Westfield's case. Also on hand were U.S. Sen. Ed Markey and U.S. Reps. Seth Moulton, D-Salem, Jake Auchincloss, D-Newton, and Stephen Lynch, D-Boston.
Last summer, the Pentagon included Barnes Air National Guard Base and its 104th Fighter Wing on a short list of candidates for new aircraft to replace its aging F-15C fleet. The possibilities are F-15EX planes, updated from the F-15C, or the latest F-35As.
The new F-35s would mean the Air Force is making a decades-long commitment to Westfield.
Thursday, Neal said Barnes is still one of the final three candidates, along with Fresno Yosemite Airport in California and Naval Air Station Joint Reserve Base New Orleans.
Kendall told the lawmakers that there could be a decision in the next few months, and certainly by the end of the calendar year, according to Neal.
Neal said he and Baker stressed the investments made at Barnes over the years. The state recently funded a $4.7 million taxiway project. It also funded a $9 million runway resurfacing in 2014 and almost $1 million in energy efficiency improvements in 2015.
And Baker told Kendall there is more money available for improvements in the state's military construction bond bill, Neal said.
Neal also cited the impact of Gulfstream, part of military contractor General Dynamics, and its maintenance facility at Barnes. He reminded Kendall of Westfield Technical Academy's aviation program and its success in training people for the industry. The engineering programs at the University of Massachusetts Amherst and elsewhere make for educated aviation experts, Neal said.
"You need a well-trained workforce," Neal said. "I think Westfield has impeccable credentials for that. This would certainly mean job growth."
Barnes, both a civilian and military installation, represents more than 2,100 jobs. It has a total economic impact of $236.8 million, according to the airport authority.
Neal said the group also discussed noise issues. Neighbors to the base hosting F-35s near Burlington, Vermont, have complained. Westfield Mayor Michael McCabe cited the job impact and pointed out that the 104th is already in charge of providing domestic air security from Maine to Virginia.
"We just have to let the process play through," McCabe said.
He's been in contact both with Neal and with newly promoted 104th commander Col. David Halasi-Kun.
Westfield's chances — and the state's chances at attracting any future military investment — hinge on pending legislation that could ease the way for spouses of military members transferring into the state to get professional licenses, said state Sen. John Velis, D-Westfield.
If the legislation passes, spouses would either get their licenses or find out quickly what qualifications they need to meet Massachusetts requirements. It has already passed the Senate and Velis said the House could take it up before the state legislative year ends at the end of July.
The bill, called the SPEED Act, would also make it easier for children of military families to enroll in Massachusetts schools, remotely at first if that's what the timing requires.
The U.S. Department of Defense says it evaluates states based not only on how those states treat service members, but on how those states treat military families. So the SPEED Act could tip the balance in Westfield's favor.
"That's not John Velis saying that, that's the Pentagon saying that," he said. "Because when a two-income family is forced to go down to one income, that's when people leave the military. That's a force readiness issue. That's a national security issue."
Velis, a major in the U.S. Army Reserve who served twice in Afghanistan, is also chairman of the Joint Committee on Veterans and Federal Affairs.
©2022 Advance Local Media LLC.
Visit masslive.com.
Distributed by Tribune Content Agency, LLC.
---
---
---
---