Trudeau's emergency powers upheld in Canada's House amid worries 'Freedom Convoy' could return
By
Amy Cheng, Amanda Coletta
The Washington Post
February 22, 2022
---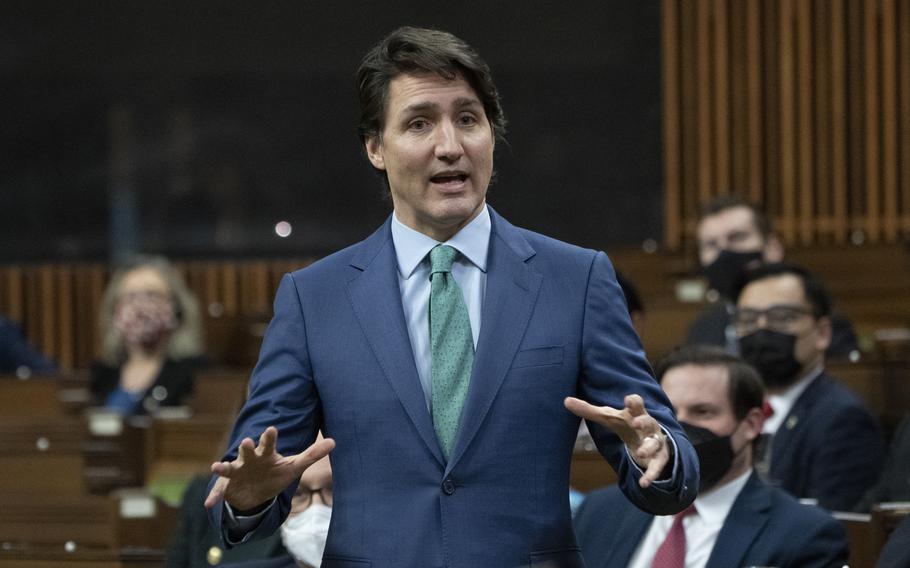 TORONTO - Canada's House of Commons on Monday affirmed the use of never-before-used emergency powers invoked by Prime Minister Justin Trudeau to quell weeks-long demonstrations by self-styled "Freedom Convoy" demonstrators who blockaded several thoroughfares in the Canadian capital and affected U.S.-Canada trade.
The motion passed 185-151 in what Trudeau, who leads a minority government, implied he could consider a confidence vote. Several opposition parties criticized the use of the powers as "overreach," but the left-leaning New Democratic Party "reluctantly" supported the motion, ensuring that it passed.
Ottawa was largely cleared this past weekend of the protests against the government and pandemic health restrictions that clogged the capital's streets and frayed residents' nerves, and blockades at major U.S.-Canada trade routes have been removed. But speaking to reporters ahead of the vote, Trudeau said he still required the powers, which he invoked last week, citing "real concerns" over new demonstrations cropping up and the presence of demonstrators at several satellite hubs in rural towns outside of Ottawa.
"The Emergencies Act is not something to undertake lightly, and it's something that needs to be momentary, temporary and proportional," Trudeau said. He pledged that his government would evaluate whether to extend the order on a daily basis, but he has not outlined what criteria would have to be met before it would be revoked.
Even though the prime minister was allowed to use the powers authorized under the Emergencies Act immediately, parliamentary approval is required within seven days, and a failure to pass the motion would have meant that it would no longer be in force. The measures are in place for 30 days.
The 1988 law, which was put to use for the first time last week, gives the Canadian government broad powers and tools to respond to national emergencies. It's supposed to be used as a last resort - when there are no other laws on the books that can respond to a crisis.
The orders allow the police to designate certain areas, including Parliament Hill and the surrounding precinct, as no-go zones, where participating in a prohibited public assembly or bringing a minor to one is illegal. They also include measures to choke off the convoy's financing, including by requiring crowdfunding platforms to be subject to terrorism-financing and money-laundering laws.
Several analysts, opposition lawmakers, civil liberties groups and provincial premiers have questioned whether the blockades meet the threshold for invoking the sweeping powers. Many of the powers were granted to authorities under the provincial state of emergency. Steve Bell, Ottawa's interim police chief, has said that the powers helped bring an end to what officials have described as an "occupation."
The Canadian Civil Liberties Association said last week that it would be challenging the invocation of the Emergencies Act in court, arguing that its use is "unnecessary, unjustifiable and unconstitutional."
Doug Ford, premier of Ontario, supported the invocation, while Alberta Premier Jason Kenney, whose government reportedly sought federal assistance weeks ago to end a blockade at a U.S.-Canada border crossing in the province, promised to challenge the federal government in court.
Conservative lawmakers have taken aim at measures that allow banks to freeze the accounts of major players in the demonstrations. Some have argued that banks could freeze the accounts of donors who contributed small sums of money.
But government officials have said that the Emergencies Act does not apply retroactively and would not target people who donated early on. The Royal Canadian Mounted Police said in a statement Monday that it did not provide a list of donors to financial institutions.
"The list the was provided to financial institutions included identities of individuals who were influencers in the illegal protest in Ottawa," the police force said, "and owners and/or drivers of vehicles who did not want to leave the area impacted by the protest."
Ottawa police said Monday that they had made 196 arrests, charged 110 people and towed 115 vehicles. Several tow-truck operators had covered their logos and their faces during the massive operation to clear the blockades because of fears that they would be threatened by demonstrators.
Several organizers of the convoy - who include people with extremist ties and anti-government views - were among those who were arrested.
Tamara Lich, a key convoy organizer who was a founding member of a political party that advocated for Alberta's separation from Canada, was denied bail Tuesday. She was charged with counseling to commit mischief, and Ontario Court of Justice Judge Julie Bourgeois said there was a high risk that Lich would reoffend.
"This community has already been impacted enough by some of the criminal activity and blockades you took part in and even led," Bourgeois said. "You have had plenty of opportunity to remove yourself and even others from this criminal activity but obstinately chose not to and persistently counseled others not to, either."
---
---
---
---