Duane Dewey, Medal of Honor recipient with 'a body of steel,' dies at 89
by
Harrison Smith
The Washington Post
October 23, 2021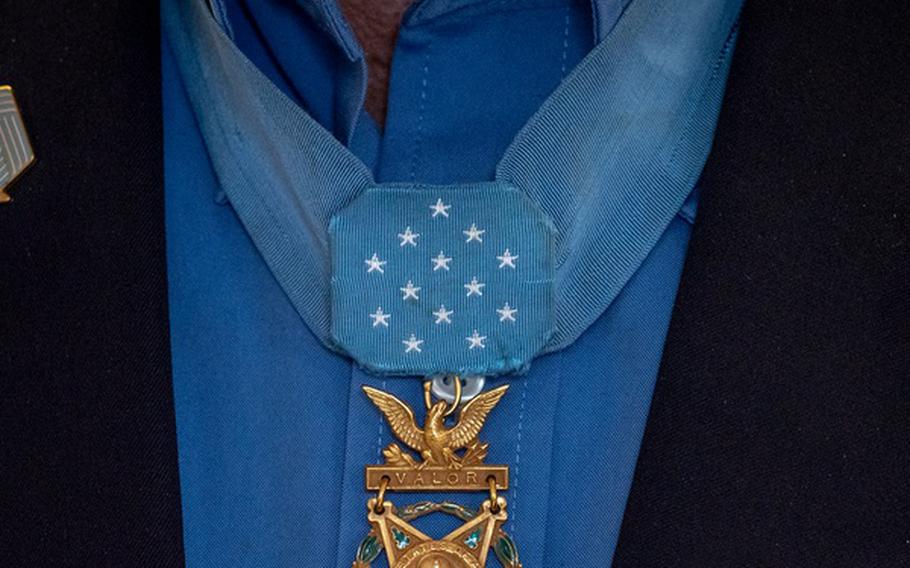 Duane Dewey, who received the Medal of Honor for smothering a grenade with his body to save fellow Marines during the Korean War, and whose recovery from grievous injuries led President Dwight D. Eisenhower to quip, "You must have a body of steel," died Oct. 11 at a nursing home in St. Augustine, Fla. He was 89.
The Congressional Medal of Honor Society announced his death but did not give a cause. Only three Medal of Honor recipients survive from the Korean War, the organization said.
The fighting that nearly ended Dewey's life began around midnight on April 16, 1952, when a grenade whizzed over his foxhole just as he ducked down to light a cigarette. Then came a second grenade, followed by an eruption of gunfire that would last until morning. As Dewey later put it, "All hell broke loose."
Dewey, a 20-year-old Marine corporal who had grown up in the farmland of western Michigan, was defending an outpost near Panmunjom, a Korean village along the 38th parallel where military leaders would sign an armistice the next year. He soon realized that he and his 80-man unit of the 2nd Battalion, 5th Marines, 1st Marine Division were far outnumbered, facing perhaps 700 Chinese soldiers.
Taking charge of his machine gun squad, he unleashed a continuous barrage of fire, prompting a comrade to warn that he might burn out the barrel. When his unit was ordered to pull back and tighten its perimeter, he located a large rock that offered some cover, and continued directing fire before running off to search for ammunition.
He had just returned when a grenade detonated behind his left heel, launching shrapnel into his left leg and buttocks and sending him to the ground. A hospital corpsman arrived to examine the wounds, and was taking off Dewey's bloody pants when another grenade rolled next to them.
Dewey later recalled that his first impulse was to throw the grenade away to save himself and his men, including an assistant gunner who was also being treated for injuries. But he was lying flat on his back, and worried he wouldn't be able to throw the grenade far enough. According to the Medal of Honor citation, he "pulled the corpsman to the ground and, shouting a warning to the other Marines around him, bravely smothered the deadly missile with his body, personally absorbing the full force of the explosion to save his comrades from possible injury or death."
In a 2011 video interview, Dewey recalled saying before the explosion, "Hit the dirt, Doc, I've got it in my hip pocket." His next words were, "Get me the hell out of here, I can't take much more of this."
Dewey was evacuated to a bunker full of wounded men, where he received a shot of morphine and spent the rest of the night wondering if he would bleed out or be shot by Chinese troops. American forces held out, and he was sent to a field hospital at daybreak, where doctors discovered that he had also taken a bullet in the stomach. He received a Purple Heart and spent more than four months in military hospitals.
Awarding the Medal of Honor to Dewey in a White House ceremony on March 12, 1953, Eisenhower noted his "body of steel," then added that if the grenade "had been one of ours, it would have blown you to pieces." Dewey agreed. He often noted that he had been lucky to survive the blast, which "put a good-size hole" in his hip but missed his spine, and recalled that while he was bleeding in the bunker, he thought only of his wife, Bertha, and his infant daughter, who was born after he left for Korea.
"I didn't pray for myself," he told the Muskegon (Mich.) Chronicle in 2006. "I prayed to God that she'd (Bertha) find a nice husband . . . that she'd find a good father for our baby."
Duane Edgar Dewey was born in Grand Rapids, Mich., on Nov. 16, 1931, and grew up on a farm outside Kalkaska, Mich. His father struggled to find work before getting a job at a foundry in Muskegon, where Dewey went to high school. He dropped out at age 16 to live with relatives in South Haven, 60 miles to the south, where he worked at a farm and foundry before joining the Marines in March 1951.
Dewey arrived in Korea that October and was discharged from the Marines the next year. Returning home to South Haven after receiving the Medal of Honor, he received a new, fully furnished three-bedroom home, built and donated by the community. He later worked at a piano factory, drove a school bus and ran his own office-machine repair shop before retiring in 1973, splitting his time between Michigan and Florida.
His wife of 68 years, the former Bertha Bierhalter, died in 2020. Survivors include two children, Arline Broome of South Haven and Dwight Dewey of Durham, N.C.; two grandsons; and four great-grandchildren.
Dewey often spoke at veterans events, traveling at times to conferences hosted by the Congressional Medal of Honor Society. Getting the award "means a lot to me," he said in the 2011 video, before adding that each time he put it on he also thought about comrades who deserved the honor but never received it. "I didn't do anything that somebody else in my position wouldn't have done," he said.