From the archives, 2006: Paving the way for democracy
By
Stars and Stripes
September 26, 2022
---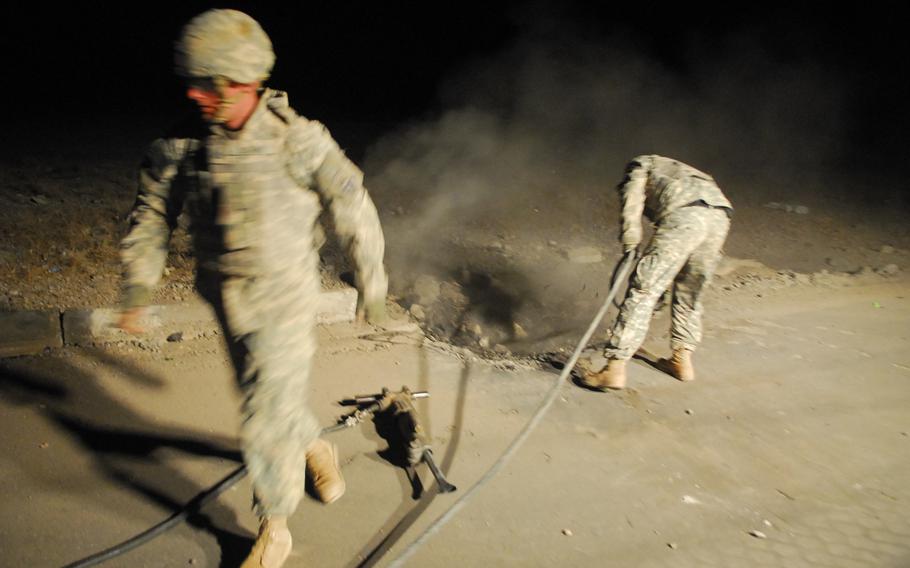 This article first appeared in the Stars and Stripes Europe edition, Dec. 3, 2006. It is republished unedited in its original form.
CONTINGENCY OPERATING BASE SPEICHER, Iraq — When it comes to risky jobs in the States, highway repair crews face more than their fair share of danger.
But while they have to worry about problems with speeding traffic, they normally don't have to worry about roadside bombs planted along the interstate or gun shots from unseen snipers.
The same cannot be said for the U.S. Army engineers whose job is to plug and repair bomb craters along the main supply routes and local byways of Iraq. Hidden explosives, small-arms fire and swift-moving convoys are just a few of the threats they face on this critical yet thankless task.
"There are no orange-ribbon campaigns for us," joked Lt. Col. Courtney Paul, commander of the Fort Knox, Ky.-based 19th Engineer Battalion. Orange ribbons are commonly used for campaigns against such issues as drunken driving, animal cruelty and racism.
The road work falls under the heading of "assured mobility" and is aimed at improving road conditions for military and civilian traffic plying major thoroughfares like Iraq's Highway One.
The route, which runs the length of the country from north to south, is the site of frequent roadside bomb attacks around Tikrit, which is near Contingency Operating Base Speicher. The detonations can create gaping holes in the asphalt, which, if left unfixed, make convenient hiding places for future explosives and pose hazards for motor vehicles.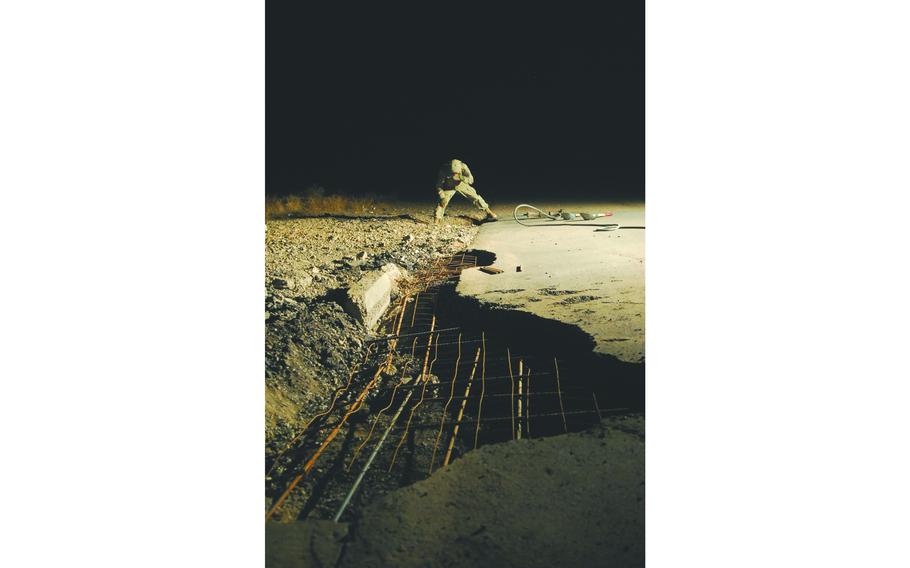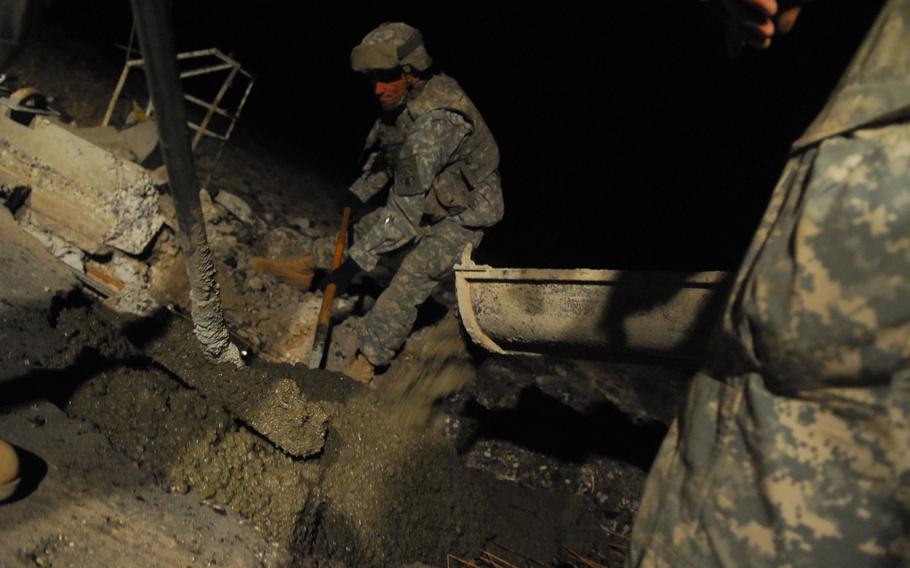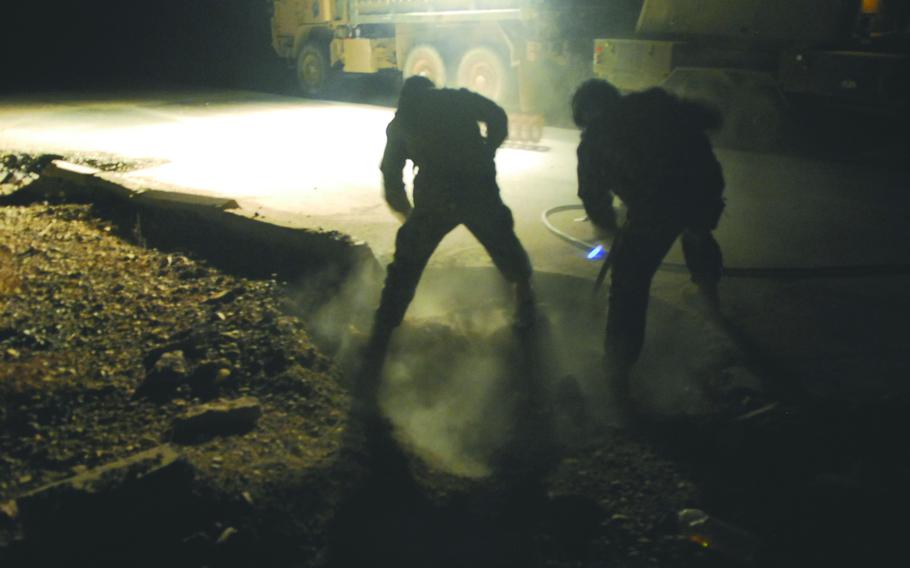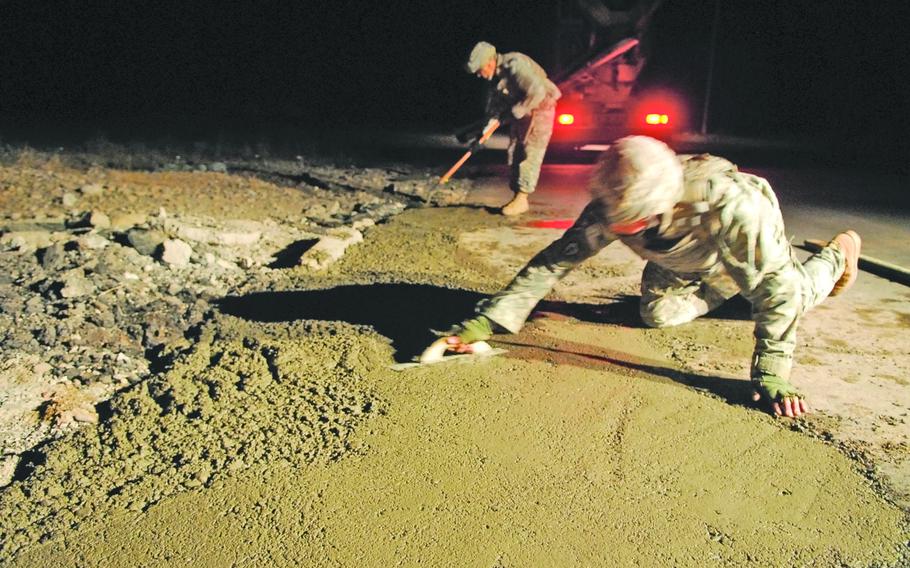 "If we didn't do this, they could just throw something in that hole and throw some trash over it," said Staff Sgt. Jonathan Orloski, 27, of South Deerfield, Mass.
"At least now, they've gotta do some work. They've got to tear up the road or pull out a curb or two" he said of insurgents.
Orloski and the rest of 1st Platoon, 60th Engineering Company arrived in Iraq roughly one month ago. In that short time they've filled scores of craters and covered hundreds of miles of roadway. Even a short drive along the supply route provides numerous signs of their handiwork — neat patches of smooth, gray concrete.
"Some people may think this is a stupid task, but it's pretty important," said 2nd Lt. Don Nguyen, 24, of Cherry Hill, N.J.
On a recent mission, Nguyen and his platoon set off in search of new craters near an Iraqi police checkpoint.
It didn't take long to spot the craters, which looked like huge bite marks on the edge of the pavement.
It also didn't take the team long to spot a freshly deposited roadside bomb.
"This is the second mission in a row that this has happened," said Pvt. Michael McFarland, 19, of Newburyport, Mass. "We've really hit the ground running. It's kind of a rush. Before I came here I didn't think I'd be leaving [Speicher] because I'm an electrician. Then they put us on this and gave us all new training. It's kind of neat."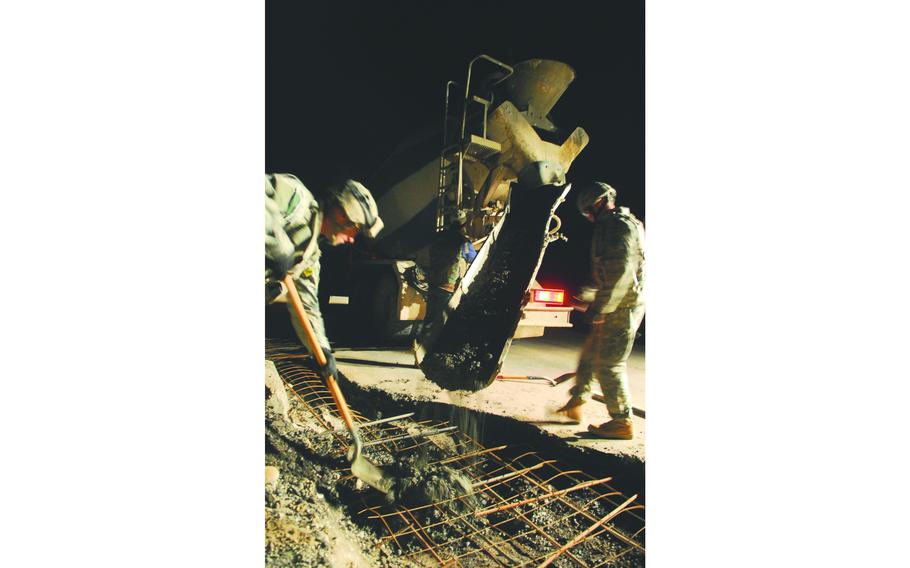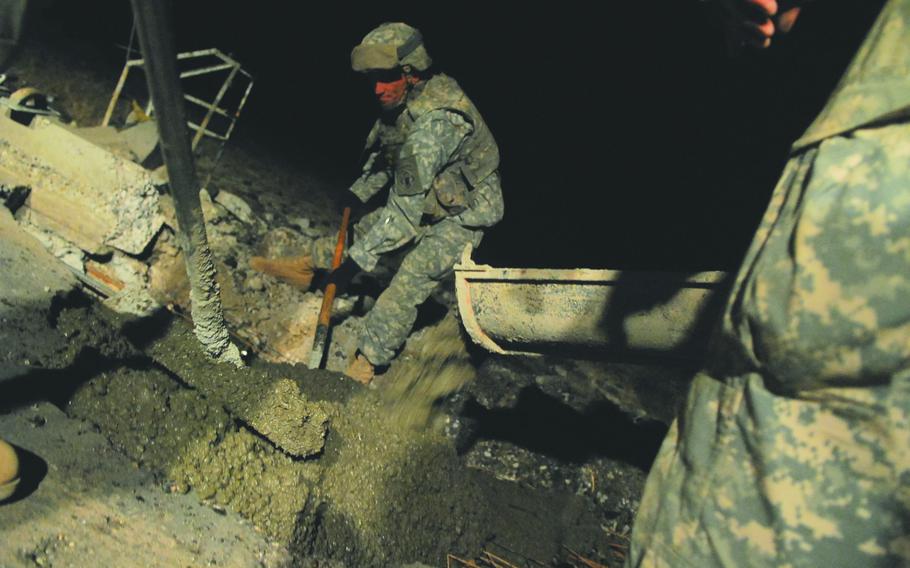 Eventually — after a bomb disposal crew detonated the explosive — the engineers set to work on the craters, shaping and clearing them with a jackhammer and shovels, then filling them with cement.
As the wet cement poured down the chute of a cement mixing truck, soldiers used shovels, boards, hoes and trowels to spread and smooth the mixture.
The work is strenuous, but the soldiers say that after filling a handful of such holes, they felt a great sense of accomplishment.
"It's a good night's work," said Pfc. David Dionne, 22, of Concord, N.H. "You sleep like a baby the next day."
The process is also time consuming, particularly since the holes have to be watched while they dry.
"It's very important to secure the sites until they dry," Paul said. "Otherwise, if you leave it while it's wet, somebody will put a nasty surprise in it."
Orloski said things can get a bit dull while waiting for the mixture to harden, but he knows the task is worthwhile.
"The best way I've heard it described is you're watching cement dry for democracy," he said.
---
---
---
---