From the archives, 2001: Road to Kabul is a rocky one
By
Stars and Stripes
August 15, 2022
---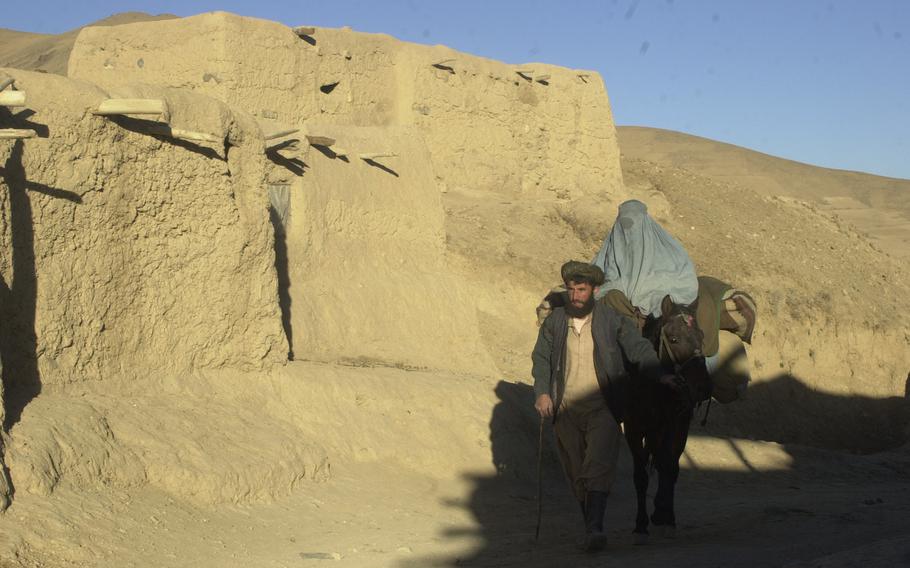 This article first appeared in the Stars and Stripes Pacific edition, Nov. 21, 2001. It is republished unedited in its original form.
KABUL, Afghanistan — The road to Kabul from northern Afghanistan seems like something out of a Mad Max movie.
For those Westerners who travel overland from Tajikistan — a bone-jarring four-to-five-day marathon from the Tajik capital of Dushanbe — few, if any, have ever experienced anything like it.
"I've been to a lot of places," says Maurice Roper, an NBC technician whose assignment sheet includes Somalia and Haiti, "but I've never, ever seen a place like this. It's biblical."
Try to imagine the worst road you've ever driven. Then, bomb it to smithereens, lace it with land mines and add gun-toting bandits clad in robes and turbans.
The donkeys, dust, boulder fields and dozens of other road hazards — from hash-smoking drivers to the wreckage of war — only make the journey that much more harrowing.
"We fight a faceless, hidden war," says Hashmatullah Moslih, a senior foreign ministry adviser in the Northern Alliance. "A hill that looks barren could be a death trap."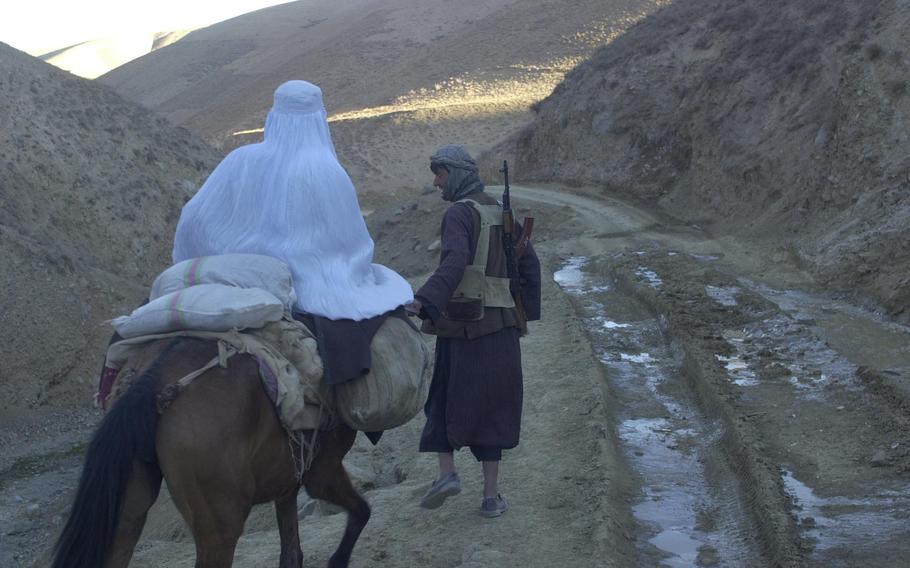 Evidence of death and destruction is everywhere in the stunning, but torturous land.
From the Tajik-Afghan border to Kabul, the capital city, graveyards dot the sterile countryside. Many of the new graves are festooned with crude yet colorful markers that stand out against the seemingly unending light-brown landscape.
Flags and ribbons of cloth tied to makeshift wooden poles flap in the mountain wind.
"There is no God but Allah," one green banner proclaims in Arabic, "and Mohammed is his prophet."
On the northern outskirts of Kabul, the charred remains of tanks, trucks and armored personnel carriers litter the roadside of one of Afghanistan's few highways.
The paved 40-mile stretch — known as Khair Khana Hill Road — is pockmarked by ordnance delivered by both Soviet and U.S. forces.
As if to hide an ugly scar, a man strolls into the middle of the road to drop a red carpet over one section that had been sprayed by shrapnel.
"We are thirsty for peace," says Hamayoon, a 17-year-old resistance fighter with an AK-47 slung over his back.
Hamayoon, who, like most Afghans, goes by only one name, speaks in front of a roadside shop in the town of Andrab.
Located on the north slope of the massive Hindu-Kush mountain range, Andrab has a notorious reputation.
"This is a town of thieves," says Nazim Hakimi, an English-speaking translator. "The worst people in Afghanistan live here."
The town is the last major village before the makeshift road to Kabul — necessary due to the continued presence of Taliban forces along more established routes — makes its final ascent into the snow-capped mountains.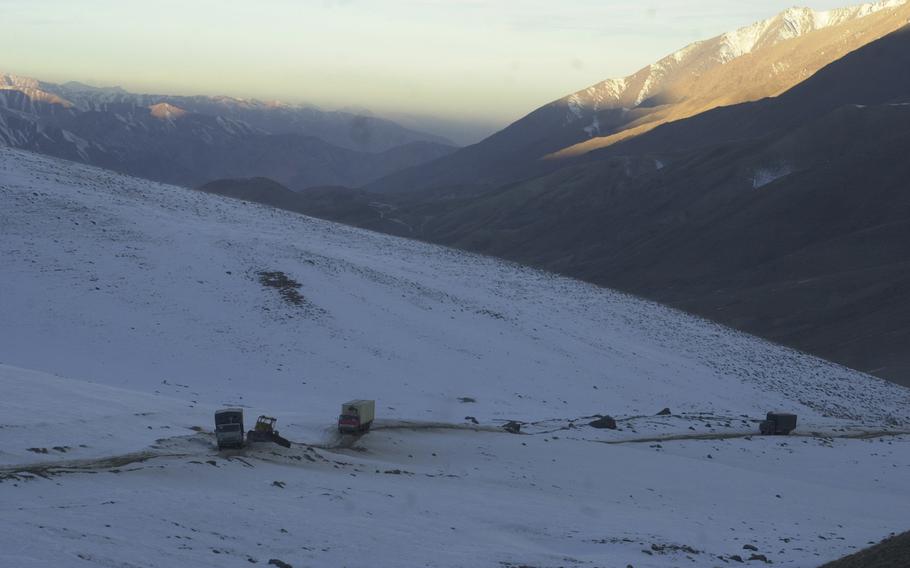 Throughout the odyssey, the constant companion of all travelers, whether they are on horseback or in an all-terrain vehicle, is the oppressive dust.
Simply put, the fine dirt kicked up by man or the elements permeates everything, making it hard to see and breathe. It'll coat your clothes and baggage in no time, while all along assaulting your throat and nose.
"I've had difficulty breathing," Roper says. "It's like living in a quarry."
Besides the ever-present dust, there are the roads — if you can call them that.
Many of the charted roads are impassable due to bandits, Taliban soldiers or mines. And the dreaded Taliban militia, many of whom have taken to the hills and mountains, constantly weigh on one's mind.
The roads people often traverse in cars and trucks are really ancient goat trails or footpaths, more frequently used by smugglers, now pressed into service because of the civil war. Because much of Afghanistan is mountainous, these paths are nearly indistinguishable from the rest of the terrain, land so rough it beats up both man and machine.
To ride in a vehicle over this unforgiving land is a bruising affair; the body jostles from side to side, up and down. And it is constant. If the vehicle is not fording a stream, it's heading uphill or down, bounding over boulders that range in size from small duffel bags to compact cars.
A sock in a washing machine has it better.
A few reporters who made the journey speak of being black and blue all over.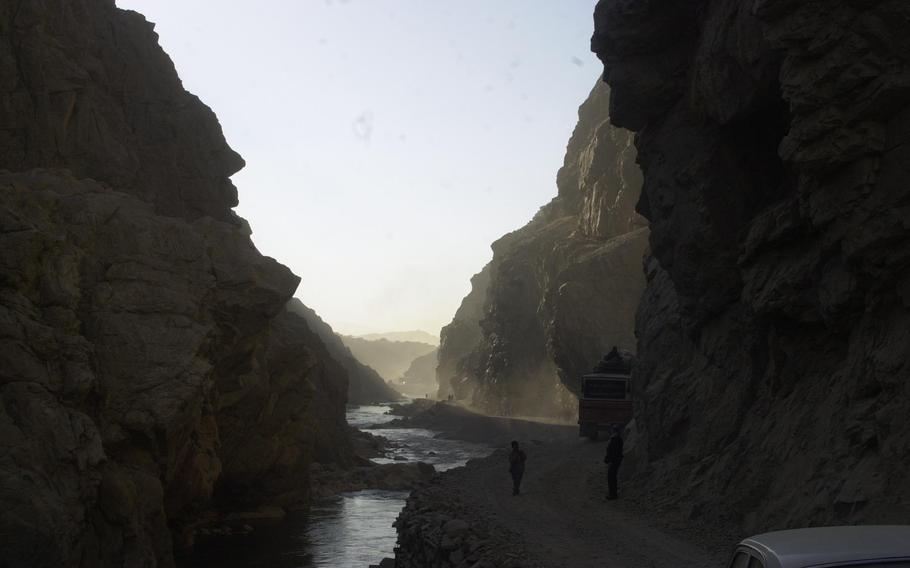 Passing one remote town after another, it's clear not much has changed over the centuries. Colorful goods and clothing clash with medieval-looking men on horseback and the mud huts they travel to or from.
"This is the roughest road I've ever seen," says Hans Kuitert, a Dutch correspondent for De Telegraaf who has spent more than two decades in south central Asia.
Kuitert was referring to the bumpy ride, but he may as well of been talking about the dangers to life and limb.
In the last several days, as many as seven journalists have been killed covering the war.
At the NBC house in Kabul, staff had a rude awakening Monday morning.
A bomb, presumably dropped by U.S. or British military aircraft more than a week ago, penetrated the roof but apparently got lodged in the rafters.
Staffers were mingling in the house Monday when the bomb crashed through the ceiling. It didn't explode.
"This place is just unbelievable," Roper says. "Unbelievable."
---
---
---
---