The USS Jack H. Lucas: New warship honors NC native
By
The High Point Enterprise, N.C.
July 16, 2022
---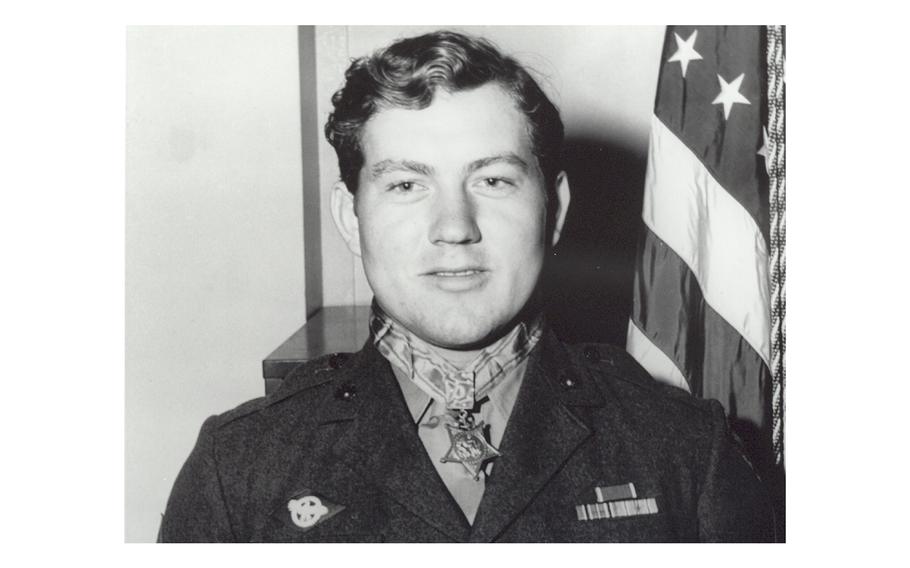 HIGH POINT, N.C. (Tribune News Service) — A new guided-missile destroyer will soon be patrolling the waters for the Navy, named in memory of a brave North Carolina native who distinguished himself as a war hero.
The USS Jack H. Lucas, which was christened March 26, honors the memory of Jacklyn Harold "Jack" Lucas, a revered World War II veteran and Medal of Honor recipient.
Adm. Mike Gilday, chief of naval operations, called the Jack H. Lucas "the most capable and sophisticated surface combatant ever built by man" at the ship's christening ceremony, held at the Ingalls shipbuilding facility in Pascagoula, Mississippi.
"You have built the finest destroyer in the world," Gilday said.
Lucas' widow, Ruby, said it's fitting that the ship honoring her late, tough-as-nails husband is a destroyer.
"If it hadn't been a destroyer, he'd have come up out of that grave and haunted us," she joked at the christening ceremony.
"May the Jack H. Lucas be indestructible, just like he was," she continued. "This first-of-its-kind ship is advanced in integrity, courage and commitment to serve our great country. Jack never ran from a fight, and I'm certain that all aboard his namesake will represent Jack with honor. Just as I feel his spirit with me, be assured that he will be with all of you all the time."
The 510-foot-long warship has a displacement of more than 9,200 tons and is capable of a speed of approximately just over 34 mph. It will have 380 crew members and is equipped with cutting-edge air and missile defense technology, including significantly greater detection range and tracking capacity, according to the Navy.
For now, the ship remains at the Ingalls facility, where weaponry, electronic systems and other equipment are being installed and tested, and the ship's officers and crew have begun familiarizing themselves with the new vessel.
The Jack H. Lucas will officially enter the fleet in 2023, when it will be delivered to the Navy for commissioning. The commissioning date and location have not yet been determined.
The ship honors a rough-and-tumble man whose wartime heroism is the stuff of legend.
After lying about his age and joining the Marines at age 14, the Plymouth, North Carolina, native fought in the Battle of Iwo Jima. On Feb. 20, 1945, during a firefight with Japanese soldiers, he saved the lives of three Marines by selflessly hurling himself onto a pair of grenades, absorbing the blast with his body — and nearly dying in the process.
For his actions, Lucas — who died in 2008 — received the Medal of Honor from President Harry Truman at the White House on Oct. 5, 1945. He was only 17 at the time — making him the youngest Marine ever to receive the honor — and he went on to become one of the nation's most celebrated war heroes.
Lucas enrolled at High Point College and graduated with a business degree in 1956. During his time at the college, he was an active member of the Pi Kappa Alpha fraternity and the Veterans Club.
In October 2008, four months after Lucas' death in Hattiesburg, Mississippi, his widow gave a replica of his Medal of Honor to High Point University, along with his military gloves and hat, and a bit of sand from Iwo Jima. Those items are on permanent display in HPU's Smith Library, along with a photograph of Lucas receiving the Medal of Honor from Truman.
___
(c)2022 The High Point Enterprise (High Point, N.C.)
Visit The High Point Enterprise at www.hpenews.com
Distributed by Tribune Content Agency, LLC.
---
---
---
---