B-17 crash victims remembered: 'We have to be worthy of them'
By
masslive.com
July 9, 2022
---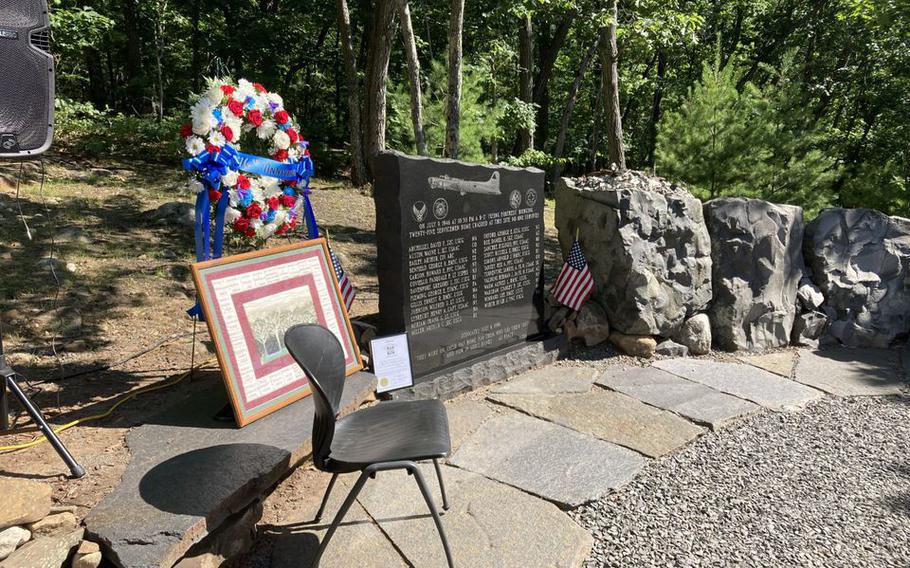 HOLYOKE (Tribune News Service) — Some 60 men, women and children gathered at a carved stone monument set near the top of a mountainside Saturday to remember 25 people none had ever met but who died at that spot 76 years earlier.
The Mt. Tom Memorial Committee, along with family members of the dead and area residents remembered the 25 men killed on July 9, 1946, when the B-17 they were flying in crashed into Mount Tom. They were young men ready for discharge after fighting in a long war. They were going home.
Saturday was the 26th annual memorial service held at the site since the dedication of the memorial site at the crash scene on rocky ground along an old cable railroad right-of-way up the side of the mountain. In 1996, a site was created to remember those killed and an Indian stone memorial was set with the names of each of the 25 killed craved on it.
Helen Gillis Swahn drove all the way from Erie, Pennsylvania with several generations of her family to Saturday's ceremony. She did not know her dad, Ernest Gillis. He was a Radioman 3rd Class in the Coast Guard and was on his way home to be there when she was born. Her mother gave birth three months after the crash. Ernest was the third Gillis brother to be killed in World War II.
"My family didn't do a lot of talking about what went on, "Swahn said. "My mother never came here, and she never spoke of it. Seeing his name carved there makes it real to me. Before it was just a story but last year it was very emotional. I did not think it would be, but it was because then there was a real attachment to this place and to him."
The official investigation indicated that the plane was low as it lined up to land at Westover Field after flying from Gander Bay, Labrador. The converted B-17 Bomber was having trouble with one engine and was buffeted by a heavy thunderstorm with torrential downpours as it made its final approach to the Chicopee airfield. But it was too low and clipped small trees at the summit of Mount Tom, crashed into a rocky outcropping and exploded about 300 feet below the ridgetop. All 25 aboard were killed.
The men killed were mostly Coast Guardsmen who had served in Greenland and made sure ships sailing the North Atlantic were safe both as seamen aboard search and rescue ships and cutters and as radar operators, seeking the German U-boats that plagued shipping and to aid flights back and forth to Europe. Others were members of the U.S. Army Air Corps. They were young men mostly. Four of those killed were just 18 years old, six were 19 and five were 20 years old. The oldest onboard was 43-year-old Air Corps Capt. Henry A. LeBrecht.
State Rep. Patricia Duffy said what happened to the men aboard that plane the night of July 9, 1946, and all veterans for that matter put the onus on us.
"This is such an important reminder of what soldiers and veterans are willing to sacrifice and that we have to be worthy of them," she said, "We have to be worthy of them."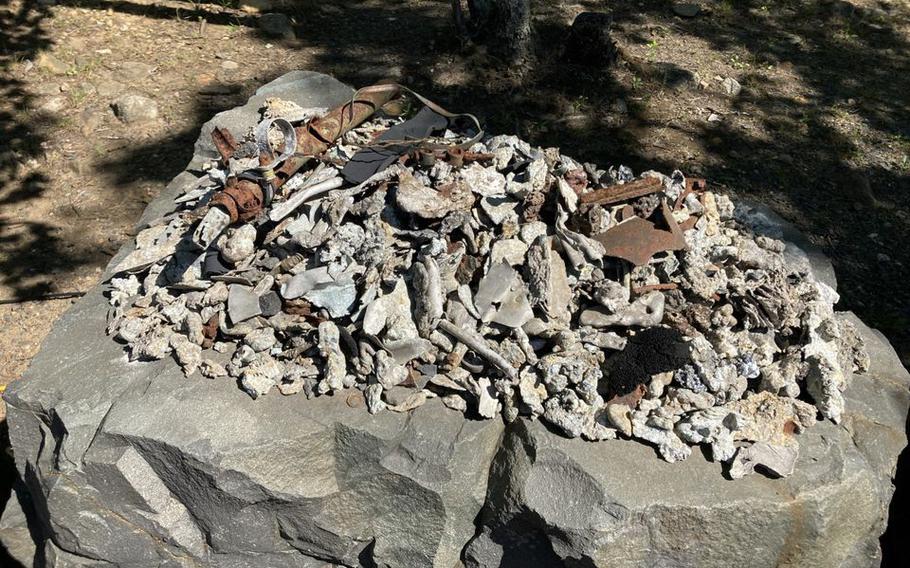 Also, aboard the plane that night was Lt. Pasquale Coviello who was attached to the Coast Guard to provide medical care for the "Coasties" in Greenland and a Red Cross worker, Arthur Baily, who quit his war production job to serve the needs of military members.
"What happened on this mountain in the rainy darkness was a tragedy," Holyoke Mayor Joshua Garcia said. "They were going home. They were so close, and they were so young. They were 18,19, 20. These are the ages of the high school graduates I spoke to at last month's commencement exercises. They were so young. It breaks your heart."
The memorial came into being because a few men agreed that something had to be done for those killed.
"This snake wrangler, Norm Cote came to me and said Bob we have to do something," said former Northampton Veterans Services Coordinator Robert Cahillane. "He collected timber rattlers on the mountain and found the original stone cairn and all the crash debris abandoned there. I was able to put him off for a couple of years and finally, he made me go up there and take a look. He was so convinced we had to do something for these men whose sacrifice had to be recognized. After that I contacted the other coordinators in the area we put together a committee."
Cahillane kept a piece of the plane's wreckage in his desk as a prompt to keep the project moving ahead.
By 1996 the crash site was transferred from the Mt. Tom Ski Area to the memorial committee and construction workers leveled a small area to set a formal monument. Today the memorial site sits next to the access road used to maintain cell phone towers at the top of the Mount Tom ridge. It is a special place for Al and Ellen Stettner. Alfred Warm was their mother's brother and just 19 years old when he died in the crash.
"She was 15 years old and idolized him," Ellen Stettner said of her mom, Dorothy.
Coming to the Holyoke site was a yearly pilgrimage for Dorothy. On her last visit to the site, she told the local residents who turned out for the ceremony, "The most important thing in life is showing up and you all show up year after year. God bless you all."
Dorothy's last visit was to remember Alfred Warn and to witness the consecration of the vows of daughter Ellen and her husband —so far, the only nuptials held at the memorial site.
Al Stettner wears his uncle's pinky ring that construction workers found at the site as the memorial was built.
At his first Mt. Tom Memorial ceremony, Garcia thanked the committee on behalf of the City of Holyoke for its work making the memorial site a reality.
"The City of Holyoke extends it thanks to the Mt. Tom Memorial Committee. You have lit an eternal flame in the hearts of the families, the descendants, and the countless beneficiaries of the 25 servicemen who gave all until they had nothing left to give. God bless these silent patriots and God bless the country they died for."
©2022 Advance Local Media LLC.
Visit masslive.com.
Distributed by Tribune Content Agency, LLC.
---
---
---
---