Visit to Gen. Patton's home resonates for 95-year-old guest
By
The Salem News
March 28, 2022
---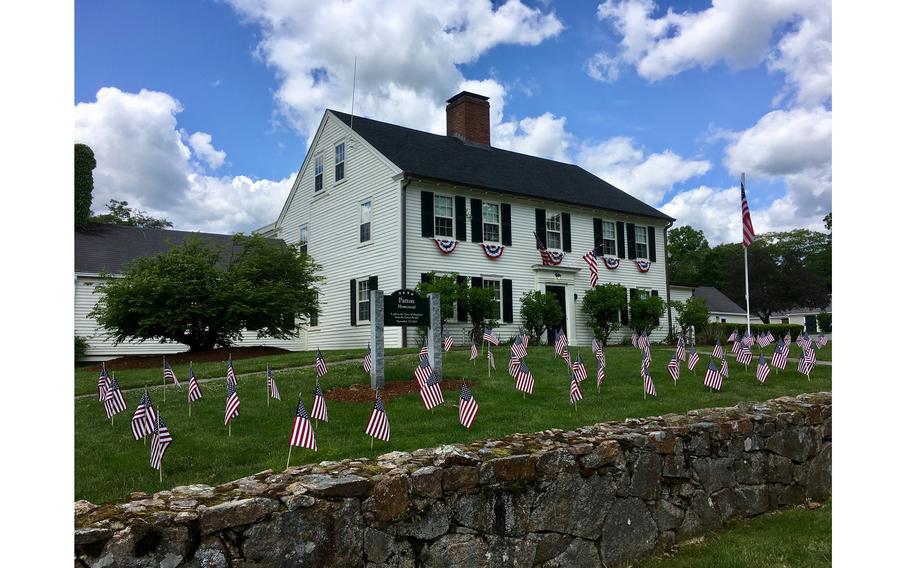 HAMILTON, Mass. (Tribune News Service) —  Wensley Roberts El-Hefni was a teenage girl standing in a field in Scotland in 1943 when a Nazi plane flew by so low she could see the face of the pilot, the swastikas on the wings. Thankfully, the Nazis on board were defecting, not attacking.
It's a story that El-Hefni, a 95-year-old Beverly, Mass., resident, has told often over her long life, and it's one that finally led her to the home of Gen. George S. Patton Jr., the famous American soldier who helped defeat the Nazis in World War II.
On April 2, El-Hefni was a special guest at the Patton Homestead, the home in Hamilton where Patton once lived and that now houses the Patton Family Archives.
"I love these sort of places, to see the real thing," she said as she received a tour of the home on Ashbury Street, its walls and shelves and beams lined with photos and artifacts from the military career and personal life of Patton and his son, who was also a decorated Army general.
El-Hefni was born in the Falkland Islands, where her father was a sea captain. In addition to her startling closeup with the Nazi warplane while she was attending school in Scotland, she remembers going into the cellar of her home in the Yorkshire countryside whenever the air raid sirens sounded during World War II. Her brother served in the British Royal Navy, and her mother, who spoke fluent German, trained British soldiers in the language.
El-Hefni eventually became a nurse, married one of her patients and moved to America in 1960 when her husband, an electrical engineer, got a job at MIT's Lincoln Laboratory.
Suzanne Wright said her mother has always been a reader and a student of history, World War II in particular. "She lived it," Wright said.
The Patton Homestead was purchased by Patton and his wife, Beatrice, in 1928. It was the family vacation home until World War II, when Beatrice moved in and awaited her husband's return from the war. Patton died in 1945, and Beatrice remained in the home until her death in 1953.
The home and surrounding 27 acres were donated to the town of Hamilton in 2012 by Joanne Patton, who was married to George S. Patton IV, the son of the World War II general. The materials that fill the four rooms of the house were donated to Wenham Museum, which is responsible for the tours.
El-Hefni said she recently watched the movie "Patton" in advance of her visit, and was excited to finally get a chance to step inside of the home of the man she has long admired.
"I had no idea what it was going to be like," she said. "I'm fascinated by it."
(c)2022 The Salem News (Beverly, Mass.)
Visit at www.salemnews.com
Distributed by Tribune Content Agency, LLC.
---
---
---
---