Brothers separated in India during partition finally reunited after 74 years
By
Gerry Shih and Anant Gupta
The Washington Post
January 22, 2022
---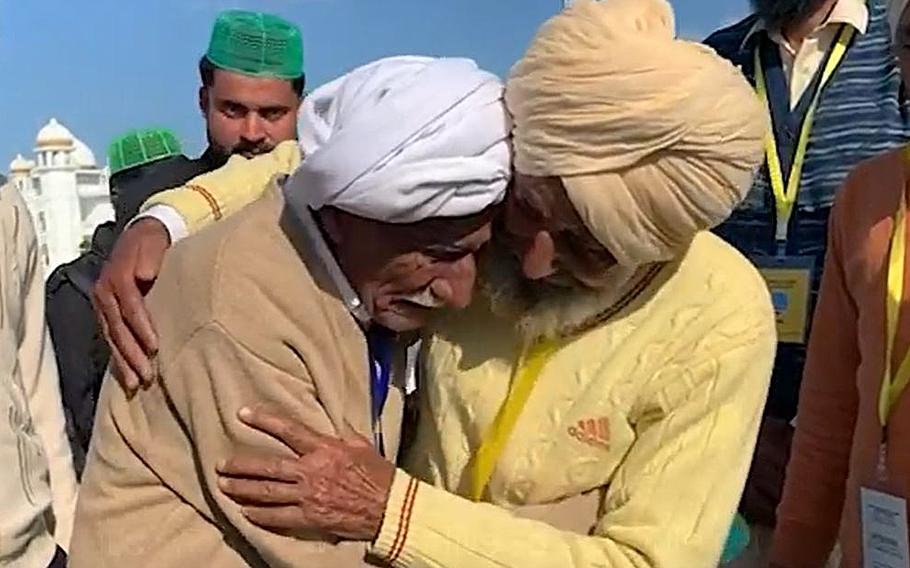 PHULWAL, India — As Sikka Khan tells it, he was struck by tragedy, but also fortune, in 1947.
He was a 6-month-old orphan, the son of Muslim laborers caught in the chaos of India's partition. Sadiq, his 10-year old brother, barely fled to Pakistan alive. His father died trying. His mother took her own life, leaving Sikka alone in this village. But he survived: The Singhs, a local family of landowning Sikhs, took Sikka in, fed him, and raised him.
In the ensuing years and decades, Sikka begged local Muslims migrating to Pakistan to look for his brother. Others helped him write letters to Delhi newspapers and later, on the Internet, to search for Sadiq. He never heard back, until fate struck a second time, on May 4, 2019.
Sikka was tending to animals in the Singh family courtyard when Davinder, the grandson of the man who took him in, rushed home to announce that Sadiq may have been found.
A farmhand who never owned a phone, Sikka recalled he didn't understand the chain of people or the 21st century wizardry - a village leader in Pakistan, a YouTube channel, a doctor in Canada - that would put him face-to-face one day this month with the brother he lost in 1947. As he sat under a jujube tree, peering into Davinder's smartphone, he didn't even know if it would really be Sadiq, he recalled.
But then the screen lit up with the face of an 83-year-old man, and Sikka knew.
"I tried to look for you," Sikka said.
___
In the summer of 1947, the British, who were departing India, drew a new border to divide the former colony, prompting as many as 20 million people to begin a desperate migration. Muslims scrambled toward newly formed Pakistan, while Hindu and Sikh refugees poured into India. As many as 2 million people died, historians say, as Hindus, Muslims and Sikhs turned on each other in waves of killing, rape and kidnapping, leaving behind fractured families with missing women and orphaned children.
Even those who were not touched by violence found themselves forging new lives, unmoored from their old families, belongings and even identities.
In 1956, India and Pakistan stopped efforts to reunify families across the tense border, and the two governments have tightly controlled visas, making physical reunions - when families manage to remain in touch - nearly impossible.
But over the past decade, a younger generation has taken a renewed interest in the documentation of the partition, often relying on technology. In 2009, a California physicist created the 1947 Partition Archive, an online oral history project. In 2018, University of Oxford students created Project Daastan, which uses 360-degree cameras to create virtual-reality reproductions of the villages and homes that survivors left behind in another country. On YouTube, several volunteer groups have cropped up with a sole purpose: uniting long-lost families.
In the past, relatives and friend sought each other through newspaper ads, word of mouth, or by posting notes on pilgrimage sites that both Indians and Pakistanis can visit - when diplomatic relations permit. "Today, social media makes connecting people much easier," said Nasir Dhillon, 37, a Pakistani real estate agent who founded a YouTube channel, Punjabi Lehar, in 2013 with a Sikh partner.
The channel has helped reunite about 200 families, Dhillon estimates. "When we put out a video, things happen," he said.
None of these tools existed when Sikka was a young man. Growing up in Phulwal, he barely knew his own story and pieced it together from villagers: His mother had brought him to Phulwal to visit her family just as the partition erupted, severing them from his father, who died, and his brother, who left for Pakistan. According to Sikka and local residents, Sikka's despondent mother hanged herself. Her relatives fled Phulwal, leaving Sikka with a destitute uncle, who gave the child away.
Then, Paag Singh stepped in.
Paag sent Sikka, a member of the gujjar laborer caste, to work his fields and take care of his cows and goats. It was hard, dirty work. "I was miserable, crying all the time," Sikka said. "But Paag Singh protected me with a ferocity."
Sikka settled into the rhythms of farming life, and the Singh family. He played with Paag's son, Darshan, on his lap until Darshan grew up. He watched Darshan marry an energetic woman named Paramjit and have a son of his own, Davinder.
Paag had offered to arrange a marriage for Sikka, too, with one of his distant cousins, a Muslim girl. But Sikka said no. By that point, the Singhs had "made me a man," Sikka said, "but it was hard to imagine starting another family."
By day, Sikka worked hard harvesting wheat and pearl millet and feeding animals. By night, he shared a bedroom with Davinder. The unspoken rules in the house remain today, said Paramjit.
"If I eat two peanuts, he eats two peanuts," she said. "If Davinder drinks a cup of milk, he drinks a cup of milk."
As elsewhere in India, caste and religion impose an enduring, often exploitative structure over rural Punjabi society, said Anupama Uppal, a labor economist at Punjabi University. But the relationships between landowners and laborers can also be nuanced, said Jagsir Singh, a doctor born in Phulwal. "You till the land together, eat meals together," he said. "It's hard to understand for people not from here."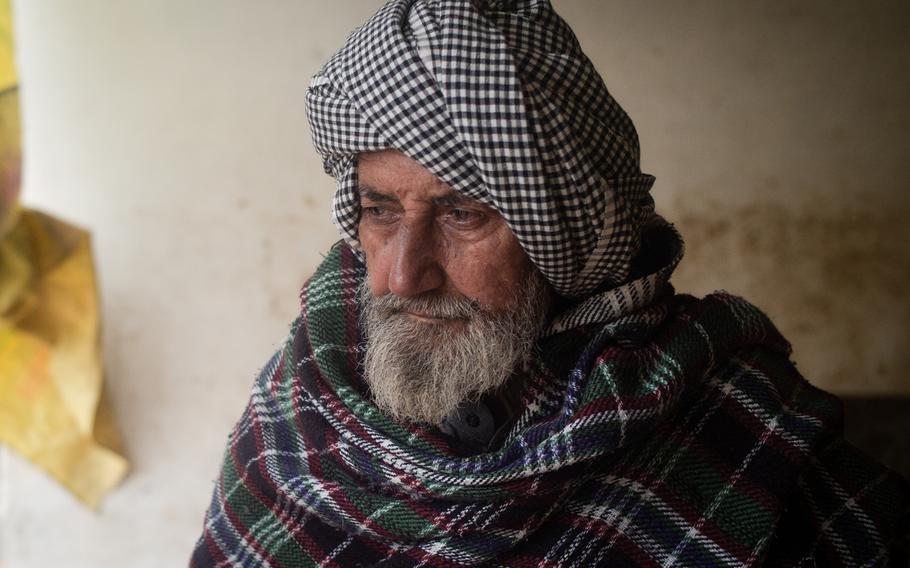 Sikka always yearned for the family he never knew. As a child, he begged Muslim families departing for Pakistan to look for Sadiq. He asked others to help him write letters to distant family, put ads in newspapers and in his later years, even post on Davinder's Facebook.
No reply ever came. "He would say, 'I have nobody in this world,'" said Razia Begum, the wife of a distant nephew who lives in Phulwal.
And so for decades, the story of the Muslim gujjar living with the Sikh family hung over the village of 3,000. "Everybody pointed to him with pity," Jagsir said. "He was the one left behind."
___
Jagsir Singh was in Vancouver visiting his daughter in May 2019 when his sister-in-law's husband, an avid watcher of Punjabi Lehar, sent him a link to the YouTube channel.
The video began with an old man in a white turban telling his interviewer, Nasir Dhillon, that his infant brother went with his mother to Phulwal village in 1947, never to be heard from again. Sadiq's father was killed in a confrontation with Indian soldiers near Ludhiana, Sadiq said, while he joined a refugee caravan. Walking to Pakistan, he encountered "dead bodies all around me," he said.
"If you can see me, please talk to me," Sadiq said into the camera, at Sikka. "Who knows if I might die without meeting you?"
Jagsir immediately wondered, "Could this be our man?"
He forwarded the link to family back in Phulwal, who relayed the news to Davinder. Then Jagsir called Dhillon, and the YouTuber explained that he was introduced to Sadiq, a farmer living outside Faisalabad, Pakistan, through Mohammad Ishraq, a young village leader who figured YouTube was Sadiq's best hope. By about 1 p.m. the next day, Dhillon's team was sitting next to Sadiq in Faisalabad, dialing Davinder's Indian WhatsApp number.
Seventy-two years of questions poured out from Sadiq. He didn't know what happened to their mother, or that Sikka no longer went by his childhood nickname, Habib. He asked if Sikka ever managed to marry, if he ever bought any land.
"I tried to look for you," Sikka said.
"You tried to find me?" Sadiq asked.
Sikka nodded. "I wrote letters," he said. "I tried so much, but I could never find an address."
After the first day, the brothers would ask Davinder and Ishraq to set up calls whenever they felt like speaking, which, on some days, was more than once.
They would talk about Sadiq's six children and his grandchildren. Sikka would tell Sadiq what crops he grew, what Phulwal looked like. Sadiq would recount how he also searched for Sikka. He once traveled 160 miles to ask a relative from India if he had any word of Sikka, he said. He once made a pilgrimage to ask a Sufi holy man whether he would find his brother.
"He told me you are alive, so I must keep trying," Sadiq recalled.
Within days, the brothers' friends and families began to prepare passports, hoping to apply for visas so the two could meet. But politics stood in the way. Then the coronavirus pandemic struck, and borders clamped shut.
Visas have been nearly impossible to obtain in recent years as bilateral relations plummeted, with the Indian government particularly reluctant to approve them, said Urvashi Butalia, a New Delhi-based author of "The Other Side of Silence," a collection of partition stories.
Time and again, survivors say they want to go back, just once, "to say goodbye to people, things, relationships," Butalia said. "Without that, there's a deep sense of lacking closure."
___
There was one last option for Sikka and Sadiq: They could meet at the Kartarpur Corridor, a visa-free passage established in 2019 that lets Indians visit a Sikh holy site, the Gurdwara Darbar Sahib, about three miles inside Pakistan.
As covid receded, they set a date: Jan. 10.
In Phulwal, the Singhs had arranged for news of the reunion to be broadcast over the village loudspeakers. The family rented a bus, and about 30 of them - plus Sikka - piled in, laden with 50,000 rupees, or $700, worth of gifts.
In Faisalabad, Sadiq's entourage, with his entire family, was even bigger. Ishraq, the village leader, counted 70 people bundling boxes of clothes and delicacies into their own bus.
It was a perfect, clear afternoon when the two sides finally approached each other at the Kartarpur gurdwara, beneath its gleaming domes of white and gold.
In a video clip that's since gone viral in India and Pakistan, Sadiq rushes into Sikka's arms and wails, as Sikka soothes him. "We are alive, so we could be together again," Sikka said.
The Indians and Pakistanis engulfed each other in hearty, Punjabi-style welcomes - big hugs all around, recalled Paramjit. Sadiq introduced his children and grandchildren one by one. "I didn't have anyone, so I presented them," Sikka said, referring to the Singhs.
Sikka gave Sadiq a gift of turbans. Paramjit gave Sadiq's wife Basri a luxurious salwar kameez and handed envelopes stuffed with money to Sadiq's grandchildren. Sadiq, leading the Pakistani delegation, offered a garland of flowers to Darshan. He placed his hands on Paramjit's forehead and gave her bolts of fine cloth.
They spent three hours together before Pakistani soldiers closed the site before sundown. The brothers had to be separated, said Dhillon, who filmed the reunion. "Sadiq wouldn't let him go."
Since the meeting, the brothers have kept up their video calls every day. They're pushing to get visas to visit each other. A senior aide in the Pakistani prime minister's office reached out and promised he would help, according to Sadiq, who is urging Sikka to move to Pakistan.
"I want to make up for all the years we lost," Sadiq said, "to spend the rest of my life, whatever joys and sorrows, with him."
In India, Sikka said he's also desperate to visit Pakistan. But move there? He said he's not sure. After searching for a lifetime, he finally found Sadiq, and maybe more than a brother.
"I tell him I want him to come to India," Sikka said.
He was back in the Singh family courtyard, surrounded by Darshan, Paramjit, Davinder and Davinder's young kids. Cold wind rustled through the jujube tree. Davinder went to fetch Sikka's shawl.
"I recognize everybody in this village," he said. "They're family, too."
---
---
---
---