Vietnam-era warbird finds a new home in Oklahoma
By
The Woodward News
January 19, 2022
---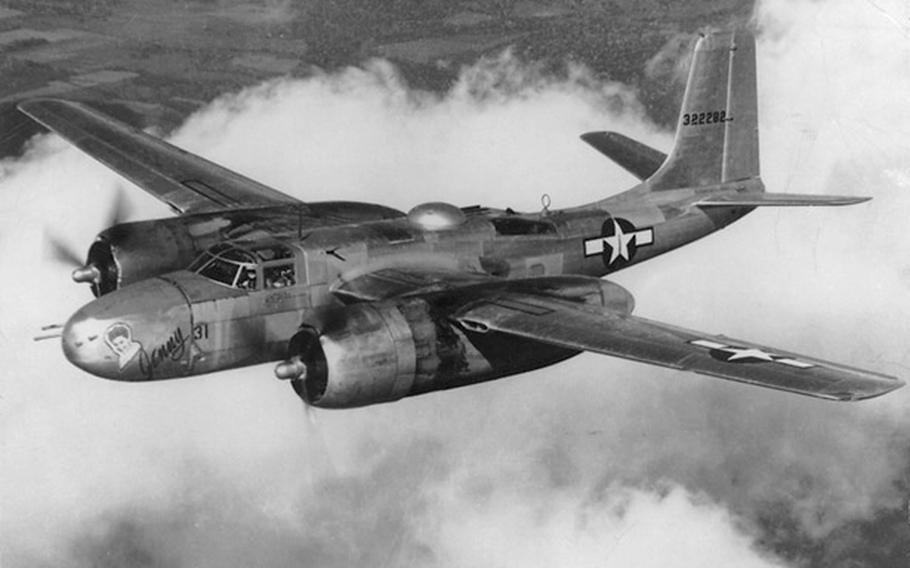 ADA, Okla. (Tribune News Service) — A Vietnam War-era Douglas A-26 Invader landed at Ada Regional Airport in Oklahoma Friday on the final leg of its journey to a new home in the Hoppe Aviation hangar.
"This airplane is owned by the Commemorative Air Force," Tom Parsons said Friday. "The group that this airplane is assigned to is Sierra Hotel, that's us."
Parsons said it has taken 22 years to bring this aircraft to airworthy status.
"It had a broken wing," Parsons added. "The group who previously had it had no way to repair it, so it was basically abandoned and neglected in a field over in Arkansas for several years. Our original group leader went over to Arkansas, assessed the damage, and determined it could be fixed."
That was 22 years ago. Since it was not airworthy, it had to be disassembled and trucked to Oklahoma City, where restoration efforts began.
"My background and experience working with airplanes is structural and sheet metal repair on B-52s at Tinker Air Force Base," Parsons added. "When I joined this group, I applied those skills to doing repairs on this airplane. But all of us have had to learn to do everything; hydraulics, fuel, flight controls, avionics. Each of us have become a 'jack of all trades.'
"This is our permanent home," Parsons said about Ada. "We've been in Guthrie for 13 years, and we lost our hanger lease. We had to find a hangar big enough to get the wings in and get the tail in."
The Invader is 50 feet long, 19 feet tall, and has a wingspan of 70 feet. The Hoppe Aviation hangar is a perfect fit.
"We're going to go out and 'bore holes in the sky' and go to air shows," Parsons said about the future of the aircraft. "We have restored this airplane to flying condition, and we will fly it as often as we can, when we can get gas money."
"It's very expensive to fly," Bruce Branson of the group said. "It's a high-maintenance bird. It's made for speed."
"This airplane you are looking at here had 18 months of combat service in Vietnam," Parsons continued. "So this is a true combat veteran."
Parsons said this particular aircraft was built new in the Douglas Plant in Tulsa.
"So we have a real veteran and a real piece of history here," Parsons said.
"We were looking not only for just a home," Branson said, "but we want to be part of community. We want community involvement. We have an open-door policy. When we're here, we'll have the doors open. We want the public to come by."
Branson said there is no fee to see the aircraft, but they welcome donations.
(c)2022 The Woodward News (Woodward, Okla.)
Visit The Woodward News (Woodward, Okla.) at woodwardnews.net
Distributed by Tribune Content Agency, LLC.
---
---
---
---