Bullet-pocked walls on Japan building highlight violence of World War II
Japan News
January 16, 2022
---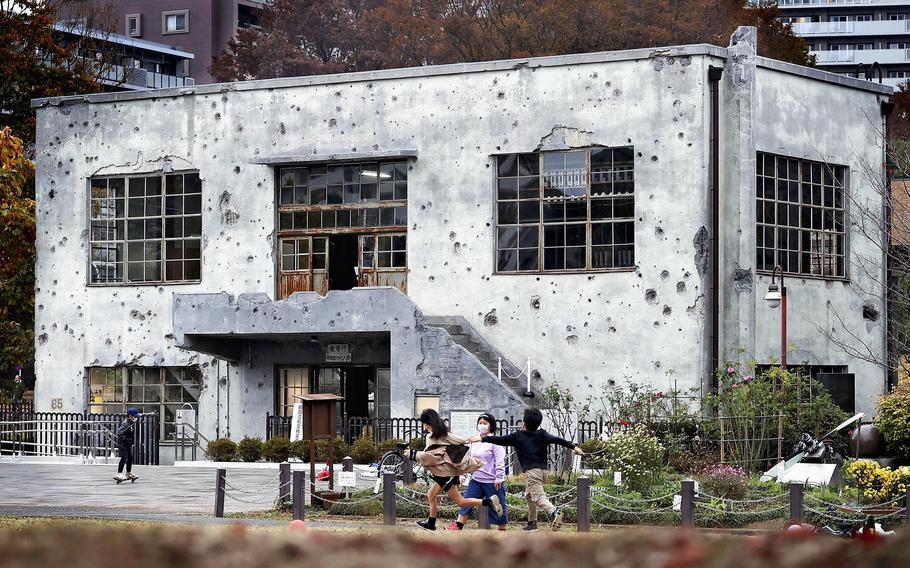 The happy voices of children ring out as they play in front of an old concrete building covered in countless bullet marks located in a corner of a metropolitan park in Higashiyamato, Tokyo. The building was formerly an electrical substation. It now serves as an important relic from the past that illustrates the horror of warfare through its woeful appearance caused by damage amid air raids during World War II.
According to the Higashiyamato city government, the electrical substation was constructed in 1938. The facility transformed and supplied electricity to the adjacent Hitachi aircraft plant in Tachikawa, which built engines for warplanes. Toward the end of the war, the substation became an air raid target for U.S. forces and was bombed three times in 1945. It is said the air raids claimed the lives of 111 people, including substation employees and those working at nearby facilities.
Despite the building's exterior bearing more than 300 bullet marks and damage caused by shrapnel from bombings, the structure managed to survive the attacks. After the war, the substation continued to supply electricity to the factory, which had been renovated to manufacture knitting machines and other equipment.
When the factory relocated outside the city in 1993, demolition plans were set for the substation. At the request of those hoping to preserve the building, however, the city decided to allow it to remain and manage its operations. Donated by its owner, the substation was designated a local historical site.
Work to preserve and repair the facility began in 2020 as it had become increasingly derelict. Following the work's completion, the building opened to the public again in October last year. Prior to repairs, the facility's second floor was off limits, but now visitors have access to where some of the former substation's equipment, such as distribution switchboards, is located.
The building is open only on Wednesdays and Sundays, with the average number of visitors standing at about 200 on weekdays and about 500 on weekends and holidays.
"I thought it was a haunted house at first. It looked scary," said a 6-year-old local visitor, giving her first impression of the building that evokes a somewhat disturbing atmosphere.
It seems she was able to sense the brutality of war as she finished her trip to the structure.
"I can't believe people shot bullets powerful enough to make holes in hard walls like this at each other. I thought, 'War is bad,'" she said.
Kunimasa Takimoto serves as a guide at the Higashiyamato city folk museum.
"The second floor still has a ravaged appearance. By opening the floor to the public, I think we can give visitors a greater sense of the tragedy of the past. Young people lost their lives here, and I hope that their sadness will be shared by today's young people," Takimoto said.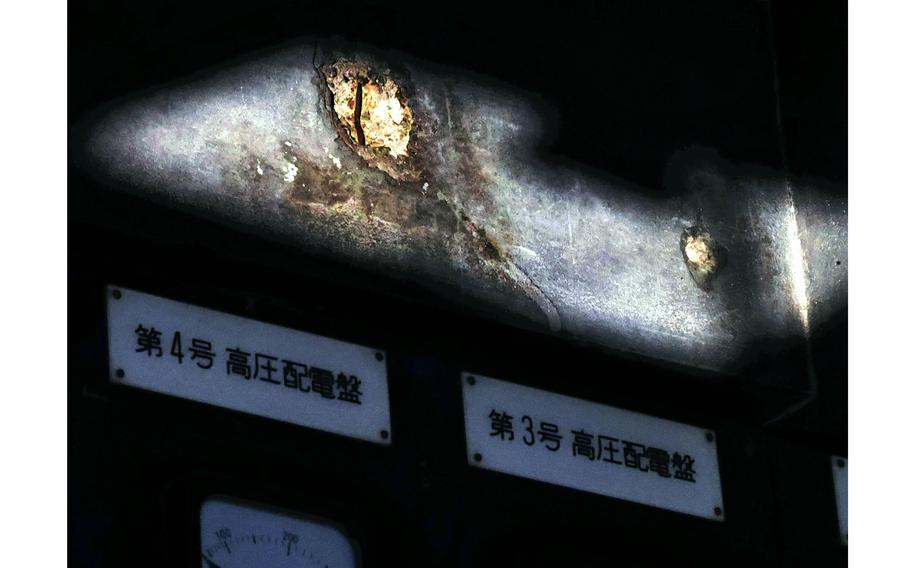 ---
---
---
---