First-ever drone museum celebrates grand opening in Texas
by
Travis Hairgrove
The Herald Banner
November 24, 2021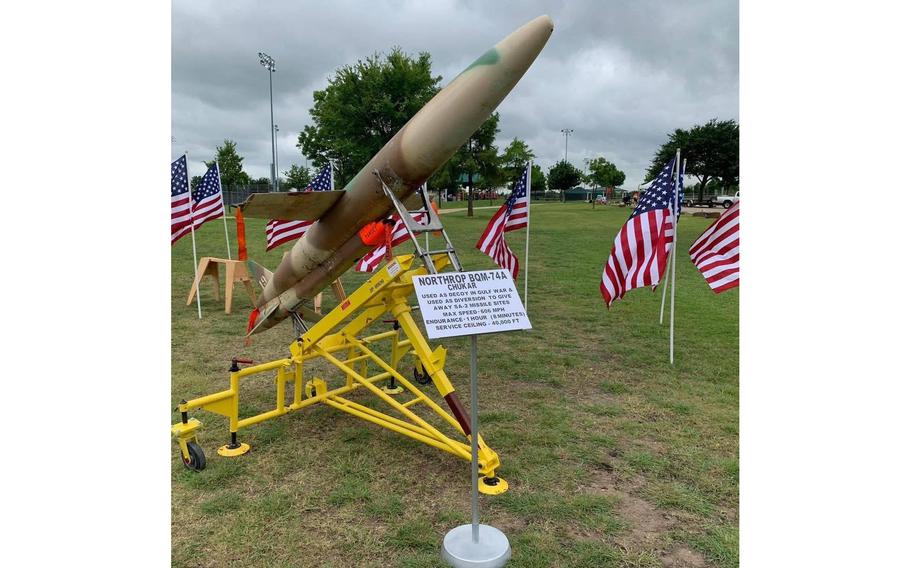 CADDO MILLS, Texas (Tribune News Service) — After a year and a half of delays due to COVID-19, the Aviation Unmanned Vehicle Museum (AUVM) — the world's first museum dedicated to the history of drones — had its grand opening in Caddo Mills Saturday.
Containing more than 40 restored historic drones, the museum's exhibits were built from a personal collection of drones that belonged to the late Harold "Red" Smith, of Parker, Texas, a retired lieutenant colonel with the U.S. Air Force who was tragically killed by a drunk driver in 2017 before his dream of opening a museum could be realized.
After Red's passing, his children and grandchildren took on the daunting task of not only restoring the drones, but also doing research on them and the organizing the thousands upon thousands of parts (some dating back to the late '30s) that Red had amassed over the years.
In addition to collecting drones, Red, who formerly worked in Strategic Air Command, was central to the development of drones. In 1971, during the Vietnam War, he designed the BGM-34A, the first strike drone.
The BGM-34A was designed to be launched by a piloted plane that was already in the air, and then the pilot would operate the drone remotely, using a camera built into the nose of the drone to navigate, and carry a bomb to the target area and drop it.
"In North Vietnam, Haiphong and Hanoi were heavily defended by the Viet Cong's use of SA-2 surface-to-air missiles, and we were losing a lot of pilots to them," Red's son, Doug Smith, said. "The use of the drone saved a lot of pilots' lives and its radar-jamming technology proved very critical toward the end of the war."
While Red worked closely on the development of the BGM-34A, he did not acquire the specific specimen of the drone that sits in AUVM until discovering it by chance, decades later, in a New Mexico "aircraft boneyard."
"It's amazing that he just happened to stumble on an exact plane that he used to work on," Doug said. "It was in pieces, but he brought it back and we put it together, and now people can see a major piece of aviation history up close and personal."
At Saturday's grand opening, two guest speakers were featured.
One was Kim Pucci—the granddaughter of British silent film actor, boxer and drone inventor Reginald Denny—who greeted attendees through a Zoom conference call and gave a summary of her grandfather's life. The other special guest was U.S. Army Col. David J. Green, a military attorney who has given counsel to commanders during drone strikes in Iraq and Syria.
In her presentation, Pucci talked about how her grandfather opened a model plane shop in the 1930s, and how he experimented with different designs and eventually won a U.S. Army contract in 1940 for his radio-controlled target drone, the OQ-2 Radioplane, and how that was essentially the genesis of drones as they're known today.
When Green spoke, he explained how, since the '80s, drones have been used in several different ways by the military, most notably, reconnaissance, surveillance and intelligence. He also talked about the toll drone strikes are having on military personnel as they watch "targets being eliminated on a screen, as in being killed, from 10 or more miles away."
"It's definitely added a whole new dimension to how we need to care for the wellbeing of our men and women in the military," Green added.
In addition to the guest speakers, Saturday's grand opening of the AUVM also included members of the Richardson Radio Control Club, who braved the windy weather and flew their planes and helicopters for the crowd.
For more information on the museum, visit their website at www.auvm.net or call 903-200-1245.
(c)2021 The Herald Banner (Greenville, Texas)
Visit The Herald Banner (Greenville, Texas) at www.heraldbanner.com
Distributed by Tribune Content Agency, LLC.