Spotlight on history: Lantern Tours offer a peek at War of 1812 soldiers' lives after dark at Fort Meigs
by
Bri'On Whiteside
The Blade
October 3, 2021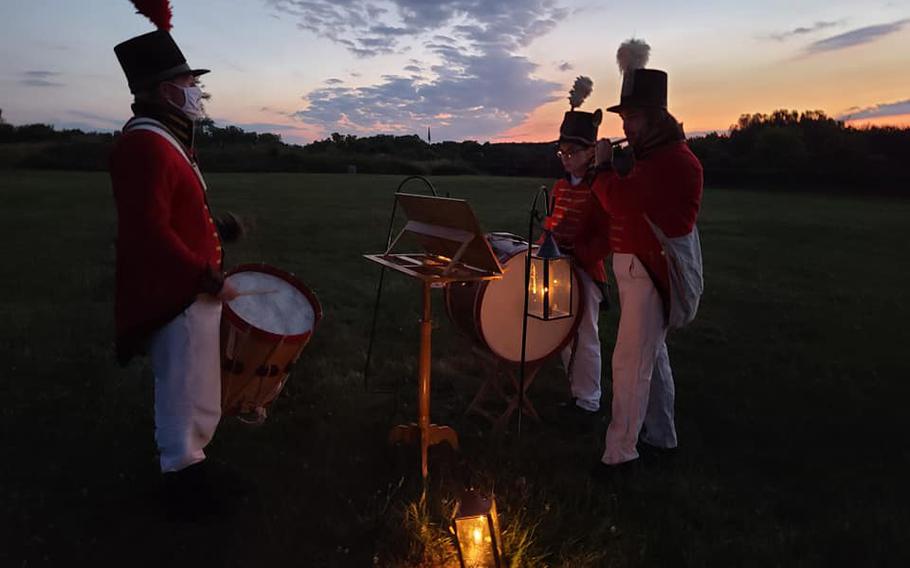 (Tribune News Service) — Dusk was falling at Fort Meigs in Perrysburg, Ohio, as a small group of visitors followed the dim lanterns of volunteers.
At every point that the volunteers stopped them, another stood ready to highlight what life used to be like in the living quarters for soldiers during the War of 1812.
It was an After Dark Lantern Tour, a series of events that are now in their second year at Fort Meigs. The site's manager of historic programming, John Thompson, said the tour offers an up-close and personal form of storytelling.
"It's a unique opportunity for people to see our property at night," he said. "It focuses on the Army's activities during night hours. The soldiers themselves have to get rest at night, but the Army itself cannot sleep. The eyes and ears of the Army must be awake and ready to do battle at any moment."
Throughout the tour, attendees experience first-hand reenactments of various procedures, including locking gates and orders before the lights-out ceremony, which marks the end of the day.
Thompson said the site-specific details add a personal aspect to the tour.
"We share a lot of real stories from soldiers who were here. The men wrote letters and diaries and described what it was like to be standing out as a guard in the dark. They described how terrifying or boring it could be. So we have vibrant literature to fall back on," he said.
Martin Land, a volunteer of 25 years, said these details interest visitors from all walks of life.
"People have different learning styles. Some can learn from a book well, and others need to experience things. When people come out and walk the grounds, they often have an emotional response. It's something special about walking on the same grounds that others have walked on and fought over more than 200 years ago," he said.
Land added that the reenactments of daily activities help the audience relate to their history.
"It's not just a static building or landscape. People can have conversations with us about whatever their interests are with history. Fourth graders are always fascinated with where the soldiers would go to the bathroom, and we can answer that for them. This tour helps people make connections to their history," he said.
Another After Dark Lantern Tour is slated for 7 p.m. Friday. For more information, go to fortmeigs.com/lantern.
Thompson said the tour is one of a kind.
"I've never been on tour like this. I like to think it's fairly unique compared to what other historic sites offer, just because it's a mix of a history tour and part drama. All of our readings trace back to this place. These aren't general readings from the War of 1812. The readings are specific to this ground, and that's meaningful to people. It's meaningful to me," he said.
(c)2021 The Blade (Toledo, Ohio)
Visit The Blade (Toledo, Ohio) at www.toledoblade.com
Distributed by Tribune Content Agency, LLC.