Lost military aircraft with ties to Texas city remembered
by
Travis Hairgrove
The Herald Banner
August 9, 2021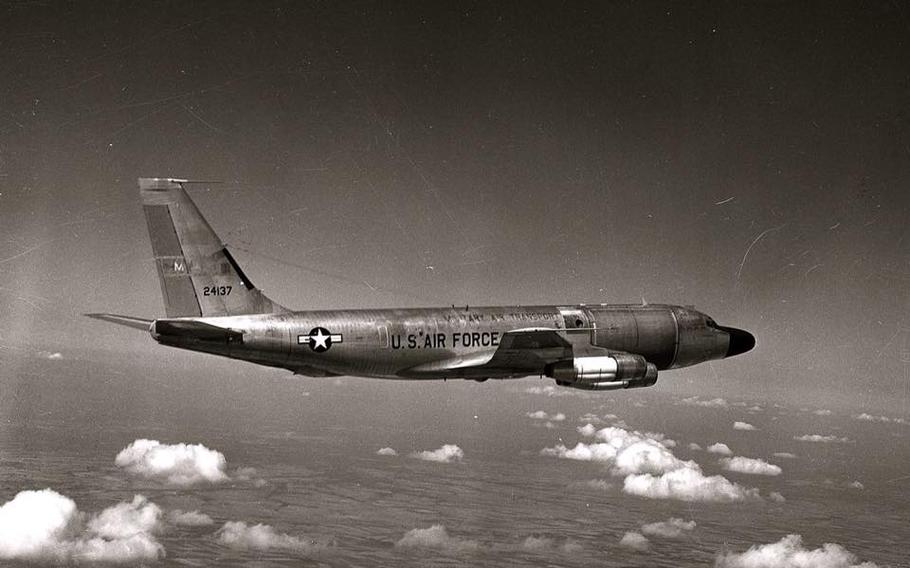 GREENVILLE, Texas (Tribune News Service) — This summer marked the 52nd anniversary of the disappearance of one of the most famous aircraft to have been worked on by LTV, now L3Harris, in Greenville.
On June 5, 1969, a Boeing C-135B equipped with a large phased-array radar system that had been named the Lisa Ann (and was also known as Rivet Amber) went missing while flying from Shemya Island, which was about 300 miles from Russia, to Eielson Air Force Base in Alaska. There were 19 U.S. airmen on board when it disappeared.
While the loss of the Lisa Ann is a sad memory from the Cold War for many, it weighs especially heavy on the mind of William Caldwell, a Greenville resident who worked on the plane at LTV and will soon celebrate his 97th birthday.
"There were 19 men on that plane when it disappeared, so I think about it a lot," Caldwell said. "And, since those men were never found, I like to remind people of what happened all those years ago."
While Caldwell is solemn in his remembrance of those who were lost on the Lisa Ann, he also reflects on his work on the plane with a great deal of pride. It was he and his team who equipped the aircraft with a large 7MW Hughes Aircraft phased-array radar system.
To test and make adjustments to the powerful radar system, they frequently took the plane to a nearby field they called the "Pea Patch."
"The radar could easily fry a rabbit if it got too close," Caldwell said. "It could track an object about the size of a volleyball from 300 miles."
Caldwell also enjoys telling people the story of how the Lisa Ann got its name.
"Our project manager's youngest daughter was named Lisa Ann O'Rear," he explained. "She was the only female to board the aircraft, so it was named after her."
Later, because of his familiarity with the Lisa Ann and its radar system, Caldwell traveled with the plane to Hawaii, where more tests were conducted before sending it to Shemya Island for actual missions.
In memory of those who were lost on the Lisa Ann in 1969, there are now multiple memorials throughout the country.
The names of those 19 Airmen are: Charles B. Michaud, Peter S. Carpenter, Richard N. Martel, Michael E. Mills, Horace G. Beasley, Rudolph J. Meissner Jr., James F. Fray, Herbert C. Gregory, Lester J. Schatz, Donald F. Wonders, Hervey Herbert, Charles F. Dreher, Eugene L. Benevides, Roy L. Lindsey, Richard J. Steen Jr., Douglas Arcano, Sherman E. Consolver Jr., Lucian A. Rominiecki, and Robert W. Fox.
(c)2021 The Herald Banner (Greenville, Texas)
Visit The Herald Banner (Greenville, Texas) at www.heraldbanner.com
Distributed by Tribune Content Agency, LLC.