Germany agrees to gradually ease COVID-19 measures
By
Stars and Stripes
February 16, 2022
---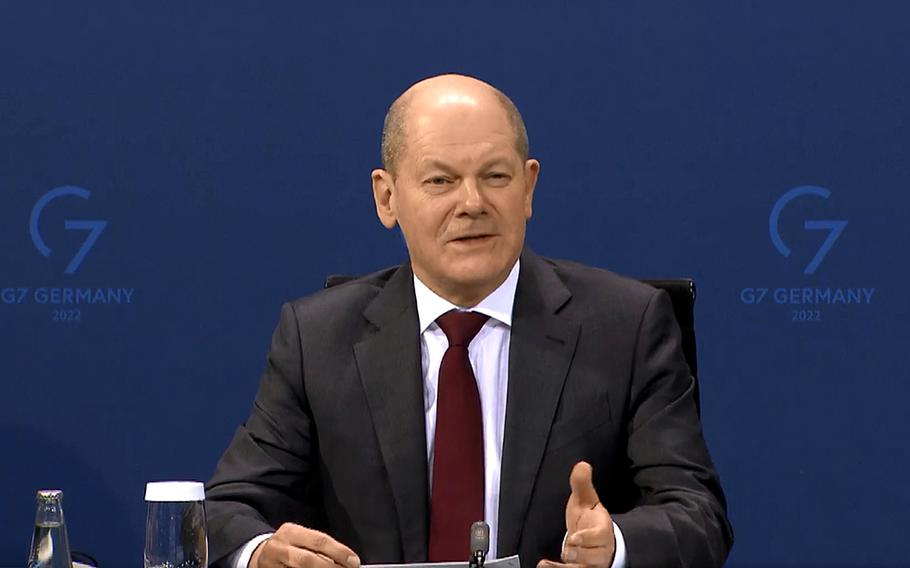 Stars and Stripes is making stories on the coronavirus pandemic available free of charge. See more stories here. Sign up for our daily coronavirus newsletter here. Please support our journalism with a subscription.
KAISERSLAUTERN, Germany — Many coronavirus restrictions will be lifted in Germany by March 20, federal and state government officials said following a video conference Wednesday.
A three-stage plan with dates varying among Germany's states will ease rules governing shopping, events and other aspects of daily life, Chancellor Olaf Scholz told reporters.
"We have accomplished what we wanted with our restrictions, which is the reason we have an optimistic perspective," Scholz said from Berlin. "But we cannot become careless. The pandemic is not over. Infections are still high. So we still all have to convince those who have not been vaccinated."
Private gatherings between vaccinated and recovered persons soon will be possible again throughout Germany without a limit on participants, according to the conference report. Unvaccinated people will remain limited to meeting with a maximum of two people outside their own household until March 19.
Everyone will be allowed to shop at retail stores regardless of their vaccination status, though medical masks still must be worn indoors while in public, the report said. The new policy on retail shopping begins Friday in Rheinland-Pfalz, state governor Malu Dreyer told reporters in Mainz on Wednesday. The state is home to tens of thousands of U.S. military personnel and their family members.
The new agreement also relaxes national restrictions for restaurants and hotels by March 3. They will once again be allowed to admit unvaccinated people who are able to show a negative test result within the past 24 hours. Vaccinated customers will no longer need to show proof of a booster or recent negative test result.
Nightclubs will be able to reopen under "2G-Plus" rules beginning March 4, meaning revelers will be able to gather in close contact again if they're vaccinated or recovered, and if they can either show proof of either a negative test result or a booster shot.
Major cultural or sporting events are possible under varying conditions depending on the locality and event size. Indoor event venues will be limited to 60% of capacity, with a maximum number of 6,000 spectators.
For outdoor events, a maximum occupancy of 75% will be allowed, with up to 25,000 people. Masks need to be worn by all attendees, officials said.
When it comes to anticipated summer and fall events in Rheinland-Pfalz, such as the Wurstmarkt wine festival, Dreyer cautioned event coordinators to wait until the beginning of March to gauge the ongoing COVID-19 situation.
By March 20, employers will no longer be required to test unvaccinated workers or enable telework for their employees, according to the conference report, a step expected to bring many German workers back to their workplaces.
The country will maintain basic protective measures, including masks mandates while using public transportation and indoors at public facilities.
Scholz said his government believes recent infection rates in the country represent the apex of the omicron wave.
"If a new variant doesn't mess everything up, then we will indeed experience a spring and a summer without restrictions," he told reporters Wednesday.
Because the German states are largely responsible for public health, there may be some deviations from the agreements during the meeting Wednesday.
The ministers are slated to again meet March 17 to discuss further updates.
---
---
---
---