More military medical teams heading to Maine to assist COVID response
By
Portland Press Herald
February 8, 2022
---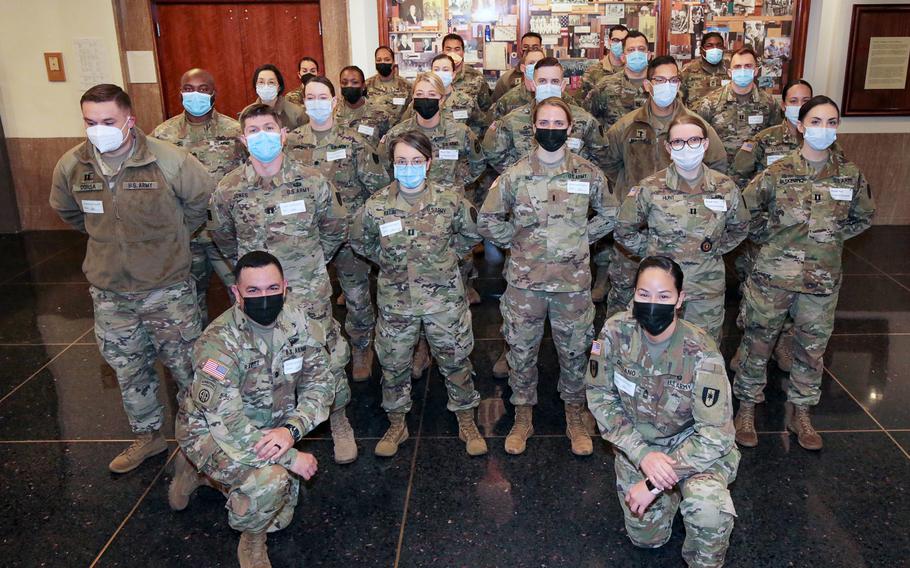 Stars and Stripes is making stories on the coronavirus pandemic available free of charge. See more stories here. Sign up for our daily coronavirus newsletter here. Please support our journalism with a subscription.
(Tribune News Service) — Maine officials reported 12 additional deaths from COVID-19 on Tuesday and said another federal medical team is headed to the state, even as signs indicate pandemic conditions are easing.
Gov. Janet Mills announced Tuesday that the Federal Emergency Management Agency has approved her request for federal COVID-19 Surge Response Teams to support medical staff at Northern Light Eastern Maine Medical Center in Bangor.
Beginning February 18, two U.S. Department of Defense teams each consisting of 20 military medical personnel — including physicians, nurses, and respiratory technicians — will supplement staff at EMMC to provide care for those with COVID-19 and other serious medical issues, according to the governor's announcement. The teams will provide assistance through mid-March.
The new federal personnel will join members of the Maine Army National Guard deployed in non-clinical roles in hospitals across the state. The deployment of Guard members to hospitals is scheduled through February 25.
FEMA also has sent Surge Response Teams to Central Maine Medical Center in Lewiston through March 2 and has agreed to a 30-day extension through February 25 of the federal ambulance teams supporting Maine hospitals. Additional ambulance teams are being sent to help Cary Medical Center in Caribou and other hospitals in Aroostook County.
The number of patients hospitalized in Maine dipped to 319 Tuesday, according to the Maine Center for Disease Control and Prevention. That number is down from 327 on Monday, which was 25 percent lower than the peak of 436 patients with COVID-19 that was reported on Jan. 13.
The number of patients in intensive care declined to 75 on Tuesday, a 44 percent drop from the peak of 133 ICU patients on Dec. 19.
Although patient counts have declined from record highs, Maine hospitals are still struggling with capacity issues from the omicron surge.
"While I am encouraged by the recent reduction in hospitalizations, the pandemic continues to cause serious illness requiring critical care that strains our health care workers," Mills said in a written statement.
"This virus is putting pressure on staffing and adding difficulty to the already challenging process of placing patients who are in need of behavioral health, skilled nursing, or other support after discharge," said Rand O'Leary, president of EMMC.
The Maine CDC added 1,391 confirmed cases of COVID-19 to the state's pandemic total on Tuesday, although daily case counts do not reflect the state's actual infection rate because of a massive backlog of positive tests and other reasons that skew results, such as the proliferation of at-home tests.
Since the pandemic began, Maine has logged 182,401 cases of COVID-19, and 1,816 deaths.
Meanwhile, the average number of positive tests submitted each weekday to the Maine CDC declined last week for the third week in a row. The average number of positive tests from Jan. 31 to Feb. 4 was 1,404. That's down from 2,194 the previous week.
The daily average of positive tests peaked at 3,186 during the week of Jan. 10-14, with a record 3,759 positive tests submitted to the state on Jan. 12.
Not all positive tests sent to the Maine CDC end up being confirmed cases, in part because some individuals get retested after being infected. But Maine is dealing with a backlog of more than 58,000 positive tests that have yet to be processed, leading to delays in confirmed tests that are added to the official count.
Wastewater testing, which is now being done in several communities across Maine, including Portland, Belfast, Bangor, Lewiston-Auburn and Presque Isle, are showing substantial declines in prevalence of the COVID-19 virus.
As pandemic conditions improve, states and municipalities are easing pandemic restrictions, such as mask mandates and limits on the size of indoor gatherings, including in Vermont, New Jersey, Delaware and California. On Monday evening, Portland City Council voted to rescind the indoor mask mandate, which will take effect in 10 days.
(c)2022 the Portland Press Herald (Portland, Maine)
Visit the Portland Press Herald (Portland, Maine) at www.pressherald.com
Distributed by Tribune Content Agency, LLC.
---
---
---
---