Is a second COVID-19 booster on the horizon? Who's eligible, and what the CDC advises
by
Mary Ramsey
The Charlotte Observer
January 13, 2022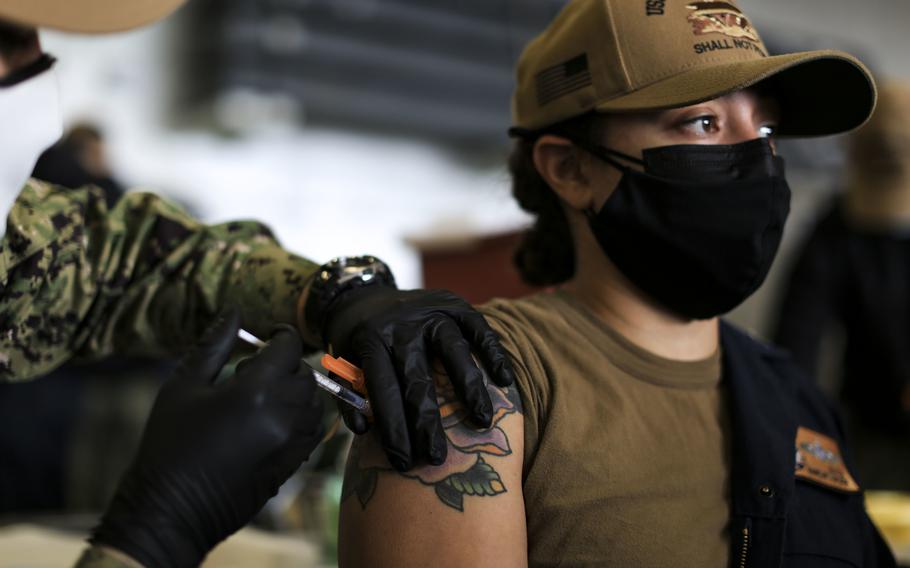 Stars and Stripes is making stories on the coronavirus pandemic available free of charge. See more stories here. Sign up for our daily coronavirus newsletter here. Please support our journalism with a subscription.
(Tribune News Service) — With COVID-19 rates continuing to rise amid the omicron variant, many are wondering whether a fourth vaccine dose is in their future.
While a relatively small portion of the population is already eligible for four shots, most are still only able to get a one- or two-dose vaccine course in addition to a booster.
Here's what to know about the possibility of a fourth dose and who is already eligible for one:
Is a fourth COVID-19 vaccine dose necessary?
Experts are still working to determine what kind of impact a broadly distributed fourth dose would have on the pandemic.
The CEOs of Moderna and Pfizer, CNBC reported, have both said a fourth dose in the form of a second booster will likely become necessary for many Americans because of the declining efficacy of earlier shots.
Still, Centers for Disease Control and Prevention Director Dr. Rochelle Walensky told reporters at a January media briefing the CDC wants to see more data before making a move on recommendations for fourth doses for most people.
"So right now, I think our strategy has to be to maximize the protection of the tens of millions of people who continue to be eligible for a third shot before we start thinking about what a fourth shot would look like," Walensky said.
Who is eligible for a fourth COVID-19 shot?
A limited number of Americans are already eligible to receive a fourth COVID-19 vaccine shot based on CDC guidelines.
"Some moderately or severely immunocompromised people should get an additional primary shot" as part of the Moderna or Pfizer vaccine course, the CDC says, and should also get a booster. That adds up to four shots.
Those folks should get their "additional primary shot" 28 days afters their second dose and then get their booster five months after that third shot," according to the CDC.
"Moderately or severely immunocompromised people" are defined by the CDC as folks who are undergoing treatment for certain cancers of the blood, on immunosuppressants after an organ or stem cell transplant, on "high-dose corticosteroids, have a "moderate or severe primary immunodeficiency" or have "advanced or untreated HIV infection."
"People should talk to their healthcare provider about their medical condition, and whether getting an additional primary shot is appropriate for them," the CDC says.
Will the general public be eligible for a fourth COVID-19 shot?
If or when a broader population in the U.S. will be eligible for a fourth dose of any COVID-19 vaccine remains to be seen.
The CDC is communicating with researchers in countries such as Israel that have authorized a fourth dose for more folks "to see what kind of data they have," Walensky said.
"We will be following our own data carefully as well to see how these boosters are working in terms of waning effectiveness, not just for infection, but importantly for severe disease," she said. "So more to come as those data emerge."
©2022 The Charlotte Observer.
Visit charlotteobserver.com.
Distributed by Tribune Content Agency, LLC.
---
---
---
---