World needs 22 billion more mRNA vaccine doses to ward off omicron threat, report warns
by
Dan Diamond
The Washington Post
January 5, 2022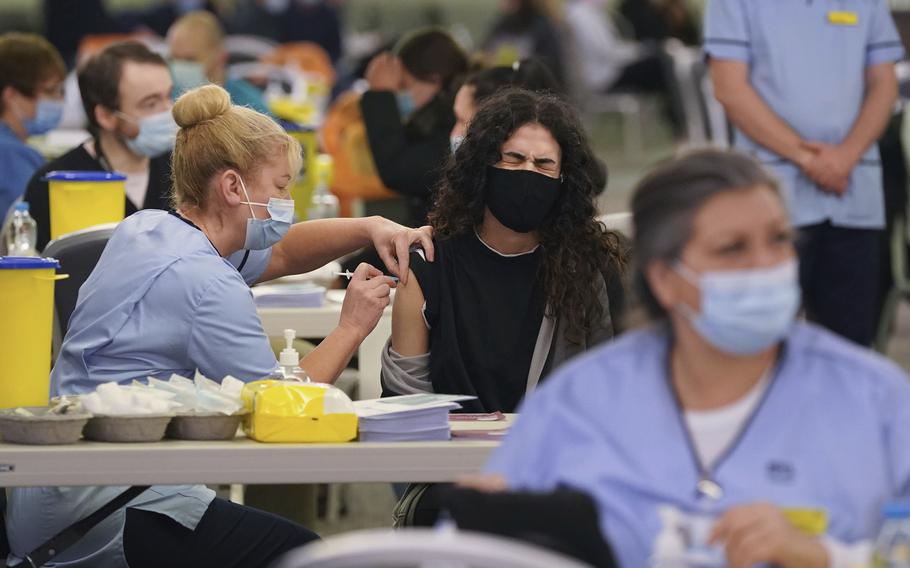 The fast-spreading omicron variant has heightened the need for billions of additional vaccine doses to protect vulnerable populations and tamp down new variants around the world, according to a new report prepared by a team of public health advocates and scientists.
"The scientific evidence is clear: only by universally deploying the vaccines currently most effective against infection - which for now appear to be mRNA vaccines - will we be able to blunt the virus's evolution and begin to bring the pandemic under control globally," the authors write in the report, which was first shared with The Washington Post.
The authors - who include advocates at PrEP4All and Partners In Health and scientists at Harvard Medical School, Columbia University, New York University and the University of Saskatchewan - conclude that about 22 billion doses of high-quality mRNA vaccines are now needed, given the omicron variant's ability to evade some of the immune protection conferred by prior vaccination shots. That projection would require producing an additional 15 billion doses of mRNA vaccines this year.
"With the pandemic, the global is the local. And the local is the global," said James Krellenstein of PrEP4All, pointing to the omicron variant's recent emergence in southern Africa as the latest illustration of how virus variants jump borders. "What happens in Cape Town influences what happens in Brooklyn three weeks later. And what happened in Wuhan influenced what happened in Brooklyn six weeks later."
President Joe Biden has vowed that the United States will be an "arsenal of vaccines" for the world, pledging to donate more than 1 billion doses to other nations, a total that far outpaces other countries. The Biden administration also has moved to invest billions of dollars in expanding vaccine manufacturing capacity to support global needs.
Meanwhile, vaccine manufacturers have warned that limits on raw materials have constrained their ability to produce new doses.
But the report's authors said the White House had disregarded a year of warnings to more quickly ramp up mRNA vaccine production. Only 7 billion vaccine mRNA vaccine doses are expected to be produced this year, according to manufacturers' projections.
"You are not going to protect the American people - full stop, it does not work - until you work, seriously, to bring the pandemic under control globally. And the administration has not learned that lesson," Krellenstein said.
More than 3 billion people around the world have yet to receive a single dose of coronavirus vaccine, according to data compiled by the University of Oxford's Our World in Data project. Many low-income nations also have relied on vaccines like China's Sinovac, which appear to be less effective at warding off omicron infections than the mRNA shots produced by Moderna and Pfizer-BioNTech.
Stars and Stripes is making stories on the coronavirus pandemic available free of charge. See more stories here. Sign up for our daily coronavirus newsletter here. Please support our journalism with a subscription.
---
---
---
---