What does the CDC's latest guidance say about how long you need to isolate or quarantine?
by
Lena H. Sun
The Washington Post
January 5, 2022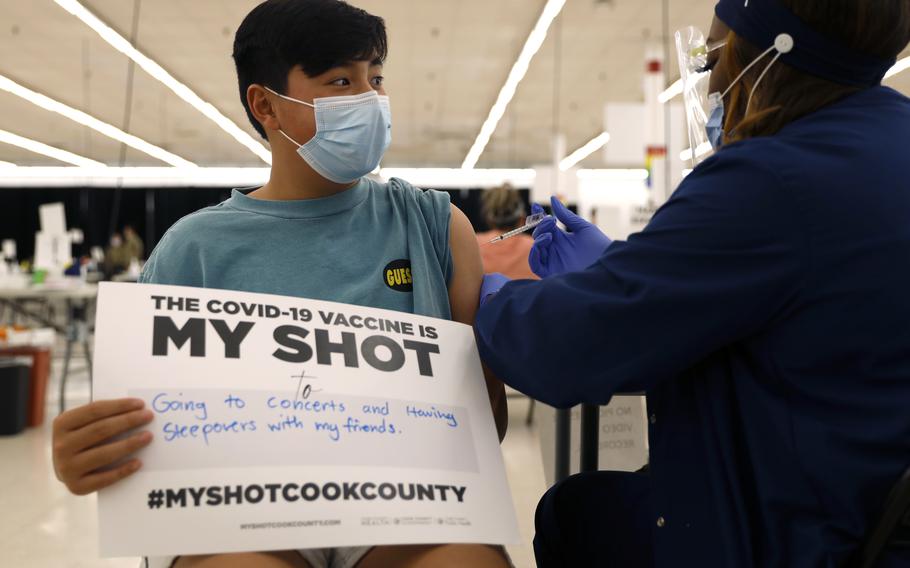 VIRUS-ISOLATION 1910 words What does the CDC's latest guidance say about how long you need to isolate or quarantine? (c) 2022, The Washington Post · Lena H. Sun · NATIONAL, HEALTH, SCIENCE-ENVIRONMENT, HEALTH-NEWS · Jan 05, 2022 - 5:01 PM The omicron variant, first identified in southern Africa around Thanksgiving, has sent coronavirus cases surging to record levels in the United States and around the world. The high volume of infections, including breakthrough cases among the vaccinated, prompted the Centers for Disease Control and Prevention to reassess its guidance about what people should do to avoid spreading the virus to others, and to safely return to school and work to keep society functioning.
The CDC announced changes Dec. 27 that shortened the length of time that infected people without symptoms or with resolving symptoms need to isolate, prompting criticism from some public health experts who questioned why the agency did not recommend a negative coronavirus test result before people come out of isolation.
On Jan. 4, the agency posted the updated coronavirus isolation and quarantine recommendation, along with a rationale for the guidance. It continues to maintain that people without symptoms do not need a negative test result to resume interacting with others - despite criticism from other federal officials and medical experts who disagree.
The guidance covers children as well as adults but does not apply to health-care settings, correctional institutions or homeless shelters. The CDC has separate, stricter guidance for people in those settings, including coronavirus testing requirements.
- - -
What did the CDC recommend?
Officials shortened the length of time from 10 days to five days that an individual who has tested positive for the coronavirus but no longer has symptoms should stay home from work or school and generally isolate from others. The agency also shortened the length of time to five days that people exposed to someone with an infection but who have not tested positive themselves need to keep away from others, which is called quarantining. Previously, the recommended length of quarantine had been as long as 14 days. In both situations, the CDC recommends wearing well-fitting masks for an additional five days.
- - -
What does it mean to go into isolation?
Anyone with a suspected or confirmed coronavirus infection should isolate from other people to the greatest degree possible. This includes those who have symptoms but have not yet been tested or are awaiting test results, as well as those with no symptoms but a positive test result. Whenever possible, anyone who is sick or infected should stay in a separate room from other household members; use a separate bathroom; not share personal household items such as cups, utensils and towels; and wear a well-fitting mask when around others at home.
- - -
How long should someone with a coronavirus infection stay isolated?
The CDC now says people with covid-19 can end their isolation after five days if they have no symptoms, or if they are fever-free for 24 hours without the use of fever-reducing medicine and other symptoms have improved. Loss of taste and smell may persist for weeks or months and should not delay the end of isolation. People still need to wear a well-fitting mask around others at home and in public for five days after ending isolation.
- - -
Why did the guidance change from 10 days to five days?
The CDC reviewed more than 100 studies that show most viral transmission occurs early on, with a person's infectiousness peaking around one day before they experience their first symptoms and declining within several days. Some reports suggest omicron has a shorter incubation period - that is, the time between someone becoming infected and showing symptoms - than previous variants. Studies also suggest that only 25 to 30% of people isolate for a full 10 days, the agency said. CDC Director Rochelle Walensky has also said that officials looking at projections of omicron infections anticipated large numbers of cases, with the potential to jeopardize the functioning of businesses, schools and other systems essential to society.
- - -
Why isn't the CDC requiring a test to end isolation?
When the CDC announced the updated guidance Dec. 27, it made no recommendation that someone get a negative test result before they end their isolation. In interviews and in the guidance posted Jan. 4, officials explained that tests to detect the coronavirus are best used early in illness to diagnose the disease. The tests are not authorized by the Food and Drug Administration to evaluate how long someone is infectious. One type of laboratory-based test known as a PCR (polymerase chain reaction test) can continue to return positive results long after an individual is no longer infectious because it can detect tiny amounts of virus.
After criticism by some public health experts, the CDC updated the guidance to say that for an individual who has access to tests and wants to test, it's best to use an over-the-counter rapid test "towards the end of the five-day isolation period." If the result is positive, the person should continue to isolate until day 10. If it is negative, the person can end their isolation but continue to wear a well-fitting mask around others at home and in public until day 10.
However, the guidance acknowledges that a negative test result from an at-home test late in an illness is ambiguous. While a positive test result probably means a person can still transmit the virus and infect others, a negative result does not necessarily mean the absence of transmissible virus. That's why the agency recommends mask-wearing for five additional days, regardless of the test result.
Asked at a briefing why the CDC updated its guidance on Jan. 4 to say that people with access to rapid tests could use them before coming out of isolation, Walensky said the agency was simply responding to questions from the general public.
"Because there was interest in using them for this reason, we then provided guidance on how they should be used," she said. "If someone is positive, stay home for the extra five days. If negative, people need to understand that they must continue to wear masks for the extra days to complete [the] 10 day-isolation period."
- - -
What has been the reaction to the guidance?
Some health experts have raised concerns about the lack of emphasis on testing, noting that data from the United Kingdom suggests that about 1 in 3 people who had contracted the virus were still infectious at day five - a statistic cited by the CDC itself in its rationale for why people need to keep wearing masks for an additional five days after they return to interacting with others.
In an uncharacteristically strong statement, the American Medical Association said the agency's new recommendations to shorten isolation and quarantine periods, especially without testing requirements, "are not only confusing, but are risking further spread of the virus."
Noting that an estimated 31% of people remain infectious five days after a positive coronavirus test, the group said it is concerned that the recommendations will put patients at risk and could further overwhelm the health-care system. "Tens of thousands - potentially hundreds of thousands of people - could return to work and school infectious if they follow the CDC's new guidance on ending isolation after five days without a negative test."
In particular, the group strongly endorsed requiring a negative test before someone who has previously tested positive can end isolation.
Shortly after the guidance was posted online, Anthony Fauci, President Joe Biden's chief medical adviser, said he agreed with it, except that he would recommend that people get a negative test before ending isolation.
"It's enough of a gray zone that I would feel there is a benefit to picking up the people who test positive that you could take out of circulation," to reduce further spread of the virus, he said. "I don't think there is a wrong or a right. That's my position as a physician. I would recommend it."
- - -
Why are the isolation recommendations the same for those who are unvaccinated, vaccinated and boosted?
Most transmission occurs early in the infection, in the one to two days before onset of symptoms and within the first days afterward. That is true of people regardless of their vaccination status.
- - -
Does this guidance apply to K-12 school settings?
Yes. Parents should ensure their children stay home from school and isolate for a minimum of five days if they have a suspected or confirmed coronavirus infection. If, at that point, they have no symptoms, they can return to school but wear well-fitting masks there and at home for another five days.
- - -
What if you have symptoms of covid-19 but can't find a test?
If you have covid-19 symptoms such as a fever of 100.4 F or greater, cough or shortness of breath, you might have the illness and should isolate immediately. Even if you do not know if you had close contact with an infected individual, you are considered to have a probable case if your symptoms are consistent with covid-19. Get tested as soon as possible, but if that is not possible, assume you have covid-19 or another respiratory illness. You should remain isolated for at least five days to keep from spreading the infection to others.
- - -
When should you quarantine?
If you are not vaccinated or have not received a recommended booster, the CDC now recommends you quarantine for five days after close contact with a person who has a coronavirus infection. Quarantine is to prevent someone who was exposed to the virus and may or may not be infected from spreading the virus to others. The date of exposure is considered day zero. If you develop symptoms, get tested immediately and isolate until you receive your test results. If you test positive but do not have symptoms, isolate for at least five days from the date of your test result. If you do develop covid-19 symptoms, isolate for at least five days from the date your symptoms began.
- - -
When can you end your quarantine?
If you don't develop symptoms, get tested at least five days after your last close contact with someone with a coronavirus infection. If you test negative, you can leave your home but continue to wear a well-fitting mask until 10 days after the last close contact with an infected person.
- - -
What if someone can't get a test five days after the last close contact?
You can leave home after day five if you had no covid-19 symptoms during those five days. Wear a well-fitting mask for 10 days after the date of that contact when around others, both at home and in public.
- - -
Who does not need to quarantine?
People 18 or older who have received all recommended vaccine doses, including boosters and additional primary shots for some immunocompromised people.
Children 5 to 17 who have completed the primary series of coronavirus vaccines.
Someone who had confirmed covid-19 within the last 90 days.
- - -
Why are the recommendations for quarantine different for those who are vaccinated and those who are boosted?
The CDC says the data shows that people who have received a full vaccine regimen and booster doses have the highest level of protection against omicron. Given the increased protection following a booster dose, those who are boosted are at lower risk of infection and also less likely to spread the virus to others after coming into close contact with someone who is infected.
Stars and Stripes is making stories on the coronavirus pandemic available free of charge. See more stories here. Sign up for our daily coronavirus newsletter here. Please support our journalism with a subscription.
---
---
---
---