Coronavirus outbreak delays USS Milwaukee's Guantanamo Bay departure
By
Stars and Stripes
December 24, 2021
---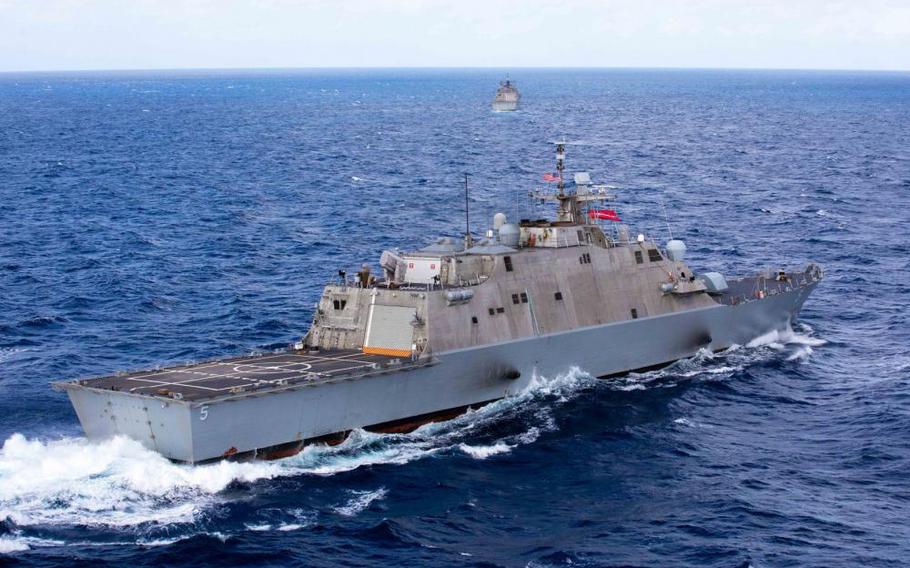 WASHINGTON — A coronavirus outbreak aboard the USS Milwaukee has delayed the littoral combat ship's scheduled departure from Naval Station Guantanamo Bay, service officials said Friday.
The ship was at Guantanamo for a regularly scheduled port visit when the outbreak occurred. The Milwaukee had been underway less than two weeks after leaving its homeport of Naval Base Mayport, Fla. on Dec. 14, according to the Navy.
All crew members are vaccinated against the coronavirus and those who have tested positive have been isolated aboard the ship away from other sailors, the service said in a statement Friday.
"The vaccine continues to demonstrate effectiveness against serious illness," the Navy said in its statement.
The service did not say how many crew members tested positive.
The Navy has not yet determined which variant of the virus affected the sailors. After the Delta variant's outbreak in August, the Omicron variant has been spreading rapidly throughout the United States this month.
"The ship is following an aggressive mitigation strategy in accordance with Navy and [Centers for Disease Control and Prevention] guidelines.
The ship had been conducting operations against illicit trafficking in the Caribbean Sea before stopping at Guantanamo, according to the Navy.
The Pentagon in August required all service members to receive the coronavirus vaccine. As of Wednesday, more than 98% of active-duty sailors had been vaccinated, the Navy said in a Wednesday coronavirus data update.
It is the first publicly known ship outbreak since the Navy's vaccination deadline passed Nov. 28.
About 5,361 active-duty sailors remained unvaccinated as of Wednesday. Those sailors have either refused the shots, started a vaccination series but have not yet completed it, are awaiting decisions on exemption requests or "have not had access to the vaccination due to operational schedule and/or remote location," according to the Wednesday update.
So far, the Navy has approved seven permanent and 140 temporary medical exemptions across the active-duty force. About 2,844 active-duty sailors have requested vaccine waivers for religious reasons, but none have been approved.
Since the pandemic began, 51,230 sailors have caught the coronavirus — 17 of who died.
The first major Navy ship outbreak happened in March 2020, when the aircraft carrier USS Theodore Roosevelt diverted to Naval Base Guam mid-deployment as more than 1,271 sailors — or about a fourth of its crew — contracted the virus. One sailor died from that outbreak.
The Roosevelt in February suffered another outbreak, with three sailors testing positive. The ship was operating in the Indo-Pacific at the time.
Doornbos.Caitlin@stripes.com
Twitter: @CaitlinDoornbos
---
---
---
---