Biden administration asks Supreme Court to allow vaccine mandate for health-care workers
by
Andrew Jeong, Helier Cheung
The Washington Post
December 17, 2021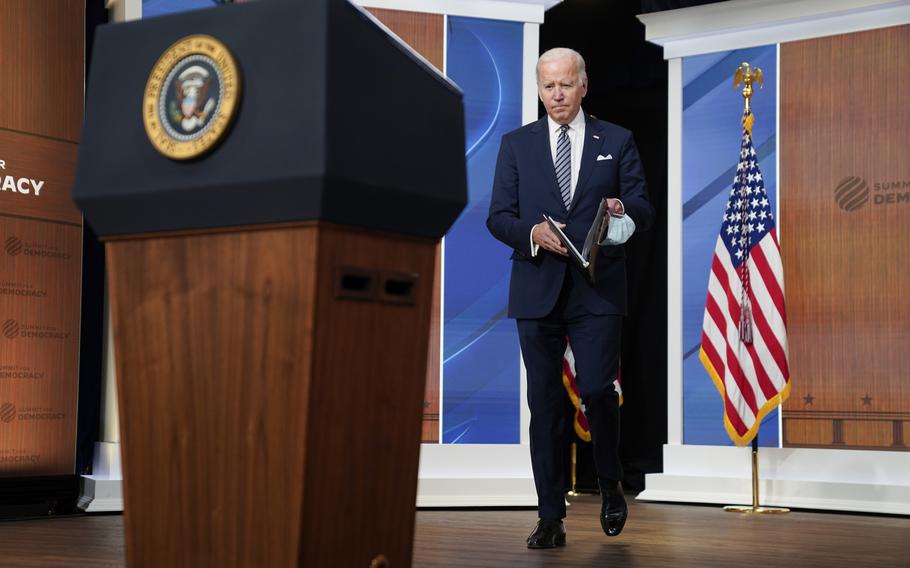 SCOTUS-VACCINES 363 words Biden administration asks Supreme Court to allow vaccine mandate for health-care workers (c) 2021, The Washington Post · Andrew Jeong, Helier Cheung · NATIONAL, HEALTH, POLITICS, COURTSLAW, WHITEHOUSE, HEALTH-NEWS · Dec 17, 2021 - 10:35 AM WASHINGTON - The Biden administration asked the Supreme Court on Thursday to let it fully enforce a nationwide requirement that health-care workers be vaccinated against the coronavirus if they work at facilities participating in Medicare and Medicaid.
The requirement was issued "in response to an unprecedented pandemic that has killed 800,000 Americans" and "will save hundreds or even thousands of lives each month," Solicitor General Elizabeth B. Prelogar wrote in the administration's filing.
The policy targets an estimated 17 million workers at 76,000 facilities while allowing for medical and religious exemptions. Lower courts suspended it after 24 states filed lawsuits, with judges calling the rules too "vast" and saying the "liberty interests of the unvaccinated" should be protected.
However, a federal appeals court ruled Wednesday that the mandate may proceed in states that have not filed suits.
"This vaccine rule is an issue of great significance currently being litigated throughout the country. Its ultimate resolution will benefit from 'the airing of competing views' in our sister circuits," judges at the New Orleans-based U.S. Court of Appeals for the 5th Circuit said in the ruling. They added that the earlier rulings did not justify issuing a nationwide injunction.
The mandate obligated health-care workers to receive at least their first dose of a coronavirus vaccine by Dec. 6 and to be fully vaccinated by Jan. 4.
Separate federal mandates - one targeting private-sector workplaces with 100 or more workers and another affecting federal contractors - also were suspended by lower courts after state challenges argued that the federal government overstepped its authority.
The 5th Circuit noted, however, that the policy for health-care workers was different from other vaccine mandates, as "the targeted health care facilities, especially nursing homes, are where covid-19 has posed the greatest risk."
Biden officials have pointed to the emergence of the virus's omicron variant as another reason to beef up requirements that people get vaccinated.
"It is difficult to imagine a more paradigmatic health and safety condition than a requirement that workers at hospitals, nursing homes, and other medical facilities take the step that most effectively prevents transmission of a deadly virus to vulnerable patients," Prelogar's brief said.
---
---
---
---