A pandemic fix for teacher stress: More half days of school
by
Donna St. George
The Washington Post
December 12, 2021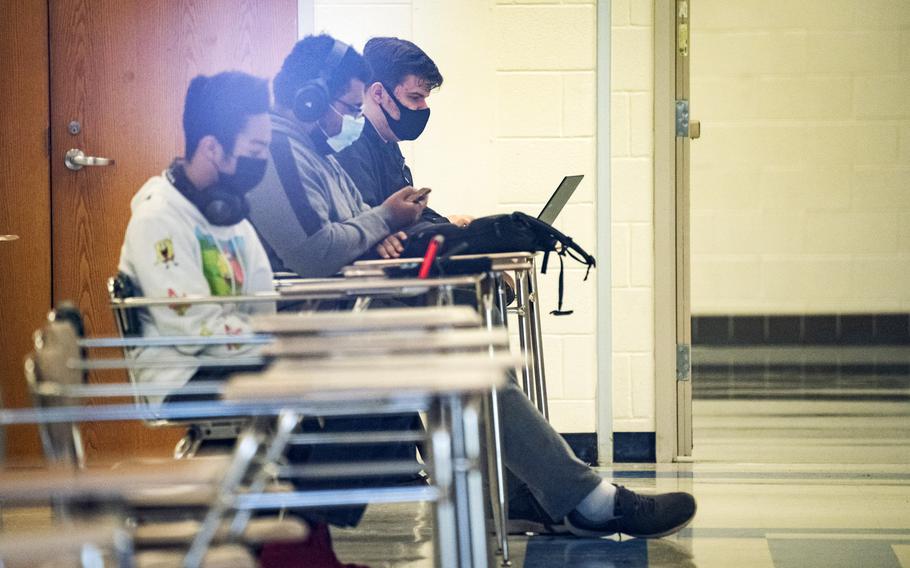 In a school year widely described as the most grueling of the pandemic, schools have come up with at least one fix for teacher burnout: more half days.
In Virginia's Hampton Roads area, Suffolk Public Schools is shortening instructional hours every other Wednesday to help take the pressure off beleaguered educators. In Maryland, at least six school districts have remade their calendars for this school year to add in more early-release days.
Rick Briggs, chief academic officer in Maryland's Wicomico County school district, which includes the Eastern Shore city of Salisbury, said his system converted seven full days to half days because of "the stress and the anxiety and the wearing-down of staff like none of us have ever seen before."
"We want our teachers to be fresh, to be energized, to be in a better spot," which in turn allows them to bring their best to classroom instruction, Briggs said.
During a school year that has brought rampant staffing shortages and educator overload, some school systems across the country also have extended holiday breaks by a day or more. Although scheduling days off and half days is standard practice, not everyone agrees that adding more is the best answer to pandemic fatigue.
Some parents say losing in-person instruction is what students can least afford after the shuttered schools and virtual education of the pandemic. They agree that teachers are overworked and need support, but say other solutions should be explored — working harder to get more substitute teachers, increasing the pay for substitutes, and reducing the burden of new curriculum and new initiatives.
"I wish there was at least a public conversation about other ways to solve the problem," said Nicole Brown, parent of an elementary school student in Montgomery County. "It seems to me that the last thing you'd want to do is reduce hours in school."
In Maryland, Howard County shortened the hours of six days of school, basically one a month, while Prince George's County, Montgomery and Baltimore counties reduced three days or more.
Carol Vidal, a Baltimore County parent who testified last week against the shift, told state officials that the trend in Maryland seemed at odds with the state's decision to require school systems to provide 180 days of in-person learning this year. Half days don't affect the 180-day count, though school systems must also meet state requirements for total hours of school.
"Instruction time is really important," she said in an interview. "They said we were going to catching up this year." She added: "Instead of finding other creative solutions, the first thing they do is close school."
In Montgomery County, school system officials designated three school days for early dismissal — in January, March and May — saying the total number of hours of instruction for the school year will significantly exceed state requirements even after the changes. In elementary school, for instance, students will still get 60 hours more than required, officials said.
School system officials cited the need for teacher professional development and planning time. Student board member Hana O'Looney said the shorter days would mean a break for exhausted students, too. "We talk so much about mental health," she said. "When you give students a chance to rest and recharge, they can come back to the classroom stronger, more motivated, more ready to do work."
Others also questioned how much students would really be missing during what amounts to a small fraction of the school year.
"I'm at a loss about how less than nine hours is going to be that impactful on learning loss," said Brenda Wolff, president of Montgomery County's school board.
Montgomery County school board member Lynne Harris said the changes needed to be examined more carefully. "We are looking to take action that has a direct impact for parents and guardians and caregivers and their professional obligations — and many of these people for the past 21 months have been front-lining it, whether they work in the ER at Holy Cross or the (checkout) line at the Giant," she said.
She and other school board members — and parents — voiced frustration about the community not being informed of the proposal until just before the board vote on Dec. 2. No explanation was given.
The issue hit a nerve for some families because Montgomery County's school system was slower to reopen for in-person learning than most districts in Maryland. They don't want to lose more time, pointing to declines in math and literacy shown in data released in September by the school system.
"I do think teachers are stressed but I don't think three half days is going to solve it," said Nikki Gillum Posnack, a mother of two in Montgomery County. Besides that, she said, "Half days are a joke. It's not just nine hours we're losing. We're losing three days."
Cynthia Simonson, president of the Montgomery County Council of PTAs, said families with young children are particularly frustrated. "Half days are notoriously lost days for instruction and create challenges with regard to child care," she said.
School officials in Montgomery County are working with community organizations on after-school options for days when school is dismissed early.
Driving the half-day trend, in large part, are widespread pandemic-related strains. In Montgomery, half of all requests for substitute teachers go unfilled, leaving educators to use their planning periods to cover colleagues' classrooms. At the same time, students need more help from teachers, and schools are grappling with requirements for masking, quarantining, testing and vaccinating.
Jennifer Martin, president of the Montgomery County Education Association, the 14,000-member teachers union, said the early release time is "desperately needed," along with other measures of relief.
"It's an important step toward improving morale and giving teachers the space they need in order to prepare for students and give them an excellent education," she said.
The bigger picture is that schools need to do far more to support mental health, said Raaheela Ahmed, a school board member in Prince George's County. "This should be the beginning of mental health reform for our school district," she said. "We're looking at an unprecedented time in terms of health crises."
Elsewhere in the Washington region, Alexandria City Public Schools added two days off before the scheduled Thanksgiving break to give families and staff more time to decompress and connect with family and friends. D.C.'s largest charter network, KIPP DC, converted the Friday after Veterans Day in November into a staff and student wellness day, with no instruction.
In Montgomery County, the move to create three additional early dismissal days was complicated by a second change made at the same time: the addition of seven full days off during the winter and spring breaks to 12-month employees, many of whom work in administrative and support roles. The school system will shut down, so that no one would need to take a vacation day to be off.
Simonson said it looks "very unbalanced" that teachers who are pleading for relief and support are getting a reprieve of less than nine hours, while 12-month employees are getting seven full days off. The school board passed the measure without disclosing costs. Typically if the full-year employees wanted time off near the holidays, they would take some of their vacation days.
In a later letter to the community, Montgomery school officials said the new calendar adjustments would cost about $850,000, which it did not detail but said it expected "to yield a refreshed staff with additional time to coordinate learning in our schools."
The Washington Post's Hannah Natanson and Nicole Asbury contributed to this report.
---
---
---
---