FDA authorizes Pfizer-BioNTech coronavirus vaccine booster shots for 16- and 17-year-olds amid omicron threat
by
Laurie McGinley
The Washington Post
December 9, 2021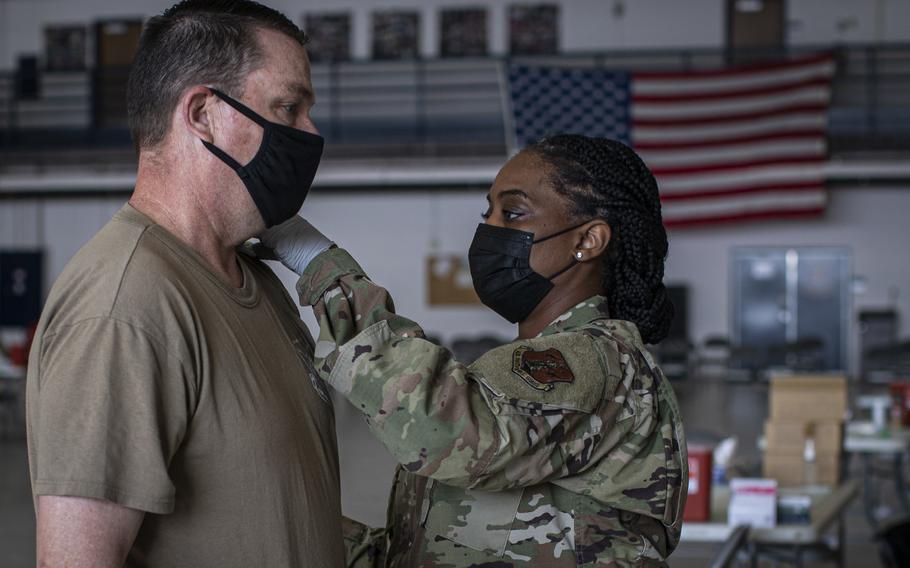 Federal regulators Thursday authorized booster shots of Pfizer-BioNTech's coronavirus vaccine for 16- and 17-year-olds, a step that officials said would bolster protection against delta, the variant behind surging infections in parts of the United States, and could help tame the emerging omicron version.
The Food and Drug Administration's decision came the day after new data from the companies suggested that boosters may play a critical role in helping to control the omicron variant by raising virus-fighting antibodies to block the pathogen, which echoed a finding by leading scientists in South Africa released earlier this week.
The FDA's authorization is expected to be reviewed and endorsed by Rochelle Walensky, director of the Centers for Disease Control and Prevention, as soon as Thursday. The shots would be available immediately.
The authorization means 16- and 17-year-olds who received the initial two-shot series of the Pfizer-BioNTech vaccine will be able to get a booster of the same vaccine six months after the second dose. All adults 18 and over have been eligible for boosters for several weeks.
"The Pfizer-BioNTech covid-19 vaccine has been available to individuals 16 years of age and older for nearly a year, and its benefits have been shown to clearly outweigh potential risks," Peter Marks, the FDA's top vaccine regulator, said in a statement. With data showing that vaccine effectiveness is waning for adults and teenagers, a booster "will help provide continued protection against covid-19," he added.
The FDA said its authorization was based on data it had previously analyzed in examining extra doses for adults 18 and older. The agency also said it had concluded that the benefits of a booster outweigh the risks of rare cardiac side effects, including the swelling of heart muscle, in 16- and 17-year-olds. That condition, called myocarditis, has been linked to the Pfizer-BioNTech and Moderna vaccines, occurring in male adolescents and young men.
The Pfizer-BioNTech booster is the only extra dose available for 16- and 17-year-olds. The Moderna and Johnson & Johnson vaccines are not authorized for anyone under 18.
The expanded age for Pfizer-BioNTech boosters is sure to raise questions among parents and doctors about whether - and when - children younger than 16 will need boosters. Scientists inside and outside of the government said more information is needed before a decision is made about boosters for younger children. Some experts believe those children eventually will need boosters, but perhaps can wait more than six months after their second shot.
"They probably will need boosts," said one federal official who spoke on the condition of anonymity because he was not authorized to discuss the issue. "The question is: Will they need boosts at six months or could they last longer?"
Pfizer and its partner, BioNTech, have not asked the FDA for the go-ahead for boosters for younger children, according to Kit Longley, a Pfizer spokesman. "We will continue to monitor data from our ongoing clinical trial in addition to real world evidence to assess a potential need," Longley said.
Octavio Ramilo, chief of infectious diseases at Nationwide Children's Hospital in Columbus, Ohio, praised the authorization for 16- and 17-year-olds. "These are the kids who go out, they have very active social lives," Ramilo said. "So it's very important that we protect them and the community."
Kenneth Alexander, chief of infectious diseases at Nemours Children's Hospital in Orlando, agreed, saying the emergence of variants, including delta and omicron, underscored the importance of broadening access to boosters.
"A vaccine is to your immune system like an FBI most-wanted poster in the post office," Alexander said. "If I show it once, you remember the person's face. Twice, you really remember. And three times, you can pick that person out of the crowd."
Not everyone agrees young people need boosters. Paul Offit, director of the Vaccine Education Center at the Children's Hospital of Philadelphia, said on a media call Wednesday that he didn't see a "compelling reason" to administer a booster to healthy young people. The two-dose regimen adequately protects those individuals from serious illness, he said.
Young people generally have stronger immune systems than older people. If they get sick with covid, they are less likely to become seriously ill.
The Pfizer-BioNTech two-shot vaccine was approved in August for anyone 16 and older. It was authorized in October on an emergency basis for children between 5 and 15.
Pfizer is testing the vaccine in children under 5, with data expected late this year or early next year. The vaccine could be available to the youngest children in the first part of 2022, company officials have said.
Not all parents are clamoring for vaccines and boosters for their teenagers and younger children, however. A Kaiser Family Foundation survey released Thursday found that demand for vaccines, after a strong start, has slowed for the 12- to 17-year-old group. About half of parents said their teens had received at least one dose as of November, essentially unchanged from two months earlier, the survey showed.
Parents of children 5 to 11 years old, who became eligible for vaccinations more recently, were even less enthusiastic. Sixteen percent said their younger children have received at least one vaccine dose and another 13% said they plan to get them vaccinated "right away," the survey showed. Three in 10 parents of teens and younger children said they will "definitely not" get their child vaccinated, according to the survey, which was conducted before news of the omicron variant emerged.
But interest in boosters for all age groups may rise if the early data holds up that shows boosters are a way to shield people from omicron-induced infections and serious illness. Some leading experts, such as Anthony Fauci, director of the National Institute of Allergy and Infectious Diseases, are increasingly referring to the mRNA vaccines - the Pfizer-BioNTech and Moderna shots - as three-dose regimens.
"The booster shot could be the answer to the challenge that we're facing with the omicron," Fauci said Wednesday at a Washington Post Live event. But he noted that the data was preliminary.
Albert Bourla, chairman and chief executive of Pfizer, called the FDA action a "critical milestone" in helping stem the spread of covid and the omicron variant.
Pfizer and BioNTech in October said a later-stage trial showed a booster dose given to individuals 16 and older demonstrated it was more than 95% effective when compared with those who did not receive a booster.
---
---
---
---