Deadlines arrive for school staff to be vaccinated in D.C. region
by
Donna St. George, Hannah Natanson and Perry Stein
The Washington Post
October 17, 2021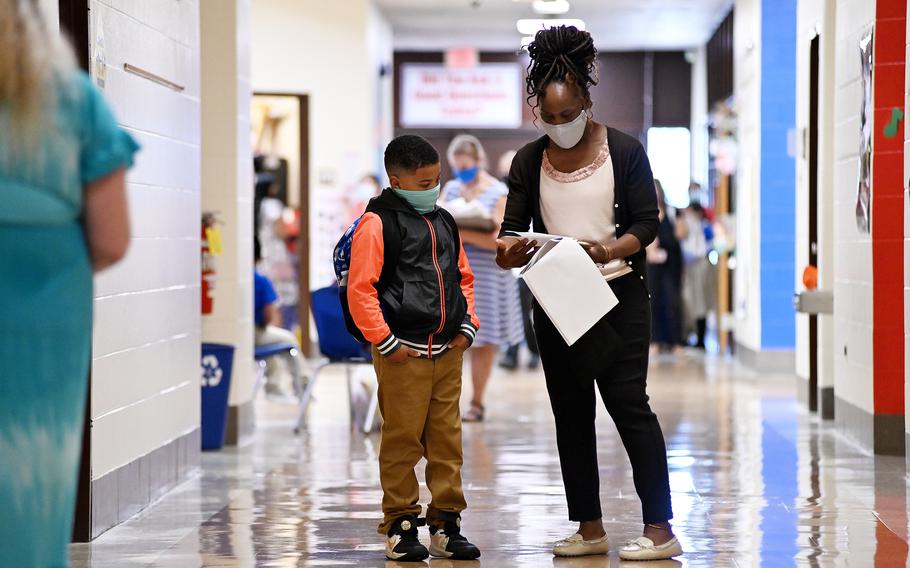 Teachers and other school staff in Arlington, Va., have reached a deadline to be vaccinated - among the first school systems in the Washington, D.C., region to begin enforcing a coronavirus vaccination mandate as the pandemic persists.
In coming weeks, other school systems in Virginia, D.C. and Maryland will cross the same public health threshold, which could mean days out of work, disciplinary action or in the worst case firings for those who do not meet their district's vaccination requirements.
Most school employees in the region, by far, have been vaccinated, according to school system data collected by The Washington Post. But numbers for seven of the area's central school systems also show hundreds or thousands have not yet reported their statuses or been immunized.
"The intention here is communal safety," said Brenda Wolff, president of the school board in Maryland's Montgomery County, the state's largest school system. "This is the only way we can keep students in school."
In Arlington, where the deadline was Friday, those who have not complied - or obtained a medical or religious exemption - will not be allowed at work Monday in the Virginia school system, said spokesman Frank Bellavia.
Those with exemptions must get weekly on-site testing, he said.
The rollout of coronavirus vaccine mandates has not appeared to encounter major hurdles, although some parents and teachers have spoken out to argue the decision to get vaccinated should be a personal one. At least one group of teachers and staff posted a petition against a mandate in Montgomery County, saying they stand to be "unjustifiably terminated" because of it.
But many teachers association leaders have supported vaccination requirements - as do school system officials, who say the mandates are necessary to combat the threat of the virus's highly contagious delta variant and so kids can remain healthy in their classrooms.
In at least one area, the fallout of vaccine requirements is becoming visible.
Some employees who are unvaccinated in Maryland's Prince George's County have been placed on unpaid leave because they have not submitted weekly testing results as required, said spokeswoman Meghan Gebreselassie. No exact number was available yet because it is being done at the school level and multiple contractors are involved, she said.
The deadline for compliance was Aug. 27, and about 3,400 employees of the system's workforce of roughly 22,300 - including temporary and substitute employees - opted for weekly testing, rather than vaccination, she said.
Prince George's offers testing each Monday at more than 180 schools and five hub sites. Employees may also be tested elsewhere and submit proof.
"We are highly encouraging our staff to get the vaccine," Gebreselassie said.
Other school systems have deadlines as late as mid-November - as in Montgomery County and Alexandria, Va. - and many have pushed back their original cut-offs to give employees more time to meet the requirement.
As of this month, Virginia's Fairfax County reported the highest employee vaccination rate among school systems - 97.6% fully vaccinated, of its roughly 29,000 staffers - with a deadline that is still a couple weeks off, on Nov. 1.
That compares to 91% in Arlington, nearly 88% in Montgomery County, 85% in Virginia's Loudoun County, 82% in Prince George's County and 71% in D.C.'s public school system.
Some school systems allow weekly testing as an alternative to vaccination and some do not.
As of mid-October, 88% of the Alexandria schools workforce is fully vaccinated, said spokeswoman Claire Going. Eight percent are participating in weekly testing instead.
Christopher A. Suarez, a school board member for Alexandria City Public Schools who has been an outspoken advocate for staff vaccination, said at a recent board meeting that it is imperative for school officials to ensure staff comply.
"This is a really uncertain time, a really scary time," he said, citing the rise of the delta variant of the coronavirus. "We need to give maximum assurances to our community that we're doing everything we can do."
In Montgomery County, with roughly 24,500 employees, more than 21,500 have reported being fully vaccinated, leaving nearly 3,000 to comply by Nov. 15.
Teacher associations have been broadly supportive of vaccine mandates, including the Fairfax Education Association, which put out a statement in mid-August calling for a vaccine requirement for staff before the Fairfax school system issued one.
Association president Kimberly Adams said recently that she hopes vaccine mandates will eventually extend to students as well - including the county's youngest children, if and when federal health agencies approve the vaccine for that population.
"Data ... shows that vaccination of students ages 5 to 11 will be our next best step to ending this pandemic," Adams said.
When the mandate was announced in D.C., the Washington Teachers' Union said it strongly favored teachers getting vaccinated but wished the city had negotiated the terms of the mandate with the union, arguing that it is unclear how the mandate will be enforced and what would happen to people who have extenuating circumstances that may not be covered by the narrow religious and medical exemptions.
In Maryland, leaders of teachers unions in the largest school systems - in Montgomery County and Prince George's - support vaccination requirements.
But they come at a time when school systems are already grappling with the effects of staffing shortages. Depending on how compliance goes, it could add another layer of struggle. Teachers are already covering for colleagues out sick or quarantined, or positions left vacant.
"The staffing shortage is the most significant I have seen in my 25 years in public education," said Donna Christy, president of the Prince George's County Educators' Association.
---
---
---