Senators join effort to create a COVID memorial day for pandemic victims
by
William Wan
The Washington Post
August 4, 2021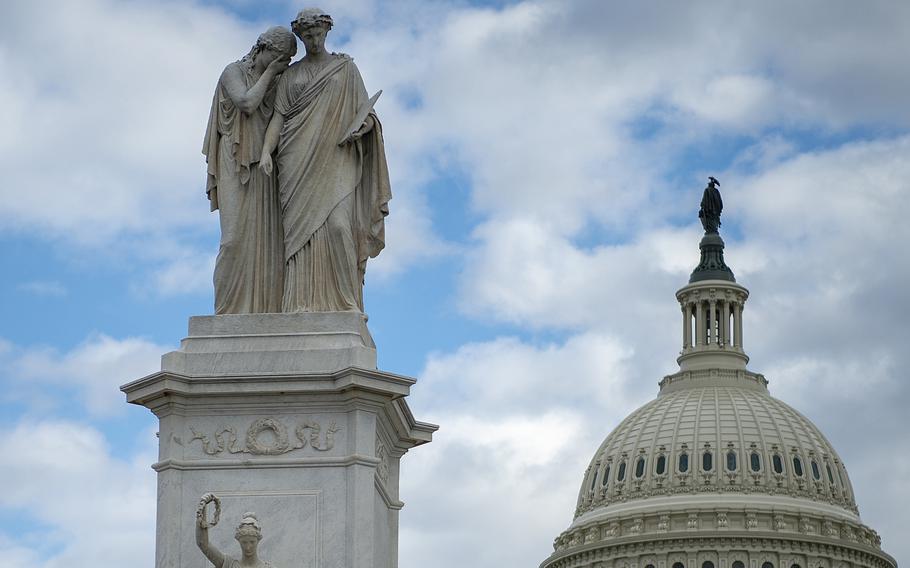 WASHINGTON — Sen. Elizabeth Warren, D-Mass., and two other senators introduced a resolution Wednesday to create a national COVID-19 day of memorial, giving momentum to the cause of hundreds of grieving families to ensure their loss is not forgotten.
For months, the families of those who died struggled to find a single senator to support their cause, and they converged on Washington last week to make their pleas in person.
The activists argue that the number of Americans killed in the pandemic — totalling more than 614,000 — have been ignored by many in the country. Their loved ones, they say, have been reduced to a number and a point of debate amid America's ongoing fight over masking and vaccination mandates.
Creating a national day of remembrance, they argue, would not only acknowledge those losses and help families grieve. It could unify the country in grief at a time when it remains bitterly divided on pandemic response.
"We're also doing this for future generations," said Kristin Urquiza, who lost her father last year. "The lessons we learned during this pandemic came at such a high cost. By remembering that loss every year, we're passing down those lessons so we can prevent this level of disaster from happening again."
The group Urquiza co-founded, called Marked by COVID, has been the driving force behind the congressional lobbying effort.
Earlier this year, she and other activists convinced Rep. Greg Stanton, D-Ariz., to introduce a bill in the House of Representatives version and got 51 Democratic members to co-sponsor it. But without a companion bill in the Senate, the measure did not stand a chance of passage.
So Urquiza and others decided to focus their efforts on Warren, whose brother died from COVID early on in the pandemic.
"Our hearts hurt from everything and everyone that this pandemic has stolen from us," Warren said in a statement announcing her Senate resolution.
Warren lost the oldest of her three brothers, Donald Reed Herring, 86, in late April 2020. She has talked about his death in detail only a handful of times. In an interview in The Atlantic last year, she recounted how she remained haunted by the fact her brother died completely alone.
"I just kept imagining what's happening to him. Is he afraid? Is he cold? I kept thinking about whether he was cold," she said. "He died, by himself. That's the hard part — really hard part. It's hard to process things like this because everything is happening at a distance."
The resolution would designate first Monday of every March as "COVID-19 Victims and Survivors Memorial Day."
Warren was joined by two senators co-sponsoring it: Sen. Edward Markey — Warrens' Democratic colleague in Massachusetts — and Sen. Martin Heinrich, D-N.M.
It is unclear how likely the resolution will win passage. No Republican in Congress has endorsed the measure, despite hundreds of calls, emails and meetings by grieving families. Hampering their efforts is fear among Republicans that acknowledging people's suffering could be construed as criticism of former President Donald Trump.
In the Senate, such resolutions in the past have passed without a vote as long as no senator objects. But in the House, it could face a steeper challenge.
In the 1990s, U.S. House leaders adopted a new rule to reduce the flood of commemorative bills congressional representatives were introducing about obscure people and events in their home districts. That prohibition could make the resolution more difficult — though not impossible — to pass in the House.
"I think this bill is ultimately going to pass," said Stanton, who authored the House bill. "The families fighting for this are on the right side of this tragedy, and they have an army of fighting for it."
Stanton noted his own wife spent five nights in the hospital with COVID-19. "Everyone's been touched by this."
Urquiza said her group plans to redouble their lobbying efforts in coming weeks, with the goal of enacting the memorial day in time for March next year.
"For us," she said, "it's not a question if we get it passed, but when."