Bills' Cole Beasley decries NFL's coronavirus protocols, continues to oppose vaccination
by
Glynn A. Hill
The Washington Post
June 19, 2021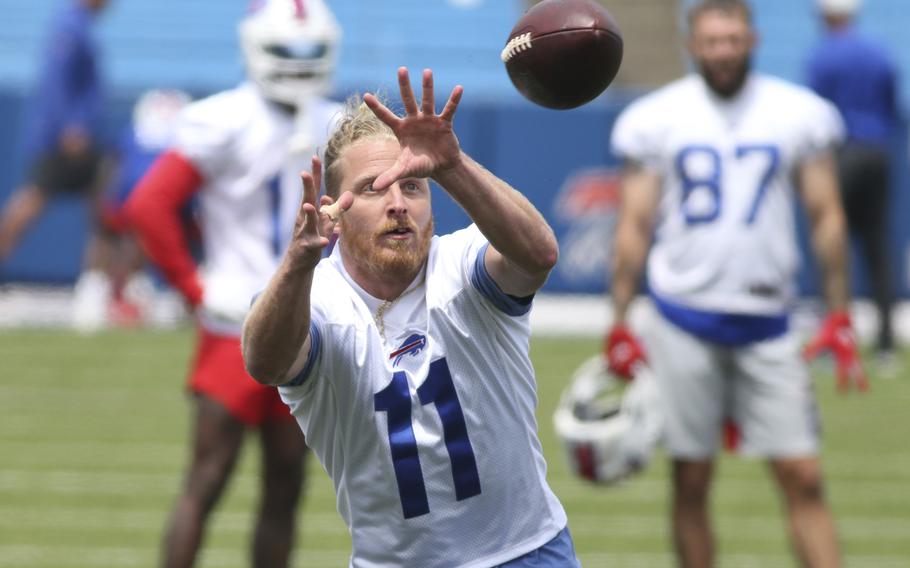 Buffalo Bills wide receiver Cole Beasley emphatically reiterated his opposition to the coronavirus vaccine Friday, reasserting his position a day after condemning the NFL's newly updated training camp and preseason protocols, which lifted restrictions on vaccinated players and team staffers.
Beasley, who had previously expressed his resistance toward getting vaccinated, said in a social media post that other players share his doubts. Despite not being vaccinated, Beasley said he "will be outside doing what I do. I'll be out in public. If your scared of me then steer clear, or get vaccinated. Point. Blank. Period. I may die of covid, but I'd rather die actually living."
The NFL and NFL Players Association agreed to the updated protocols on Wednesday. Under the protocols, vaccinated players and team personnel will be tested once every 14 days, while unvaccinated players and staffers will remain subject to daily coronavirus testing. Vaccinated players and personnel will no longer be subject to quarantines via contact tracing, but those not vaccinated will continue to face mandatory quarantines if identified as high-risk close contacts to an individual who tests positive.
Players who have not been fully vaccinated remain subject to a slew of regulations, including mask-wearing and physical distancing requirements in team facilities, as well as restrictions on marketing and sponsorship activities.
Those measures were developed by the league and the NFLPA, which includes Beasley's Bills teammates Harrison Phillips and Dion Dawkins.
"This is crazy. Did we vote on this?" Beasley wrote. "I stay in the hotel. We still have meetings. We will all be together. Vaccinated players can go out the hotel and bring covid back in to where I am. So what does it matter if I stay in the hotel now? 100 percent immune with vaccination? No."
He also called the players association "a joke" and called out the NFL for pushing the updated rules because they allow the league "to make the most money as possible again if everyone is vaccinated."
Beasley responded to criticism Thursday, before issuing his declaration, which he referred to as a "Public Service Announcement," on Friday. He argued that he is not an anti-vaxxer, and said "I'm not encouraging you to not get it just let me live my life regardless of If get it or not. I don't wanna die in a car wreck during the season without getting to actually live my normal life."
Unvaccinated individuals remain far more susceptible to hospitalization and death than those who have been immunized. Lagging inoculations have sparked concerns about coronavirus variants that may be vaccine-resistant.
While some athletes have encouraged vaccinations, others have share Beasley's skepticism, expressing hesitancy, eluding questions about their own vaccination status, or outright opposing it.
Bills safety Jordan Poyer said this month he would not answer questions about the vaccine. His wife, Rachel Bush, previously balked at a policy to limit stadium attendance to those who have been vaccinated.
Poyer's comment came after Bills quarterback Josh Allen said he was debating whether he would get the vaccine during an April podcast appearance, and Coach Sean McDermott said last month he was "concerned" about the subject's divisive nature within the locker room.
More than half of NFL players have received at least one vaccine dose, a person familiar with the situation told The Washington Post on Tuesday.
The Washington Football Team arranged a virtual meeting to have a leading coronavirus vaccine researcher provide more information to wary players and coaches this month. While the conversation dispelled misconceptions for some, others remained hesitant.
"I'm not a fan of it," defensive end Montez Sweat said. "I probably won't get vaccinated until I get more facts and that stuff."