Space Force to launch its first guardians-only basic training in May
By
Stars and Stripes
April 19, 2022
---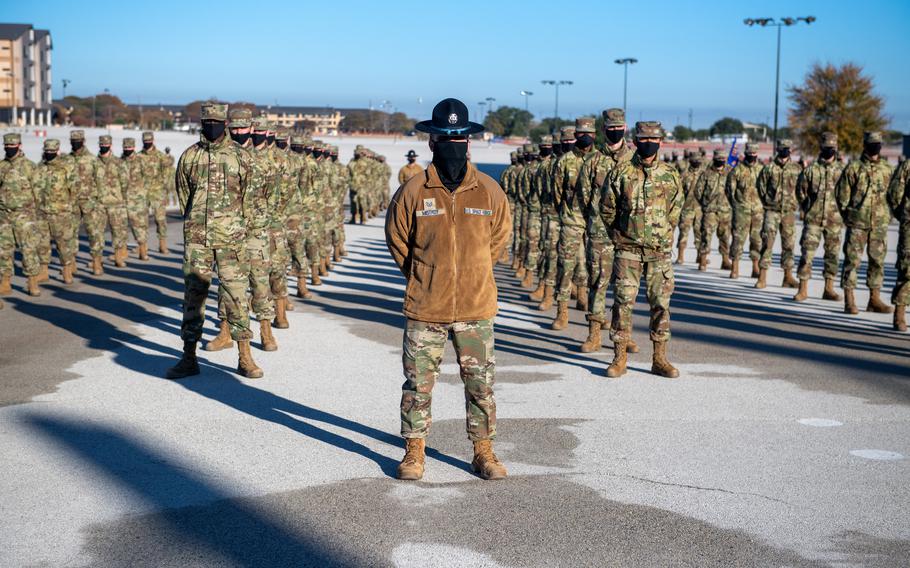 The U.S. Space Force is set to train its new recruits separately from the Air Force for the first time next month when it launches its inaugural guardians-only Basic Military Training class, service officials said Tuesday.
Chief Master Sgt. James Seballes, the top enlisted Guardian for Space Force's Space Training and Readiness Command, or STARCOM, described the forthcoming change as "small but important" for the youngest military service as it builds its own culture, independent from the Air Force. To date, incoming guardians have participated in the Air Force's Basic Military Training courses at Joint Base San Antonio-Lackland, Texas, since the Space Force — established in December 2019 — first sent recruits to initial training in October 2020.
"The importance of developing a unique guardian identity, along with the recognition that guardians have different training needs and requirements than the Air Force means the guardian experience should be tailored to meet the needs and expectations of the Space Force," Seballes said Tuesday in an emailed statement. "From history, to doctrine, to values and core competencies, the Space Force and the demands placed on our guardians are different."
The first guardians-only recruit class will begin training next month at JBSA-Lackland, where they will be trained by a cadre entirely of Space Force instructors, Seballes said. The curriculum will center on topics unique to the Space Force and its mission to defend U.S. and allied space-based infrastructure from potential hostile action.
Seballes said the class will include a larger group of Space Force recruits than previous BMT courses run by the Air Force, but he did not say precisely how many incoming guardians would participate in the first Space Force basic course.
The shift to its own Space Force BMT comes as the service continues to grow its small force. Pentagon officials have insisted the new military service will remain small well into the future. The Space Force currently boasts about 8,400 guardians, which is expected to grow to about 8,500 by the end of 2022, Air Force Secretary Frank Kendall said Tuesday. The Space Force is a military service within Kendall's Air Force Department.
The next smallest of the Pentagon's military services is the Marine Corps, which includes about 180,000 active-duty Marines. The Army, the largest U.S. service branch, boasts about 486,000 active-duty soldiers.
The Space Force plans to grow again next year to about 8,600 guardians, according to its fiscal year 2023 budget proposal released March 29.
---
---
---
---