Four years after Fort Hood: Are bases any safer?
by
Chris Carroll Leo Shane III
September 17, 2013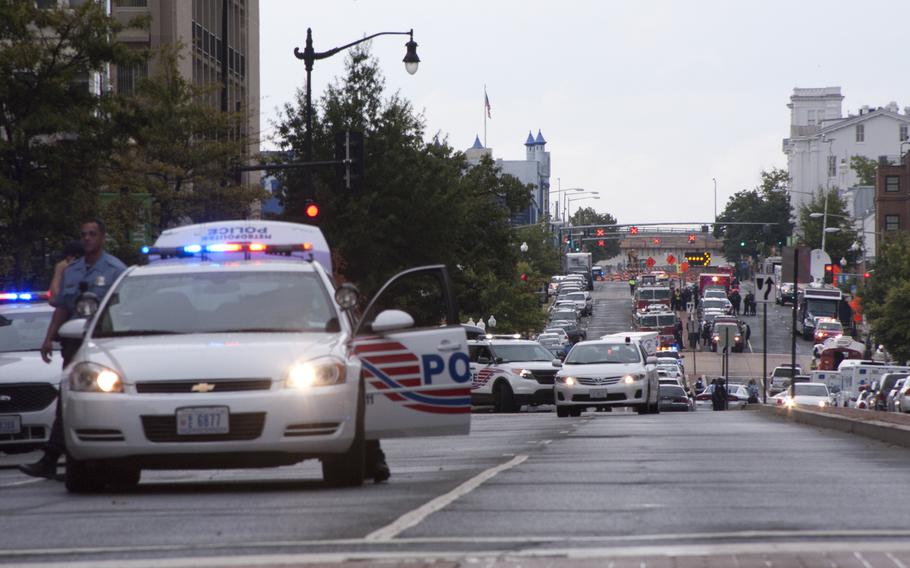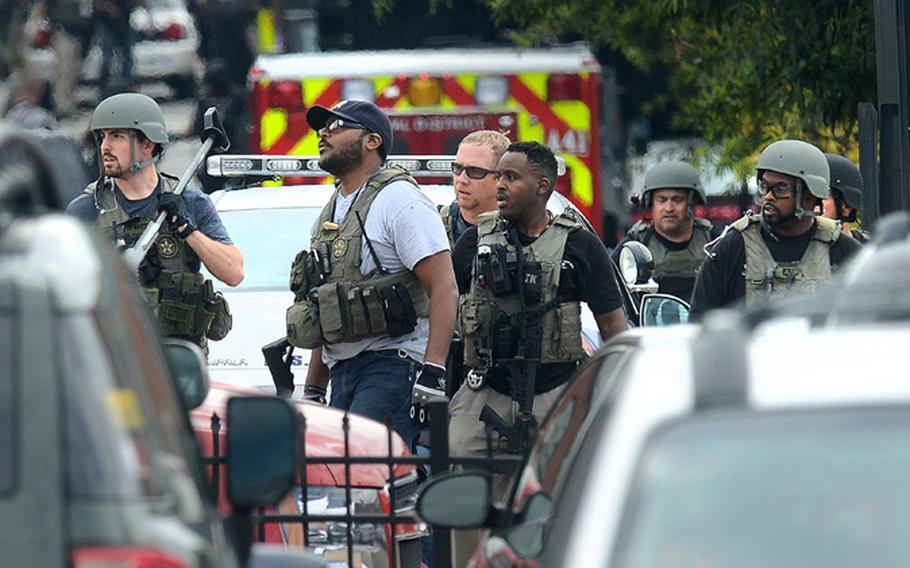 WASHINGTON — On Monday, nearly four years after the last mass shooting at a U.S. military base, a heavily armed contractor gunned down 12 defense employees at a supposedly secure Navy base in the nation's capital.
As investigators sort through the details, the tragedy prompts questions of whether the work done after the last massacre – the highly publicized Fort Hood shootings, which left 13 dead and 32 others wounded – made military facilities any safer.
On Tuesday, a senior Pentagon official said Defense Secretary Chuck Hagel was set to order a review of physical security and access at all DoD installations worldwide.
"The Secretary is collecting inputs from senior leaders today to define the parameters of this review, which could be formally announced as soon as tomorrow," the official said.
Police have identified the apparent shooter as Aaron Alexis, a 34-year-old veteran and employee of a defense contractor with an access card to the southeast Washington military facility.
Media reports have said Alexis might have been suffering from mental health issues, but he held a valid security clearance through a defense contractor.
Witnesses say he fired down on civilian employees from an atrium, killing 12 and wounding eight before being killed in a shootout with first responders.
The attack echoes the Fort Hood tragedy, where an Army psychiatrist walked into a soldier readiness center and opened fire on his fellow servicemembers. In both cases, the gunmen were able to bring firearms into a crowded military building with relative ease, despite numerous mandated force protection measures.
In the months following the Fort Hood attack, lawmakers and defense leaders pored over base security protocols, terror threat information sharing and personnel background check procedures.
The result was an 86-page report detailing ways to prevent another military mass shooting. The recommendations were heavy on increased awareness of warning signs but light on physical changes to security operations.
In early 2011, review panel co-chair Togo West told lawmakers the reason for that focus was practicality. In many ways, military bases can't be better secured.
If a shooter is "a member of the military family who wears a uniform, they have access to our installations," he told the House Armed Services Committee. "They don't get searched. They have their cards, they put them in, and they get in. And so the way that we stop them is to identify them ahead of time."
In a statement, defense officials said they had taken "a number of steps to harden our facilities and establish new systems … to respond to active shooter threats" since the Fort Hood attack.
But they also noted that each of the services and each individual base commander faces different security challenges. "In the coming days and weeks ahead, we will evaluate how those lessons might apply to the incident at the Washington Navy Yard."
Fred Burton, vice president of intelligence at Stratfor, a Texas global intelligence company, said military security systems are vulnerable because the process for getting base access cards depends on background checks that don't go into enough detail.
"Secret clearances can be gained relatively simply through basic national agency checks," Burton said. "That means running the name through the various federal databases, and in many cases, minor run-ins with the law and misdemeanor offenses simply aren't in the federal databases."
There's no simple fix, he admitted. More robust background checks of the type done before issuance of top secret clearances could be cost-prohibitive, and mandatory reporting of allegations rather than convictions could pose privacy and civil rights concerns.
Beefing up security at military base access points could be problematic as well, he said.
Mandating vehicle searches at military base gates – where big backups already form as drivers stop to present ID – and putting metal detectors at every building entrance could quickly make reporting to work a painful ordeal.
"If you're going to search every vehicle coming onto a military base, what are the ramifications on workflow in those critical hours of 7 to 9 a.m. when people are coming to work?" Burton said. "Subjecting people to searches every day presents a general morale issue as well."
The Fort Hood review included calls for a military-wide force protection oversight office with clear base security goals, but that does not exist.
On Tuesday, Secretary of the Navy Ray Mabus ordered immediate physical security reviews for all Navy and Marine Corps installations, to ensure that "standards currently in place are being maintained" and "correct security requirements are being implemented," Navy officials said. A second, more detailed review will follow.
Before that announcement, lawmakers raised concerns over a pending inspector general report blasting Navy officials for using an new, unproven background check system as part of its base security measures.
House Armed Services Committee Chairman Buck McKeon, R-Calif., said the report details "critical flaws in the practice of contracting access control for military installations to non-governmental personnel." Lawmakers also questioned whether cost-cutting measures may be to blame for the decision to use the new systems.
However, military officials said those systems were not used in vetting Alexis, according to the Associated Press.
At least one change from the Fort Hood review might have helped save lives during the Navy Yard attack. Rapid response to an "active shooter threat" was a key recommendation and became part of military force protection training.
Investigators said armed responders engaged Alexis about seven minutes after the first shots were fired.
"The fact it did happen on a military base means you are much more ready with an aggressive tactical response," Burton said. "If you took the same scenario and put it in a city in the Midwest, the police response would have been slower and you'd probably have had a lot more people killed."
Still, the response came too slow for the victims of Monday's shooting.
Military investigators don't have a motive and don't know whether the shooter's target was defense workers or simply defenseless victims. FBI investigators are combing through the veteran's profile to see whether to classify the incident as an attack against the military or as another mass shooting event.
"Absent information coming in that there is a terrorism angle here, this kind of incident could have happened anywhere in the country," Burton said.
carroll.chris@stripes.com Twitter: @ChrisCarroll_
shane.leo@stripes.com Twitter: @LeoShane