Navy blocks Iranian effort to capture unmanned drone in Persian Gulf
By
Stars and Stripes
August 30, 2022
---
A Navy coastal patrol ship and a Seahawk helicopter working together thwarted an attempt by Iran to capture a U.S. unmanned surface drone in the Persian Gulf, the Navy said.
At about 11 p.m. Monday, an Islamic Revolutionary Guard Corps Navy support ship was spotted towing a Saildrone Explorer in international waters, U.S. 5th Fleet said in a statement Tuesday.
The USS Thunderbolt was nearby and responded, appearing in video released by the Navy to trail the Iranian ship. A Bahrain-based MH-60S Seahawk from Helicopter Sea Combat Squadron 26 also was launched, according to the statement.
"U.S. naval forces established bridge-to-bridge communication and made clear the Saildrone was U.S. government property as USS Thunderbolt, an MH-60S Sea Hawk helicopter and a small boat from the patrol coastal ship approached," said Cmdr. Timothy Hawkins, a spokesman for U.S. 5th Fleet. "The IRGCN support ship eventually disconnected the towing line in response."
The Iranian ship left about four hours later, the Navy said.
Hawkins said the Saildrone returned to Bahrain and is being inspected. The Navy resumed normal operations in the area, he said. 
The Saildrone Explorer is equipped with sensors, radars and cameras for navigation and data collection. The technology is commercially available, and the drone does not store sensitive or classified information, the Navy said.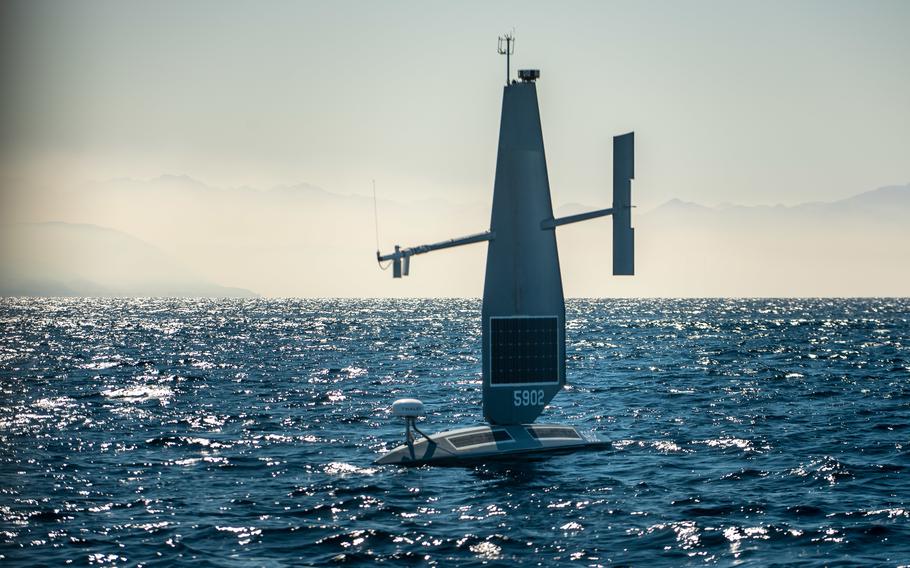 ---
---
---
---