Navy offers promotions for chiefs who step up to fill critical at-sea billets
By
Stars and Stripes
August 25, 2022
---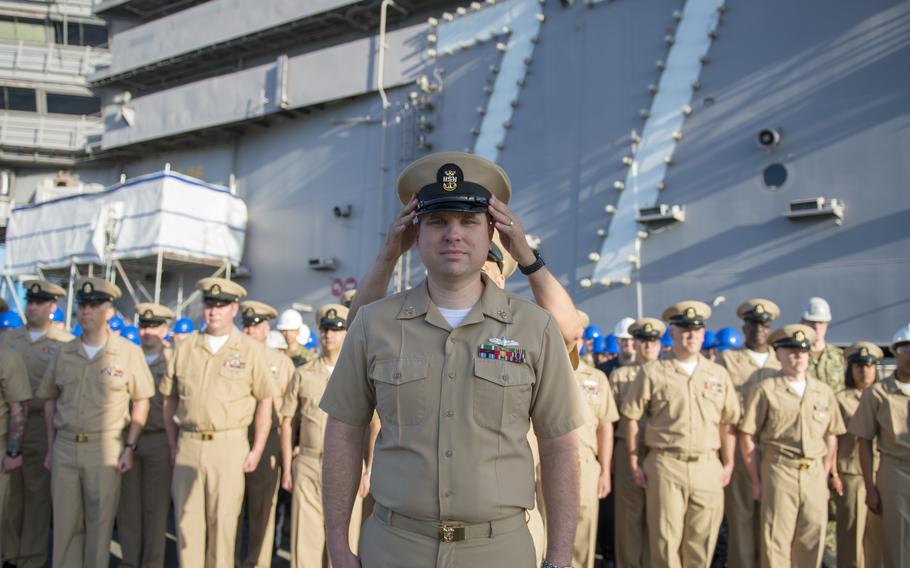 The Navy is turning to chief petty officers to fill critical at-sea billets at three duty locations, according to a recent Navy administrative message.
The service created a new pilot program, the Senior Enlisted Advance to Position, or SEAP2, to incentivize E-8 and E-9 sailors to sign up for specific leadership billets, according to the Aug. 5 message, NAVADMIN 178/22.
"Navy Chiefs are essential to the operation and readiness of our fleet," said Vice Adm. Rick Cheeseman, chief of naval personnel, in a Navy news release Aug. 5. "SEA2P aims to reward Senior Enlisted who are willing to take the hard jobs where their experience and leadership mean the most, while ensuring our deploying units have the people they need to accomplish the mission."
The program, offered to active-duty sailors only, is designed to "aggressively fill critical at-sea leadership billets," according to the message.
The first deadline for applications is Wednesday; the second round concludes Oct. 17. Interested chiefs may apply with a personnel action form at the MyNavy website.
The duty locations are with the Nimitz Carrier Strike Group, homeported at Naval Base Kitsap in Bremerton, Wash.; the Bataan Amphibious Ready Group, homeported at Joint Expeditionary Base Little Creek, Va.; and the aircraft carrier George Washington, homeported at Naval Station Norfolk, Va.
The program will automatically approve selected sailors' high-year tenure waivers so they can participate in SEA2P. High-year tenure is the maximum number of years an enlisted service member can serve at their current rank without being promoted.
A billet selection board of senior representatives, along with command staff, will screen interested sailors for the critical billets, the message said.
Applicants must be either E-7 or E-8 but were not selected for advancement to E-8 or E-9 by fiscal year 2023 promotion boards. They must have the required Navy Enlisted Classification codes associated with the billet for which they apply. A waiver may apply if the candidate has prerequisite experience and can obtain the classification before reporting.
Each candidate is expected to complete three years at the SEA2P billet location and will be permanently promoted upon reporting, the document states. Sailors who are chosen will receive orders for a new duty station within 30-45 days.
"Sailors need our Chiefs, our Senior Chiefs, and our Master Chiefs, to lead from the front," Chief of Naval Personnel Fleet Master Chief Delbert Terrell said in the release. "Our Sailors expect it and require their continued leadership, experience, and mentorship. SEA2P helps us make that happen, while offering promotion to those motivators who apply."
---
---
---
---